Squire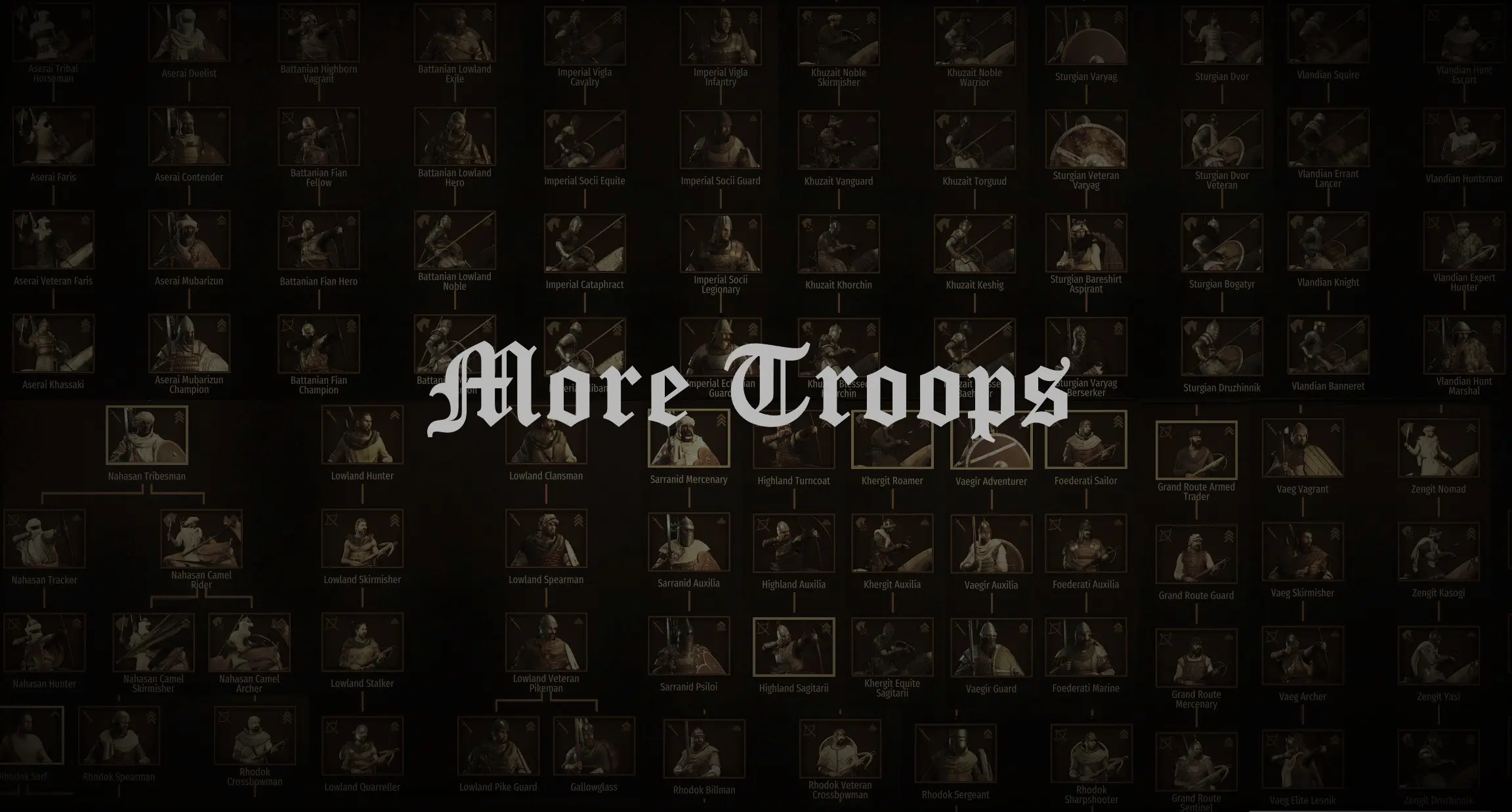 I originally posted this a while ago, but I had that thread deleted because of how lazy it was. Hopefully I can offer something a little nicer here.
This was originally supposed to be a personal project based on how I like my Bannerlord troops, but seeing as quite a few people seem to consistently enjoy it I've decided to keep at it. As of right now, I have finished all minor faction troop trees. Now I'm going after the mercenary tree. Bandits, caravan troops and garrisons will be next.
I'm honestly not sure how to describe this mod. There's variety, but that's tempered with careful design considerations. There's better historical inspiration, but being accurate to real life is not the goal. There are Warband call forwards, but I did not want to transplant Swadia wholesale right into Bannerlord.
Then there's personal things like how easy it is to procure nobles thanks to castle exploits, or the Disciplinarian perk. I prefer my nobles to be rarer and truly unique- I can't stand the idea of spamming Fian Champions.
Looking at other mods, I've found myself more or less dissatisfied in all sorts of ways. From things like Vlandian Longbowmen and Nordic Sturgians, to even small things like a dislike for a particular troop tree structure, I decided that none of them quite worked for me. So I made my own thing.
Give it a full look yourself and decide whether you like it or not. If you want a quick elevator pitch though...
You like Noble Sturgian Infantry? Maybe Battanian Common archers? How about supplementary troop trees? Or maybe you want expanded minor factions? If any of these sound good, then...
articles
. Its got rough information on the troops.
Main Factions
Aserai
The Aserai boasts a well rounded offence, but in exchange their defence is more lacking. Used with finesse, and they can easily overwhelm foes. Used conventionally, and they will struggle.
Changes:
Removed Aserai Footmen. Infantry and archers now come from Skirmishers.
Added Elite Javelineers. Great throwing skill and jareeds, but lightly armoured.
Added Mameluke Heavy Lancers. Fast, heavily armoured shock cavalry, but no throwing weapons and a small shield.
Added the 'Mubarizun' line to the noble troop tree. Best one handed and throwing skills, heavy armour and jareeds, but a small shield.
Added the Nahasan supplementary line. Because camels. African longbowmen are alright too I guess.
Strengths:
Generally well rounded equipment and skills
Fast, powerful Cavalry
Weaknesses:
Poorer low tier troops
Poor access to dependable line infantry
Battania
Battania is now the foot faction of Calradia, at the cost of a cavalry deficit. To achieve victory, a Chieftain must choose their battlefield well and fight on their terms, not the enemy's.
Changes:
Added Thunderers to replace the underwhelming Horseman. Can't couch lance, but they carry javelins and decent armour.
Removed Battanian Scout cavalry and Battanian Raiders.
Falxman line has been placed into the Clan Warrior branch.
Oathsworn have a throwing spear instead of javelins, while Wildlings gain a second case of javelins. This makes them more distinct from one another.
Added the Saethwyr line. Terrible armour, but they use longbows and can spawn with two handed axes.
Added the Momaer line to the noble troop tree. Very capable heavy cavalry that spawn with a variety of weapons.
Added the Lowland supplementary line. Battanian crossbows and pikemen, for a Scot/Pict flair.
Strengths:
Powerful longbow archers
Varied and versatile foot troops
Weaknesses:
Poor access to cavalry
Most wildly inconsistent equipment
Empire
Although the Empire is now at its weakest, their troops are not to blame. They are the bulwark that will defend the legacy of Calradios the Great, backed by worthy allied auxila from all over the continent.
Changes:
Added Equite. Heavy armour and a single pila, however they cannot couch lance.
Added Skoutatii. Heavy spearmen, but they lack a pila.
Removed crossbowmen from the common tree.
Added the Echerian Guard to the noble troop tree. A nod to the hero Echerion, elite heavy spearmen with pila.
Added five Auxilia lines as supplements. Longbows, shock troops, horse archers, skirmishers and crossbowmen. Now the Empire has it all.
Strengths:
Most well armoured troops all round
Most well rounded troop tree
Weakenesses:
Dependent on auxilia for their specialist troops
Somewhat slower troops
Khuzait
With this sea of horses, the Khuzait shall trample the west. Or better yet, take advantage of their superior mobility to outmaneuver and overcome their slower foes.
Changes:
Added Mounted Marauders. Javelin cavalry to combat enemy horses and lances to deliver the killing blow, but lack shields to defend themselves.
Nerfed the Tribal Warrior and changed them to the Tribal Rider by replacing their bows with javelins. These guys were WAY TOO STRONG, by far the best tier 2 cavalry. They should be more reasonable now.
Separated the Noble line into two cavalry troops. Khorchin for the absolute finest horse archers and Bagatuur for versatile shock cavalry horse archers
Added the Grand Route supplementary line. Exotic Crossbow infantry from the Far East, so they aren't as cool as cavalry.
Strengths:
The best access to cavalry
Superb range of cavalry options
Weaknesses:
Lack of accessible shock infantry
Narrow troop tree
Sturgia
Close combat is where Sturgia excels. And unlike the Nords, they boast excellent cavalry too. Although weak at range, their great round shields will keep them safe.
Changes:
Completely rearranged their infantry tree. Spear Guard act as sturdy and versatile spearmen, while Vityaz Guard gain varied weapons to devastate in close combat.
Veteran Bowmen are now Luchniks. They gain better armour and a shield to differentiate themselves from other archers.
Made the 'Ulfhednar' into noble troops. The absolute pinnacle of close combat monsters. Beastly warriors encased in heavy armour and armed with axes, axes and axes.
Added the Northern Refugee supplementary line. Now you can have either Vaegir archers, or fake Cuman horse archers.
Strengths:
Powerful range of heavy infantry
Strong complementary cavalry
Weaknesses:
Inferior at a range
Narrow troop tree
Vlandia
In Vlandia, crossbowmen loose bolts, cavalry charge in and infantry hold the line. Vlandia depends on combined arms- only by working together to cover weaknesses and amplify strengths will Vlandia prevail.
Changes:
Adjusted the troop tree to allow better access to cavalry and remove Voulgiers.
Added mounted crossbowmen. A mounted infantry, probably more trouble than they're worth, but perhaps someone will enjoy the challenge.
Added Foot Men-at-Arms. Dedicated melee warriors that will give Sturgians a run for their money.
Added the 'Hunt Marshal' line to the noble tree. The finest crossbowmen in all of Calradia, armed with boar hunting pikes to repel cavalry.
Added the Rhodok supplementary line. These uppity hillmen are only good for hiding behind shields and swinging inelegant plough blades.
Strengths:
Superb shock cavalry
The only source of common crossbowmen
Weaknesses:
Inflexible troops incapable of filling multiple roles
Lack of real skirmish cavalry
Minor Factions
Beni Zilal
Supplement your host with these secretive warriors. Whether it be hard hitting cavalry men, great sword assassins or literal bombs, the Beni Zilal are all about offence. Used as a regular army however, and their lack of staying power becomes obvious.
Changes:
Added shock infantry units to the tree. Think of them as assassins- quick troops with big swords and throwing knives.
Added Nafta bombs and mailed pilgrim hoods.
Royal Guard and the cavalry line are essentially the same- only buffed.
Strengths:
Versatile shock cavalry
Deadly shock infantry with bombs
Weaknesses:
Weak helmets
Small shields
Ghilman
Dandy and dangerous defines these warriors. As a swift, fast moving cavalry force, the Ghilman are a force to be reckoned with on open battlefields. To use them in sieges however is a complete waste.
Changes:
Added horse archers to the tree. I found it weird that their description talks up their status as elite horse archers, yet they have none.
Added a heavy camel saddle to act as a placeholder until TW adds real camel armour. Either that, or someone else makes it.
Strengths:
Heavily armoured shock cavalry
Extremely skilled
Weaknesses:
Frail until late tiers
Small shields
Jawwal
I'll be honest when I say that I regard these guys the same way most regard Hidden Hand- a good source of early game renown farming that may occasionally give you camels. Treat them as such, and be happy they can become something useful.
Changes:
A general update to their stats.
Promotion paths into the Nahasa Troop Tree. I honestly do not know what to do with these guys.
Strengths:
Big shields
Fast on foot and on camel
Weaknesses:
Terrible armour
Subpar fighting skills
Wolfskins
They come naked too, so expect interesting results if you have a certain mod. That aside though, the Wolfskins are specialised in skirmishing and movement, and a few can even become Fian Champions.
Changes:
Added a skirmisher line. They fight like the old wildlings- hybrid spear and javelin medium infantry.
Added 'Direwolf Head' armour.
Changed culture to Forest bandit to work with the Disciplinarian perk.
Strengths:
Fast, versatile troops
Can become another source of Fian Champions
Weaknesses:
Terrible armour
Small shields
Embers of the Flame
You can't expect the heavens to do all the work, or at least the Embers certainly don't. Though they are not a conventional military force, they can grow to become deadly shock infantry. Until then, they must pave the way for the rest of Calradia.
Changes:
Longer troop tree, ending with the Exemplar of Darusos. Quick, fanatical glass cannon infantry with warhammers!
Added special chainmail robes.
Strengths:
Fast
Powerful as tier 5 shock infantry
Weaknesses:
Terrible armour
Tactically limited
Hidden Hand
The rain of knives that these crooks can mete out is a sight to behold. Coupled with their skill at the blade, it isn't hard to see why they have been able to form such a criminal empire. Almost enough to be a threat as a military force.
Changes:
Strengths:
Lots of throwing knives
High skill
Weaknesses:
Lack of shields
Lack of armour piercing ability
Legion of the Betrayed
The Legion is a throwback to the pre Pendraic military might of the empire. Although antiquated in their methods and no longer the world conquering force they once were, the Legion is never the less an elite force- an asset to any warband.
Changes:
Added Velite and Equite. Velite are light skirmishers, while equite act as versatile javelin cavalry.
Added plumbata (placeholder).
Added a new helmet for Triarii.
Strengths:
Well armoured
Highly skilled, versatile troops
Weaknesses:
Lack of armour piercing weapons
Low javelin count
Eleftheroi
These rugged free folk of the frontiers are superb in their role as a border force. And although poorly armoured, their skills have impressed Imperial lords enough that it isn't uncommon for them to be offered positions as Imperial elites.
Changes:
Added the Akritii line. Think of them as skirmishers that can help fill out both Imperial and Khuzait armies.
Equipment and name changes.
Changed culture to steppe bandit to work with the Disciplinarian perk.
Strengths:
Strong lances and all armed with maces
Can become Imperial Noble troops
Weaknesses:
Terrible armour
Tactically limited
Karakhuzait
As much as the Khuzait would hate to admit it, their nomadic brethren do have their uses as expert horsemen. Their heroes in particular have been deemed worthy of becoming the guards of a khan.
Changes:
Equipment and name changes.
Changed culture to steppe bandit to work with the Disciplinarian perk.
Strengths:
Effective combination of glaive and bow on horse
Can become Khuzait noble troops
Weaknesses:
Low arrow quivers
Poor defence
Forest People
Though unwarlike compared to the other residents of the North, one mustn't underestimate these nomadic farmers. Indeed, some say the shield wall came about specifically to combat the Vakken, along with the Vaeg peoples.
Changes:
Longer troop tree.
Equipment and name changes.
Strengths:
High athletics and bow skill
Armed with longbows and plenty of arrows
Weaknesses:
Poor defence
Subpar melee capabilities
Lake Rats
The power of a Nordic shield wall plus a rain of javelins makes for a terrifying proposition- that along with mauls and mighty axes. Not bad for a band of mere scavengers.
Changes:
Added Lakerat Rekkrs. Two hander infantry with lots of javelins to soften their enemies with.
Equipment and name changes.
Strengths:
Lots of javelins
Above average skills
Weaknesses:
Mediocre armour
Inconsistent equipment loadouts
Skolderbrotva
Perhaps the strongest minor faction. Their dour demeanours and lack of pillaging aside, the Skolderbrotva are the epitome of Nordic might. It is for this reason however that they are very difficult to get- they are not common mercenaries after all.
Changes:
Added the 'Huscarl' line. Think of them as Nord Huscarls and you've captured their essence.
Equipment and name changes
Strengths:
Tier 6 strength
Amazingly durability and offence
Weaknesses:
Very difficult to acquire (can only be upgraded from bandits or capture)
Brotherhood of the Woods
Steal from the rich and gaslight the poor! Perhaps one day you can lift up the peasant class with the power of the longbow. Their Acorns are budget horse archers- both in cost and skill.
Changes:
Added the Acorn. Cheap, cost effective horse archers if you don't want to fork out for war horses.
Equipment and name changes.
Strengths:
Skilled Longbowmen
Well armoured and well armed
Weaknesses:
Lower tiers are poor in melee
Horse archers are probably the worst
Company of the Golden Boar
The finest band of thieves and whores, now with added Catelan Company influences. Enjoy elite crossbowmen and the only source of Vlandian skirmishers, but do not expect to thrive in prolonged skirmishes.
Changes:
Added the Almogavar line. Vlandian Skirmishers, as odd as that might sound.
Equipment and name changes.
Strengths:
Heavy armour
Versatile equipment and weapons
Weaknesses:
Lower quiver sizes
Atrocious lower tier troops
For the troop trees, please check out the nexusmods page.