Well... any one you walk away from. This is, at best, a partial victory. I'd forgotten just how !*#!*@! hard it is to do multimesh rigs, lol. I had problems when I fixed up Dthehun's original rig for the dress mesh, too, but nothing like this bad.
Essentially, this was done by taking the MC Amazon body, which was the closest thing I could find to Native's body in FBX, and using it as the template for making the dress work, once the mesh was exported from OpenBRF.
Surprisingly, that went really well, including the UVs not getting totally borked. Once I got that part done, I first tried importing the dress and rigging alone, letting the Taleworlds body be beneath it. That didn't work at all; lots of clipping through my geometry. After wrestling with that for waaaaay too long, I eventually circled back to the MC Amazon mesh, deleting everything that was covered by the dress, then rigged both of them to the Bannerlord skeleton, and did a few little edits to weights where geometry met up.
Because we don't have the original FBX files, rigging weights aren't perfectly matching up at the neck seam and wrists. The neck's major; the wrists are minor. I can probably cover that up with a brooch and some bracelets, though.
Taleworlds, release the full FBX files for bodies, heads, hands and feet, please.
This process was ridiculous; I totally see why most of what's been done thus far is custom races with entirely custom bodies and heads. As it is, this is basically a one-woman "race", but it's really just a piece of equipment. That's best approach for this kind of clothing... well, unless the body shader doesn't get the correct color value- I won't know that until I test in-game, because there's no way to test that in the "editor", naturally.
But... ideally, there'd be a reference FBX, and some sort of Blender script for getting the rigs close to matching.
At least now, I have a valid approach, and now that I've done this the hard way, maybe next time I won't have to spend quite as much time pushing triangles- the new model is quite a bit thicker in the waist than the old one was, among other details.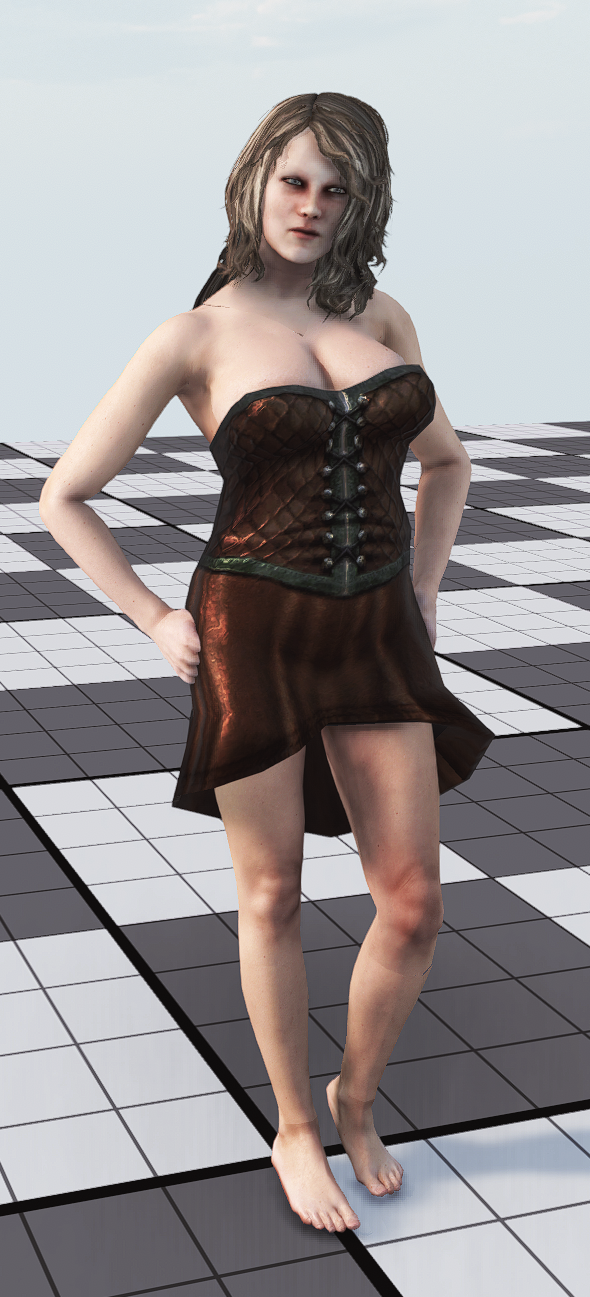 I should probably say that this was really very much the worst-case, absolute-hardest-possible export. This was old, low-low poly, and multi-mesh... as well as including a !*@!@*#!@*+ skirt.
Making the exporter animation alone took quite a lot of messing around, but mainly because I had to remember stuff about SMD animation that was ancient the first time I learned it, lol.
But, with that in hand... I should be actually able to port over just about any armor I want, because there's just one human skeleton, and it's tuned to be "close enough" for most purposes. I'll need to find a FBX of the Taleworlds male body to use as a reference at some point. Right now, I'm thinking I may as well get through the pain and do the other Dthehun meshes while I still have any desire to look at them again, lol.
Last edited: