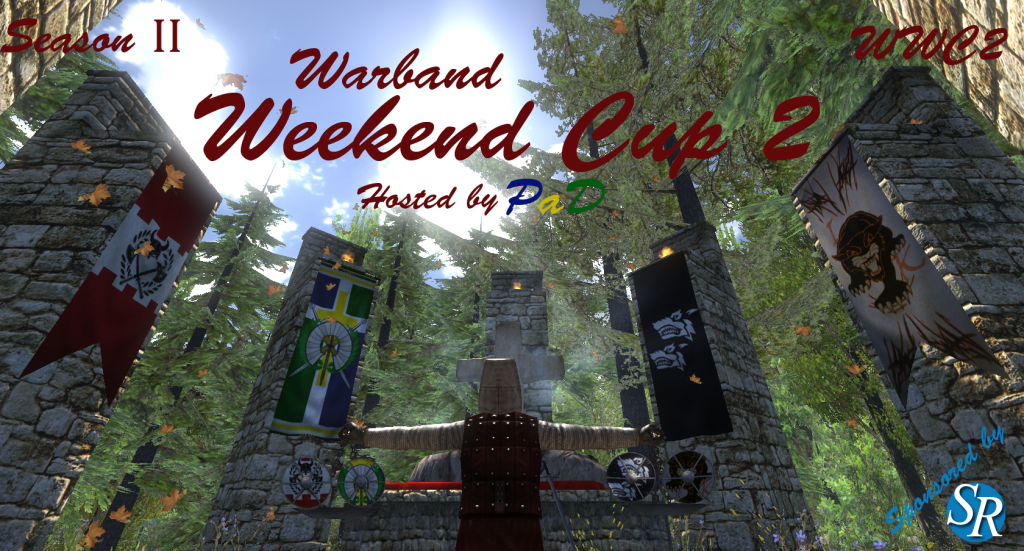 Sponsored by
SimRai
Click on logo to visit
SimRai
website!
Please read what
SimRai
has to offer below in spoiler!
The company is called SimRai and provides voice - and game servers for games like;

-Red Orchestra 2 / Rising Storm - 50 eurocent per slot
-Chivalry: Medieval Warfare - 50 eurocent per slot
-Counter Strike: Global Offensive - 50 eurocent per slot
-Killing Floor - 75 eurocent per slot
-Garry's Mod - 50 eurocent per slot
-Counter Strike: Source - 40 eurocent per slot
-Team Fortress 2 - 40 eurocent per slot
-Counter-Strike 1.5 - 35 eurocent per slot
-Any form of Mount & Blade Servers - various low pricing, highest is 18 euros for 64 slot
-The Specialists - 32 eurocent per slot.

Do note that we can also get games going for you if you can't find it in this list.
Quote from Raizio, SimRai
Links:
SimRai

website;

http://www.simrai.com/home/
SimRai's

own thread on Taleworlds;

http://forums.taleworlds.com/index.php/topic,265054.msg6344271.html#msg6344271
Introduction
Warband Weekend Cup
is small tournament that involves four clans/teams.
It is played during one weekend.Semi finals are on Saturday.Sunday is the day for Final and Third place matches.
Main goal of this tournament is to have fun but also try your best against quality teams.It will also be tournament that will give chance to newer clans to play competitive scrims against more experienced WNL teams.
Rules
There is no limit to roster,but try to sign up players that are actually part of your clan
Merc or two can be allowed but try not to overdo it
During One Season an player can only play for one team in Warband Weekend Cups
Team Captains should submit their Roster till Friday
You can use only players that are on your roster
Play under names you signed up as on your team's roster
There is no rule which stops teams that already played in WWC during one season to sign up again.However if another team that is yet to participate in WWC in current season signs up,team that already played might be needed to drop
Semi-final matches must be played on Saturday and its up to the teams involved to agree on time.Winners of the Semis will fight in Final that must be played day after on Sunday.Defeated semi finalists will fight for Third place on Sunday as well
Standard WNL rules will be used in this tournament
Matches will be played with 8 players on each team.If both teams agree it can be played with even more players
Combat Speed: Medium, Friendly Fire %100, Round Time: 240 seconds, Game Type: Battle, Re-spawn time: 8 sec, Gold: All set to %100, Camera: team member's view, forced MotF spawn on 2 minutes
Every match will consist of 16 rounds that are played over two maps.Each map has two sets(4 rounds as one faction)
Spawn and Factions are changed after 4 rounds(1 set)
The winner of the match is the team that won most rounds after two maps
Drawn rounds count. Do not replay these rounds
Substitutions are only allowed between each 4 rounds, i.e: Half way through the match. If a player crashes on game, substitutions can be done after the round has ended
In the event of match being tied after both maps have been played,overtime maps rule will apply
Overtime rule:First map will be repeated(same spawns and factions teams picked),but this time instead of playing 4 rounds as one faction you will play 2 rounds then swap.After total of 4 rounds on first map,second map will be played the same way as first one.In case that match is still tied process will be repeated till we get a winner
Maps are chosen by the duels.Two chosen(by team captains) players will duel for the chance to pick map&faction first.Duel will be best of 3.Or in other words first duelist to win 2 duels is victorious and his team will pick Map and Faction first.Only default armor can be used in Duels.All melee weapons and shields are allowed as long as they do not cost more then 1000 denars
After Duel is over Team that won the chance to pick first chooses their map and faction.After that defeated(in duel) Team chooses their faction for opponent's map.Second map and first faction are chosen by defeated(in duel) Team.Second faction for that map is picked by other team
There are two map categories(see Map list below).Two maps of the same category can't be played in one match.So that means if Team A picked Closed Map first,Team B must pick Map from Open/Mixed maps category
Special Category maps.This category includes potential competitive maps that could be used in next big tournaments(like WNL 3,UNAC 2...).I think custom maps really should be tested in competitive(but also not so serious) scrims before used in bigger tournaments so WWC is perfect testing ground.
Rule is that you can play either 1 Open/Mixed map then 1 Closed map.Or you can pick Special Category map and combine it with either Open/Mixed or Closed.Special Category has both closed and open/mixed types of maps
Factions cant be mirrored(example Nords vs Nords).You are allowed to pick same faction on both maps
Reporting match results:It would be nice if screenshots from all sets could be posted here in this thread.That way we can archive them(for future stats) and maybe pick Most Valuable Players(MVP)
Modifying any texture files in order to gain an advantage is strictly prohibited. Any player or team that is found to have modified textures in order to gain an advantage will immediately face severe punishment, likely a ban from the tournament, though the severity is up to the admins' discretion.
Players that attempt to utilise any kind of autoblock, aimbot or any other game modification that gives them an advantage will be immediately banned from the tournament.Cosmetic changes, such as round timers and crosshairs,etc, do not count

All matches must be played on official WWC servers because it will be easier for admins to do their job.And also it's the only place where all the maps WWC uses can be found
If player or a team breaks a rule Admins will have meeting and decide if and how they will be punished
To minimize the chances of one player playing for 2 teams admins have rights to check IDs in match if they suspect someone is breaking the rules.Penalty for playing for two or more teams during current season is banning of a player from that season.Team for which that player played might be punished as well.It will be up to admins to decide on that
Open/Mixed maps are:
Ruins
Field by the River
Frosty Battle
Reveran Village
Open Plain

Closed maps are:
San'di'boush
Vendetta
Fort of Honour
Verloren
Nord Town

Special Category maps are:
The Farm - Open/Mixed map
New Port Assault - Closed map
Lake Fort - Open/Mixed map
The Abbey - Open/Mixed map
Dreicksdorf - Closed map
Shariz Village - Closed map
Dry Valley - Open/Mixed
Port Azur - Closed
Quagmire - Open/Mixed
Rhodok Town - Closed
Usable Factions are:
Nords
Sarranids
Vaegirs
Rhodoks
Swadia
Admins
If you have any questions(rules,signing up your team...) about WWC feel free to pm me here on TW or add me as friend on Steam and i will be more then happy to answer them.In case there are disputes(i honestly hope there won't be any) between teams one of admins should be contacted.
Below is list of admins(with contacts) and their tasks.
Erminas-Chief admin and organizer of WWC
Contact me if you wish to sign up your team or you need rules clarified.Basically anything about WWC i am here to answer
Contacts:
Erminas
Erminas
​
Viglaf-Chief admin of the WWC and Server Organizer
Contact Kohath if you need help with rules.He will also watch WWC matches just to make sure everything is done by rules
Contacts:
DoF_Kohath
Kohath
Contact Swordy if you need help with rules.He will also watch WWC matches just to make sure everything is done by rules
Contacts:
Ilunga ft. Swordyke
Swordyke
​
Contact Greed if you need help with rules.He will also watch WWC matches just to make sure everything is done by rules
Contacts:
Greedalicious
Colonel Greed
​
Servers sponsored by

SimRai


Default password for both servers is: wwcmatch

WWC Holland 1

WWC Holland 2
WWC France


Last but not the least are


Credits



Huge thanks to WNL organizers for providing us rule set that is used in majority of scrims in EU
PRT and Wolfpack for providing servers
All my fellow PaD players for being great bunch of guys&girls
TW for making such a great game all of us share love for
Big thanks to Simrai for being sponsors of WWC
To Gotha for his Adimi admin mod we use
To Tallie for some of our current and future artwork
Romans for The Farm map
Madoc for Dreicksdorf map
Maynd for Shariz Village map
KissMyAxe for Open Plain map
Madoc for Rhodok Town map
Madoc for Quagmire map
And Competitive Map Pack(CoMP) as whole
To JonyD and Mitchell for submitting maps to WWC admins for testing
WWC admin team presents:
WWC Battle Time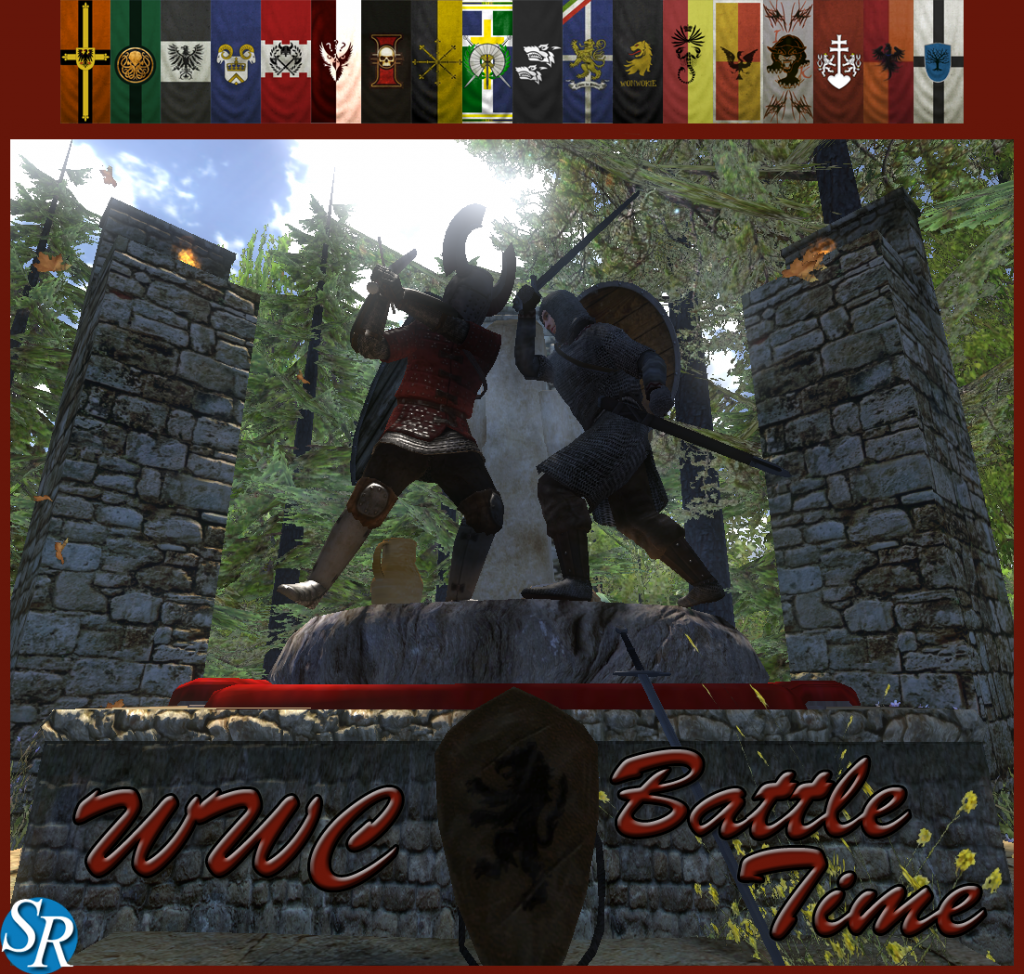 WWC Battle Time will be event where players from various clans(or even without clans)can join scrims where we will play together,have fun and also test WWC Special Category Maps.

Every Monday at:
19:00 GMT
20:00 CET
2:00 pm EST

-we will gather on WWC server,pick two captains who will then pick teams.Then we will separate teams in TS channels and play at least 2 WWC maps.

Server and TS info:

Server name:

WWC_Server_1


Password:

battletime


TS(join it if you can):

azure.simrai.com:9991



Although joining TS is not a must i highly recommend it.
Event itself is supposed to be fun and not too serious but constant trolling,insulting,raging and just delaying of whole event will be punished by kicks,temporary and maybe even permanently bans from game server/TS.

You don't need to sign up for this event,just join TS or server on time and you will play.

Next Monday we will be testing:

Amere Village by

Mitchell


Dreicksdorf by

Madoc








Signing up for WWC:



To sign up just fill out this and send me as PM here on TW.



Code:
[color=maroon][b]Clan/Team name:
Captain and his contacts(TW&Steam):
Co-Captain and his contacts(TW&Steam):
Roster(can be added during the week):
Can you play this(Saturday 30/11 and Sunday 01/12) or next(Saturday 07/12 and Sunday 08/12) Weekend?:
Did you read and agree to rules?
Please tell us if you have any suggestion for WWC:
[/b][/color]
Season II WWC3 Participants:
(Saturday 30/11 and Sunday 01/12):​
Ronin

-Contacts:

|Ezio|

Moslibi  and 

CurvyPirate  and 

คŁҒoηร

Season II WWC4 Participants:
(Saturday 07/12 and Sunday 08/12):​
Vikings of Niflheim

-Contacts:

Warlord Norsking 

Norsking  and 

Sloth Anden of Niflheimz

Lord Anden





Norsking
Sp4rt4kus
Stig
Aldro
Anden
Caro
Haggles
LiorM
Danish
Marius
Noobas13
Novac
Shalev
Alloo
Derpy
Ghengis_Khan
Salamander
Sjtaf
Viktor
Demivar
Rojen
Flop
Tuben
Viriatus
Theretor
​
​