Mod name : Scaedumar
Author : Abhuva
Version : 0.4 beta
FileSize : ~620 Mb unpacked, ~350 Mb download size
M&B version : Warband 1.134
Downloads: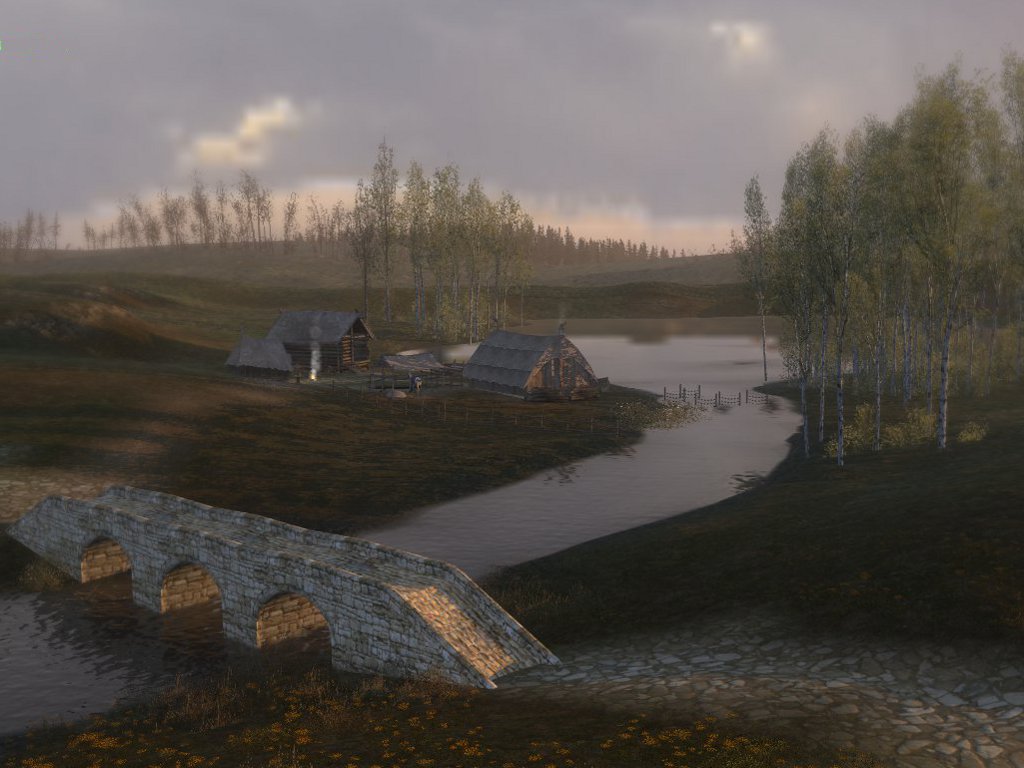 This download contains a single exe installer (NSIS installer system) which will automaticly detect your M&B Warband folder and guide you through the process of installing the mod.
www.moddb.com
Fix for the Tulga Tavern Crash
http://forums.taleworlds.com/index.php/topic,129716.msg3139490.html#msg3139490

Additional Modifications / Community Creations:
MrEx&Robis Add-on
http://www.megaupload.com/?d=QKGH10TM
1. Download the add-on.
2. Extract to your Scaedumar root folder.

Everything should work now, if not check number 3

3. Find your module.ini and add these three lines. If you don't, some armor will be invisible, so it'll be pretty easy to see if you mess this up.

load_mod_resource = pino_peasant_armors
load_mod_resource = pino_rough_armors
load_mod_resource = pino_banded_armors

Where you put them doesn't matter a ton, but I put them under the last block of resource files. In the future there could be more armor/weapon
packs added, so make sure you update your module.ini file if you add anything to the resource folder.
More Info about this :
http://forums.taleworlds.com/index.php/topic,109601.msg4590314.html#msg4590314
http://forums.taleworlds.com/index.php/topic,109601.msg4599520.html#msg4599520
Cause of my limited time (and work on other projects) i decided to make the code OpenSource, so everone who wants to try his hands on this (or just want to see how i integrated/modified some of the kits) here you go:
"Scaedumar" means something like shadow - tales. Its a made-up word based on old scandinavien language
The goal of this mod is to polish native game-play.
It provides graphical and game-play changes for both early game play and mid to end game play, combining a huge range of Open Source Kits from the Taleworlds Forum and refined / self-developed scripts.
You will have the freedom to choose from a wide range of tactical options for battles and strategic planning, managing your kingdom and interacting with NPCs.
Video:
http://www.moddb.com/mods/scaedumar/videos
Screens:
A top-down view showing the figure 8 layout of the town
A shot above the roofs
Praven at night, showing new Normal-Maps on Buildings (best visible on the left tavern wall) and wielding torch with emitting light and fire-particles
A lovely autumn picture =) what you cant see is that these trees have fallen leafs, i love the atmosphere there
Close-Up from the farm
New Screenshots from the beta version
Vaegir Armour, better normal maps and ambient occlusion on models
Features:
simple install through NSIS installer system
Polished Landscape with LODs
Polished Buildings (new Normal-Maps, using Warband Shaders now, LODs and less demanding shader for lod3+4)
New Horses, Armours (all from Kits from the forum)
DiplomacyMod
Prebattle Deployment & Order, Weapon Type Switch, Order Skirmish
Camp Entrenchment
Unique Battlescenes and Bridge-Battles
Polished Reports (Companions Overview and JRiders Presentations)
Viewable Troop Tree (under Reports)
Fog of War (you can choose at the start of a new game if you want that feature or not)
Deployable Pavise
Borderless Player-UI
Ambient SoundTrack
Deco Stuff like Turning Windmills, Sailing Ships
Reworked Weapon Proficiency Loss
Reworked Wound Recovery System
equipable, light-emitting, fire torch.
Factionized Merchant Inventory
Random Events (you can toggle that feature and also choose the style of presentation, either via message or dialog-box)
Exhaustion System for Map-Speed (this will forces the player to camp/rest in town regularly)
Unique Horses for each Faction (based on Heavenly Horses Mod)
Camels, Horses react to Camels
Sea Trade
Sea Battles
Foraging
The mod comes with a Manual located in the mod directory once installed (Scaedumar Documentation.pdf), you will find a more detailed list and more indepth informations about the features in there.
• Diplomacy Mod … Wahiti
• Polished Buildings / Landscapes … Gutekfiutek, LODs by Abhuva
• Companions Overview … JedediahQ
• Camp Entrenchment … Tempered
• Ambient Sound Track … Adorno
• More Horses, More Warhorses … Wanderer949
• LongBardedHorses, Cataphract Horses … Wanderer949
• Normalize Weapon Proficiency … Garnier, Abhuva
• PreBattle Order, Deployment … Caba´Drin
• Order Skirmish, Weapon Type … Caba´Drin
• Turning Windmill, Sailing Ships … Abhuva
• Wound Recovery Scheme … Chel, Abhuva
• Fog of War … CdVader
• Spouse Talk … Ashmond
• Deployable Pavise … Cartread
• Narfs Armour Pack … Narf
• Borderless HP Bar, Critical Shield … Abhuva
• Unique Battle Scenes … Abhuva
• Bridge Battles … Arch3r, Abhuva
• Jriders Presentations … Jrider
• Viewable Troop Tree … Rubik
• Random Events … Lynx, Abhuva
• Face Textures … Aquil
• Exhaustion for MapTravelSpeed … Abhuva
• Sea Trade ... Duh
• Sea Battle ... Ruthven
Pictures for Loading Screens
• Salomon van Ruysdael, Riverview with a ferry, Minneapolis Institute of Arts, 1656
• Salomon van Ruysdael, Farmbuildings in a landscape, Fitzwilliam Museum, 1628
• Salomon van Ruysdael, Riverview , 1645, collection Kaufman
• Paulus Potter, Stable with figures, Philadelphia Museum of Art, 1647
Used during Development
• Quick Scene Chooser … JabdiMelborn
• QuickStart … Kovas
• OpenBRF … mtarini
• Warband Mod Installer … Janus
You can also visit my site at :
http://www.moddb.com/mods/scaedumar
http://www.indiedb.com/mods/scaedumar
http://www.desura.com/mods/scaedumar
Thx all for the feedback and suggestions =)
Last edited by a moderator: