Sergeant

CALRADIA UNIT TREE REMADE
​
This is a mod I'm working on,
but it won't be released until Bannerlord reaches a more definitive version!
I will update the thread as I progress with the ideas. Suggestions can be taken into consideration, however, I must say that I am making the mod for MY immersive conception of Calradia... That said, there will be no ninjas or anything like that and I'll be making it available to those who appreciate my proposal.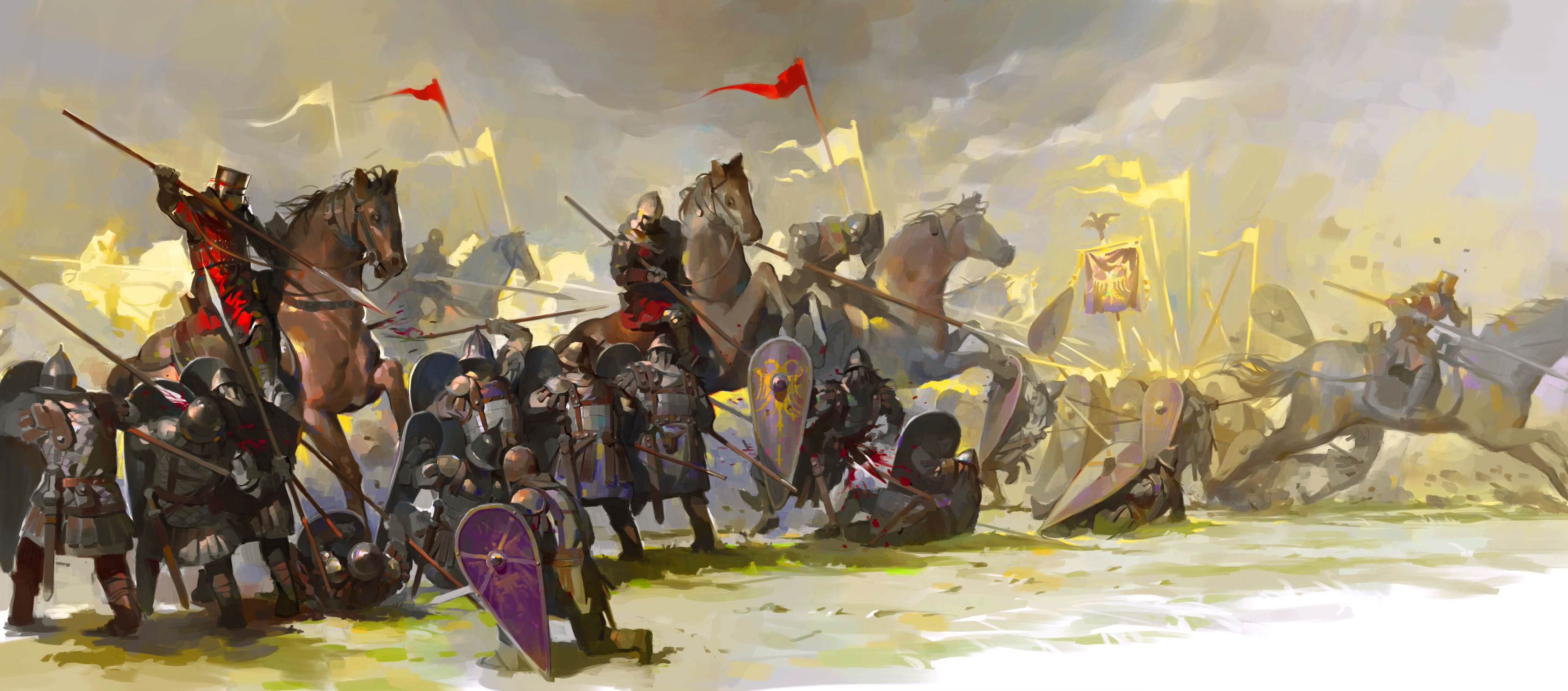 The aim of the mod is to remake
all unit trees
of Bannerlord in an very immersive and lore-friendly way!
Images will be posted later!
I mostly use historical background, however,
Calradia allows us to reinvent some things and that's the spirit of the mod!
I was concerned with standardizing the amount of units, changing only the structure according to the faction's characteristic.
Code:
T1                                           Aserai Recruit

T2             Aserai Tribesman                                        Mamluk Footman                            Aserai Azadan

T3 Aserai Archer           Aserai Infantryman           Mamluk Camel Rider         Mamluk Infantryman            Aserai Faris

T4 Aserai V. Archer        Aserai V. Infantryman        Mamluk Horse Archer        Mamluk V. Infantryman         Aserai V. Faris

T5 Aserai R. Archer        Aserai R. Infantryman        Mamluk Zhayedan            Mamluk Tarbardayya            Aserai R. Faris

T6                                                                                                               Aserai Mubarizun
TIER 2
Aserai Tribesman:
[...]


Mamluk Footman:
[...]


Aserai Azadan:
[...]
TIER 3
Aserai Archer:
[...]


Aserai Infantryman:
[...]


Mamluk Camel Rider:
[...]


Mamluk Infantryman:
[...]


Aserai Faris:
[...]
TIER 4
Aserai Veteran Archer:
[...]


Aserai Veteran Infantryman:
[...]


Mamluk Horse Archer:
[...]


Mamluk Veteran Infantryman:
[...]


Aserai Veteran Faris:
[...]
TIER 5
Aserai Renowned Archer:
[...]


Aserai Renowned Infantryman:
[...]


Mamluk Zhayedan:
[...]


Mamluk Tarbardayya:
[...]


Aserai Renowned Faris:
[...]
TIER 6
Code:
T1                                             Battanian Recruit

T2          Battanian Highlander                                               Battanian Lowlander                         Battanian Helwr

T3 Battanian Warrior       Battanian Bowman                      Battanian Kern                  Battanian Pikeman         Battanian Saethwr

T4 Battanian V. Warrior    Battanian V. Bowman     Battanian V. Kern      Battanian Reidiwr     Battanian V. Pikeman       Battanian V. Saethwr

T5 Battanian Cliathairi                           Battanian Gallowglass   Battanian Marchfilwr                             Battanian P. Saethwr

T6                                                                                                                         Battanian Fian
TIER 2
Battanian Highlander:
[...]


Battanian Lowlander:
[...]


Battanian Helwr:
[...]
TIER 3
Battanian Warrior:
[...]


Battanian Bowman:
[...]


Battanian Kern:
[...]


Battanian Pikeman:
[...]


Battanian Saethwr:
[...]
TIER 4
Battanian Veteran Warrior:
[...]


Battanian Veteran Bowman:
[...]


Battanian Veteran Kern:
[...]


Battanian Reidiwr:
[...]


Battanian Veteran Pikeman:
[...]


Battanian Veteran Saethwr:
[...]
TIER 5
Battanian Cliathairi:
[...]


Battanian Gallowglass:
[...]


Battanian Marchfilwr:
[...]


Battanian Picked Saethwr:
[...]
TIER 6
Code:
T1                                              Imperial Recruit

T2                  Imperial Conscript                                   Auxiliary Foederati                       Imperial Pronoiar

T3 Imperial Comitatensis          Imperial Crossbowman        Auxiliary Bowman        Auxiliary Outrider           Imperial Eques

T4 Imperial V. Comitatensis       Imperial V. Crossbowman     Auxiliary V. Bowman     Auxiliary V. Outrider        Imperial V. Eques

T5 Imperial E. Comitatensis       Imperial Palatine           Auxiliary Sagittarius   Auxiliary Bucellarius        Imperial Cataphractarius

T6                                                                                                                 Imperial Clibanarius
TIER 2
Imperial Conscript:
[...]


Auxiliary Foederatus:
[...]


Imperial Pronoiar:
[...]
TIER 3
Imperial Comitatensis:
[...]


Imperial Crossbowman:
[...]


Auxiliary Bowman:
[...]


Auxiliary Outrider:
[...]


Imperial Eques:
[...]
TIER 4
Imperial Veteran Comitatensis:
[...]


Imperial Veteran Crossbowman:
[...]


Auxiliary Veteran Bowman:
[...]


Auxiliary Veteran Outrider:
[...]


Imperial Veteran Eques:
[...]
TIER 5
Imperial Exemplar Comitatensis:
[...]


Imperial Palatine:
[...]


Auxiliary Sagittarius:
[...]


Auxiliary Bucellarius:
[...]


Imperial Cataphractarius:
[...]
TIER 6
Imperial Clibanarius:
[...]
Code:
T1                                           Khuzait Recruit

T2               Khuzait Scout                                           Khuzait Footman                           Khuzait Khorchin

T3 Khuzait Raider             Khuzait Horseman             Khuzait Archer              Khuzait Warrior             Khuzait Kheshig

T4 Khuzait V. Raider          Khuzait V. Horseman          Khuzait V. Archer           Khuzait V. Warrior          Khuzait V. Kheshig

T5 Khuzait M. Raider          Khuzait M. Horseman          Khuzait M. Archer           Khuzait M. Warrior          Khuzait M. Kheshig

T6                                                                                                                 Khuzait Kipchak
TIER 2
Khuzait Scout:
[...]


Khuzait Footman:
[...]


Khuzait Khorchin:
[...]
TIER 3
Khuzait Raider:
[...]


Khuzait Horseman:
[...]


Khuzait Archer:
[...]


Khuzait Warrior:
[...]


Khuzait Kheshig:
[...]
TIER 4
Khuzait Veteran Raider:
[...]


Khuzait Veteran Horseman:
[...]


Khuzait Veteran Archer:
[...]


Khuzait Veteran Warrior:
[...]


Khuzait Veteran Kheshig:
[...]
TIER 5
Khuzait Master Raider:
[...]


Khuzait Master Horseman:
[...]


Khuzait Master Archer:
[...]


Khuzait Master Warrior:
[...]


Khuzait Master Kheshig:
[...]
TIER 6
Code:
T1                                                                 Sturgian Recruit

T2                                    Sturgian Tribesman                                     Varyag Tribesman         Sturgian Otroki     

T3              Sturgian Warrior                              Sturgian Bowman                Varyag Warrior           Sturgian Druzhinnik     

T4 Sturgian V. Warrior   Sturgian Charger        Sturgian V. Bowman    Sturgian Vsadnik      Varyag V. Warrior        Sturgian V. Druzhinnik        

T5 Sturgian C. Warrior   Sturgian Line Breaker   Sturgian Marksman                           Varyag Guardsman         Sturgian Boyar

T6                                                                                                                    Sturgian Bogatyr
TIER 2
Sturgian Tribesman:
[...]


Varyag Tribesman:
[...]


Sturgian Otroki:
[...]
TIER 3
Sturgian Warrior:
[...]


Sturgian Bowman:
[...]


Varyag Warrior:
[...]


Sturgian Druzhinnik:
[...]
TIER 4
Sturgian Veteran Warrior:
[...]


Sturgian Charger:
[...]


Sturgian Veteran Bowman:
[...]


Sturgian Vsadnik:
[...]


Varyag Veteran Warrior:
[...]


Sturgian Veteran Druzhinnik:
[...]
TIER 5
Sturgian Chosen Warrior:
[...]


Sturgian Line Breaker:
[...]


Sturgian Marksman:
[...]


Varyag Guardsman:
[...]


Sturgian Boyar:
[...]
TIER 6
Code:
T1                             Vlandian Recruit

T2 Vlandian Huntsman                                      Vlandian Combatant                                                      Vlandian Squire

T3 Vlandian Crossbowman        Vlandian Cavalryman                                  Vlandian Infantryman                          Vlandian Knight        

T4 Vlandian V. Crossbowman     Vlandian V. Cavalryman                 Vlandian Billman                Vlandian V. Infantryman     Vlandian V. Knight    

T5 Vlandian S. Crossbowman     Vlandian S. Cavalryman     Vlandian Man-at-Arms  Vlandian Voulgier     Vlandian S. Infantryman     Vlandian S. Knight

T6                                                                                                                                Vlandian M. Knight
TIER 2
Vlandian Huntsman:
[...]


Vlandian Combatant:
[...]


Vlandian Squire:
[...]
TIER 3
Vlandian Crossbowman:
[...]


Vlandian Cavalryman:
[...]


Vlandian Infantryman:
[...]


Vlandian Knight:
[...]
TIER 4
Vlandian Veteran Crossbowman:
[...]


Vlandian Veteran Cavalryman:
[...]


Vlandian Billman:
[...]


Vlandian Veteran Infantryman:
[...]


Vlandian Veteran Knight:
[...]
TIER 5
Vlandian Sergeant Crossbowman:
[...]


Vlandian Sergeant Cavalryman:
[...]


Vlandian Man-at-Arms:
[...]


Vlandian Voulgier:
[...]


Vlandian Sergeant Infantryman:
[...]


Vlandian Sergeant Knight:
[...]
TIER 6
Vlandian Marshal Knight:
[...]
POST UNDER CONSTRUCTION
​
Last edited: