Regular

So, after playing bannerlord pretty extensively, I wanted to offer some thoughts on the current state of weapon balance, on three points in particular. This is based on my experience in SP combat in general and a lot of arena practice fighting in particular, since that game mode forces you to use all different kinds of weapons.
Shield + sword vs two-handed weapons:
I originally wanted to focus my (second) character on two-handed axes, but:
When you fight against ranged opponents, you want a shield
when you fight against multiple opponents, you really want a shield
even in a duel with a melee character, I still prefer to use a sword + shield, since it almost eliminates the necessity of directional blocks, which is a huge advantage. It is relatively easy to mess up a directional block even after quite a bit of practice, but it is extremely hard to hit around a raised shield even with good footwork. Yes, two-handed weapons do more damage and have slightly better reach, but one-handed swords swing faster, which IMO is the superior advantage.
Even in the ideal situation for two-handed weapons, I would pick sword + shield over a two-handed weapon. Infantry without shields is very niche, and die a lot. You can of course say that this is realistic, and to an extent it is, but this brings me to my second point:
Use of throwing weapons against shields
If you are interested in the topic, you can e.g. read
this reddit thread
, but the essence is this (quote):
With the right tactics, the thrown 'spear' turned out to just as effective as the held spear when breaking a shield wall, and more so in terrain where the phalanx didn't work.
In real life, a shield with a spear stuck through it is a lot more difficult to use, which is why legionnaires threw their pila before charging in with the sword. Since that is difficult to simulate, a natural alternative would be that throwing weapons do significant damage to shield health. In the current state of the game, however...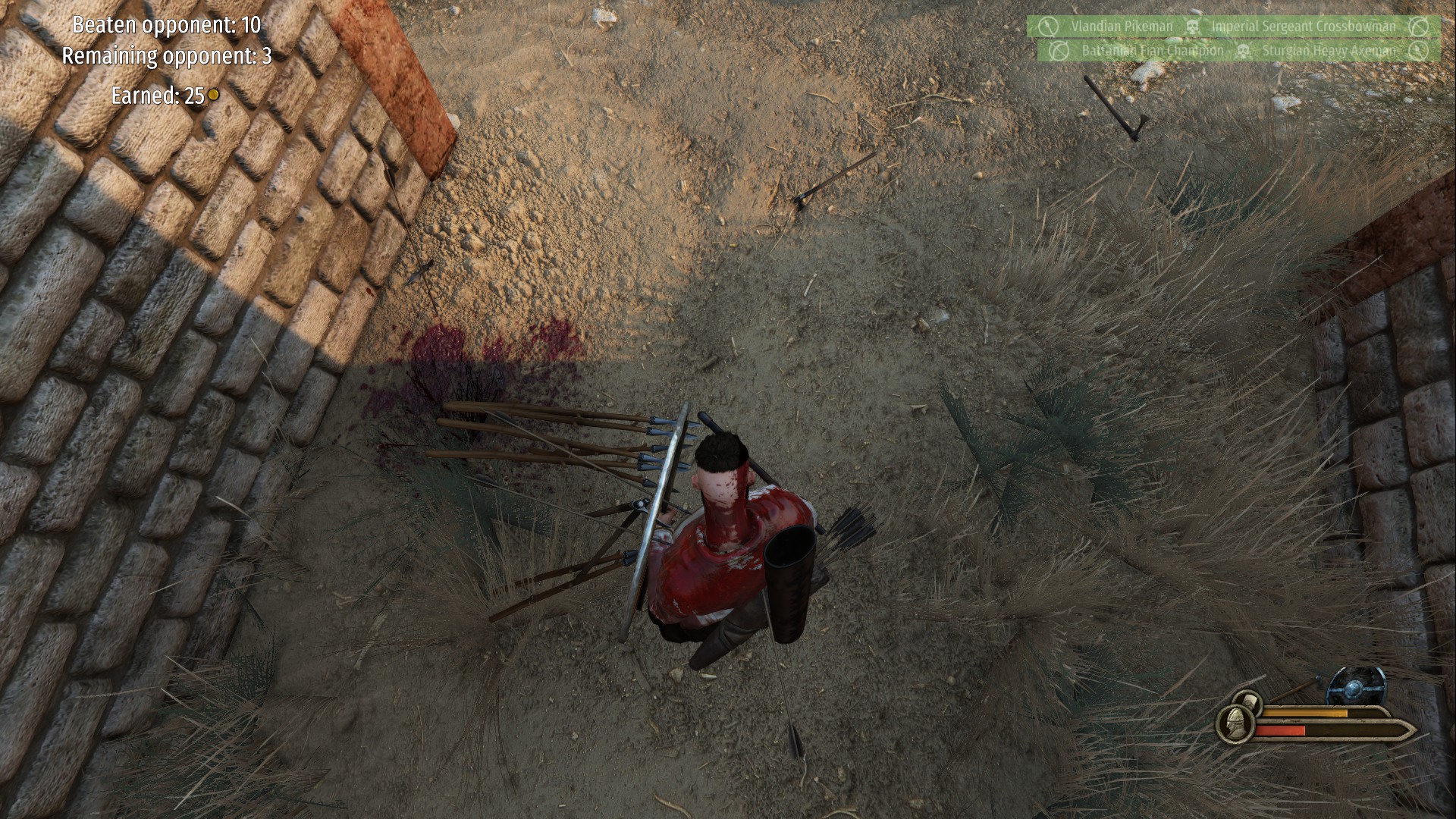 Shield health is really really high, to the point of being meaningless, since in my experience there is almost no realistic scenario in which your shield will break. Which is fine against (cross)bows, since these are really really good weapons themselves, but in other scenarios shields should have some kind of counter.
I think weapon and infantry balance would be much improved if axes/maces and throwing weapons had a realistic chance of actually destroying shields, say in ~4 hits for the average shield (depending on the weapon).
And I think throwing weapons need a niche to compete with (cross)bows because
Ranged weapon accuracy
With my character, I went out of my way to not use (cross)bows, because I wanted to focus on throwing weapons. But after finally picking up a bow in a practice fight, I was surprised to be able to land headshots immediately, sometimes 4 in a row and more, at distances which would make it difficult to hit a target with a throwing weapon at all, even with a lot of skill points and practice with the latter and zero with the former. I assume that it's realistic that people are more accurate with bows than spears, but not 4 headshots in a row on your first try more accurate.
On the other hand, throwing weapons were often thrown when charging in, and indeed, it is difficult to make a powerful spear-throw without taking a few steps automatically. But in-game, moving with a throwing weapon shoots your accuracy to pieces to such a degree that I find myself stopping my charge dead for a short while to actually let lose a throwing weapon, even at very close range (below 10m). It looks pretty awkward. So, to balance things out for ranged weapons a little bit, my last suggestions would be these:
Lower (cross)bow accuracy a bit in general, at least for low skills. Ranged troops are very powerful in general, and the amount of headshots you can land with these weapons from the very start seems a bit ridiculous.
Significantly lower accuracy penalty for moving on foot for throwing weapons. At least for the spear, it is much more natural to throw it while moving compared to a bow, and it would go with their "let loose while charging in" niche.
So yeah, together with making shields less effective in general, and against throwing weapons in particular, I feel like this would go a long way in lowering the dominance of archers and shields, and giving throwing and two-handed weapons their role.
Sorry for the wall of text, and please discuss
Last edited: