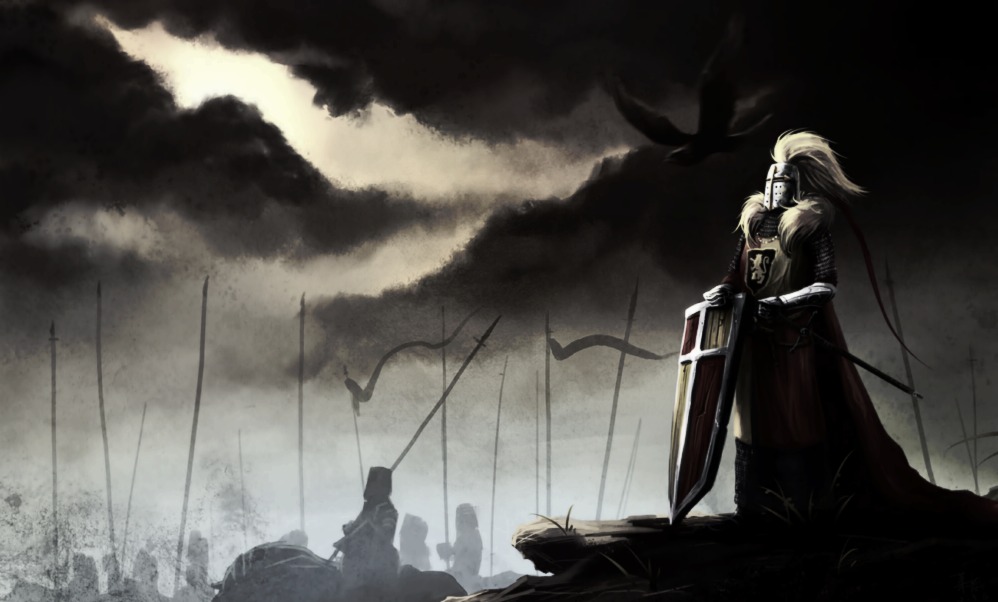 About Full Invasion 2
Full Invasion 2 is one of the only cooperative modules available for the tremendously successful Mount & Blade: Warband by TaleWorlds Entertainment. It allows players to play together with the goal of defeating ever-growing waves of enemies and bosses. The module boasts an incredible number of factions and maps ranging from fantasy to sci-fi which pushes Warband's engine to its limits.

Full Invasion 2: Amber has been voted as the most popular multiplayer module for Warband a number of times, with over 500,000 total downloads across its lifetime.
Download Links
Full Invasion Osiris version 1.1 (ModDB)


[size=14pt]Full Invasion Osiris on the Steam Workshop



[size=12pt]Changelogs
(To be updated)
Changelogs are found in another post because of the word limit on this post:
Changelogs Thread



[size=12pt]Mod Factions
Factions are playable defender factions, Invasions are non-playable invader factions as enemies.
Code:
Playable Defender Factions

The Calradian Realms
The Crusader States
The Empire of Sigmar
The Lord of the Rings
The Saracen Sultanates
The Arcane Empire
The Greco-Persian States

Non-playable Invader Factions

The Invasion of Calradia
The Storm of Chaos
The Forces of Christendom
The Armies of Isengard
The Hordes of Mordor
The Defence of the Free Peoples
The Invasion of Saracens
The Tide of the Blackmarch
The Greco-Persian Invasions
Mod Maps
Code:
Amon Hen
Atlantis
Blackstone Coves
Brytenwalda
Cliffs
Dale
Echo Dock
Fairking Farm
Gates of Argonath
Jakamet Castle
Ku Moku
Multhorne
Paths of the Dead
Pentacsis
Port Defence
Rivacheg
Shariz
Siege of Hornburg
Snowy Valley
Stanley Fortress
Tomb of Horrors
Triax
Urogash Morat
Uxkhal
Media
About Suggestions & Bugs
Full Invasion 2 Dev Team
Dedicated Server Config
Credits List
Taleworlds for Mount & Blade Warband
Arch3r for the original Full Invasion Mod
The Full Invasion 2 Dev Team / Wave 53 Studios, everyone's position is important.
All contributors, supporters, team members.

Official Full Invasion 2 Credits List Thread
-Work In Progress-
Signatures!
Signatures done by uzo70
Code:
[url=http://forums.taleworlds.com/index.php/topic,259745.0.html/][IMG]http://i.imgur.com/8PbjIZQ.jpg[/IMG][/url]
Code:
[url=http://forums.taleworlds.com/index.php/topic,259745.0.html/][IMG]http://oi50.tinypic.com/28a87pw.jpg[/IMG][/url]
Code:
[url=http://forums.taleworlds.com/index.php/topic,259745.0.html/][IMG]http://i.imgur.com/Q8CHTqc.jpg[/IMG][/url]
Code:
[url=http://forums.taleworlds.com/index.php/topic,259745.0.html/][IMG]http://i.imgur.com/ymXmF3Q.jpg[/IMG][/url]
Code:
[url=http://forums.taleworlds.com/index.php/topic,259745.0.html/][IMG]http://i.imgur.com/j6ApEy8.jpg[/IMG][/url]
Code:
[url=http://forums.taleworlds.com/index.php/topic,259745.0.html/][IMG]http://i.imgur.com/dtQKrJ2.jpg[/IMG][/url]
Code:
[url=http://forums.taleworlds.com/index.php/topic,259745.0.html/][IMG]http://i.imgur.com/Tln3HRl.jpg[/IMG][/url]
Code:
[url=http://forums.taleworlds.com/index.php/topic,259745.0.html/][IMG]http://imgur.com/1HqAR1V.jpg[IMG][/url]
Code:
url=http://forums.taleworlds.com/index.php/topic,259745.0.html/][IMG]http://imgur.com/YdjrlRd.jpg[/IMG][/url]

Code:
[url=http://forums.taleworlds.com/index.php/topic,259745.0.html/][IMG]http://hostr.co/file/0phSAMewGL4K/Full-Invasion-2-sig-shield-v.3.jpg[/IMG][/url]

Code:
[url=http://forums.taleworlds.com/index.php/topic,259745.0.html/][IMG]http://hostr.co/file/opyMuQS0FzRj/Full-invasion-2-cube-sig.jpg[/IMG][/url]
Signature done by Rhak
Code:
[url=http://forums.taleworlds.com/index.php/topic,259745.0.html/][IMG]http://i.imgur.com/U1ah4m2.png[/IMG][/url]
Show Your Support for the Mod! (Official Discord Server & Group Pages)
If you want to support us, we have a Patreon page where we accept donations. While donators will receive certain rewards for the next version of the mod, please remember that donating is entirely optional, and no content of the mod is or will be locked behind a paywall.
Alternatively, you can make an account on moddb.com, track the mod by clicking on the 'Eye' icon close to the Warband icon (below the ratings) and perhaps write a review for the mod. Also, post your suggestions and bug reports to us here at the Taleworlds forum.

Official Discord Server
Official Steam Group
Official ModDB Mod Page

​