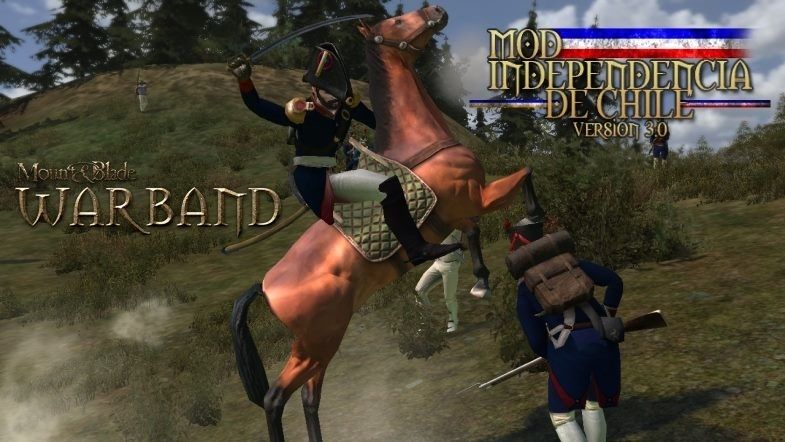 Chile Independence Mod Version 3.0
​
Hello guys, as you are aware, I have finished a new version of the mod Independence of Chile. The work has been hard, although I have not finished yet because I need to spend more time in that. There are things such as the castles in singleplayer (barracks), maps are not published yet and some cities are not finished (the Mapuche camps and 3 more). Everything else is part of the new faction uniforms and I have to locate the villages and barracks in the general map.
There were many volunteers who offered their help to finish editing the castles, but none of them was constant, only one of them who can takes all the credits by the creation of most of the cities (I said most of that because I only did 2, Santiago and Rancagua).
Consequently, I've decided to call him "Beta Version 3". Initially my idea was  leave completed because of that I've delayed...
I've added many new things that the detail below:
-New Standards for single and multiplayer
-New Mapuche costumes
-New banner
-Training Square in fast battle or skirmish (runs with the letter H) you can also select infantry separately from other troops, it´s to say, press number 1 (light infantry) or 2 (heavy infantry) and 3 for cavalry.
-Historic Lord names for all Factions.
-New Dynamics tavern, where you can find characters playing guitar, poets that let you play music for 10 denars (lack to add the Argentina and Spanish music) while you're in the tavern, also you can play cards with the bartenders and bet money.  Occasionally you can find a Chinese woman (wife life), etc.
-New Dialogs, new textures, new decoration.
-New Icons of the general map, 3 per faction.
-You Can see the tree of troops on "Reports" and you can see all the equipment and skills of each troop.
-New Cities, New buildings.
-New Textures and beards for the character.
-You Can train with your favorite weapons in the training centers, including pistol and musket.
-Tournaments With new weapons and uniforms.
-New Factions shields, shot effect.
-Animation-bayonet.
-Granade for single and multiplayer ETC ....
-I've added "Scorts" in taverns (in 10 cities), which may provide their services for a certain amount of money, for yourself or your tropos. If it's for you, your troops will go down morale in some amount of points, but if it is for your men, it will be upside down, but it costs more expensive.
You can see some photos here:
http://s1233.photobucket.com/user/mauromagno/slideshow/otros/IND%203]http://s1233.photobucket.com/user/mauromagno/slideshow/otros/IND%203]http://s1233.photobucket.com/user/mauromagno/slideshow/otros/IND%203
In multiplayer
have added some sounds by pressing the letter V (victory with animation), B (encouragement to the troops), N (horn sound) and M (drum sound)
-Also In multiplayer you will be able to select separate infantry troops (bots), the difference with the skirmish, that is not all wear light infantry ammunition:
light infantry
; all carry a musket, but all not carry ammunition, they are good at melee, they are stronger and faster, but they are not very resistant.
Grenadiers or second infantry:
all carry musket and ammunition, they use more accurate muskets, have less strength and less speed, but they are more resistant.
Hunters or third troop:
they carry a musket and ammunition, their muskets are the best, more accurately, no melee, less strength and slower.
cavalry:
there are 2 in each faction, one is stronger with more melee but less riding (only in one faction there is one type).
In this last (multiplayer), I had a problem with the sound of guns, so this week, I was working on that and I created a patch (light) that will have to download along
with the mod (was not worth upload it again as the date as 200 people already downloaded).
Credit
I give many credit to "
Dangermau5
" it was my partner in every sense, he was the creator of the cities mentioned above, in addition to always provide with information to make this mod as much historical as possible.
I Also give many credit to
Camilo Escandar
, He was the person who helped me a lot with the mod' textures.
I also give credit to "
Idibil
" Taleworlds forum (one of the creators of the mod Brytenwalda), who was always present in my consultations and doubts, besides sending
information to complete certain script in the mod.
I give credit also to "
AndyYa
" also Taleworlds forum that helped me in certain occasions. And the following individuals for sharing their codes that I have added to the mod:
-
Slawomir of Aaarrghh
: [OSP] Tavern Animation Pack.
-
SonKidd
: [OSP] Script to guarantee all melee weapons (1hand, 2hand + polearms).
-
jacobhinds
: [OSP] Form Musket Square.
-
ScreamingCommie, Beaver y DuskVoyager :
[OSP] Grenades and Explosions (Originally by  Beaver).
-
Slawomir of Aaarrghh :
[OSP] Map Icons Pack.
-
AndyYa
: [OSP] Three cards game.
-
proud
: Custom Game Fonts.
-
Cromcrom
: [OSP] Chosen Songs playing bards.
-
dunde
: Dynamic Kingdom Troop Tree Presentation.
As I said earlier, must download both, installed the mod in modules and then place the patch files in the mod folder.
Download mod:
http://www.mediafire.com/download/am0kww00i8ii5qa/IND_CHILE_3Beta.rar
Download patch:
http://www.mediafire.com/download/ta9dr8jedrz451q/PARCHE_IND_CHILE_3.rar
Ingaming stable server whenever they want to play.
​