Background of this OSP: Many of the assets of Vikingr are made by Rath0s, or based on his models, and most of Rath0s' work is OSP, especially the 8-11th century things (see links to his OSPs below). As for Vikingr stuff, there's a complete list of free-to-use assets. The upfollowing list has been sent by Torkell, one of the developers of Vikingr (
original list
)
Code:
######################################
########## Full Permission: ######
######################################

#####Scene props:
-All pieces listed with "mp_" prefix
-"Faering" boat

#####Weapons:
##Seaxes & Knives:
-"heavy_seax", "heavy_seax_scab"
-"gaelic_seax", "gaelic_seax_scab"  [ahistorical]
-"norman_seax", "norman_seax_scabbard"      [Not specifically Norman]
-"norman_knife", "norman_knife_scabbard"

##Swords:
-"short_rus_sword", "scab_short_rus_sword"  [Not actually Rus and rather modern]
-"london1_sword", "london1_sword_scab"
-"london_sword_2", "london_sword_2_scab"
-"norman_short_sword", "norman_short_sword_scab" [Based on Rathos design, as in his Arms & Armour OSP]

##Axes:
-"heavy_cutting_axe"
-"axe_e", "axe_f"
-"slim_axe"

##Other:
-"hewing_spear" [actually La Tène]
-"holy_cross"

#####Hats & Helmets:
-"saxon_cap"
-"birka_cap"
-"woolen_cap_new"       [essentially a native retexture]  

-"bowl_helmet"          [ahistorical]
-"ridge_helmet"         [ahistorical]
-"ridge_helmet_mail"    [ahistorical]

-"Gjermundbu Helmet & Aventail"
-"Gjermundbu Helmet & Mail Coif"    [variation of the one above, other one is by Rathos]

Based on Rathos' Arms & Armour OSP:
-"english_conical_helmet_mail"
-"english_conical_helmet_padded"
-"english_conical_helmet_veiled"
-"saxer_hjelm"
-"ridge_helmet_b"                   [ahistorical, variation of Rathos' "saxer_hjelm"]

Based on Dejawolf's viking OSP:
-"viking_pointed_helmet"
-"vikingr_spangen_helmet_decorated_mail"
-"vikingr_spangen_helmet_mail"
-"vikingr_spangen_helmet_padded"

#####Armour:
-"viking_byrnie_new", "viking_byrnie_b", "viking_byrnie_c"
-"light_gambeson_a", "light_gambeson_b", "light_gambeson_c"
-"english_byrne"

Based on Rathos design, as in his Arms & Armour OSP:
-"mail_shirt_viking", "mail_shirt_viking_blue", "mail_shirt_viking_green"
-"saxon_hauberk_a", "saxon_hauberk_b", "saxon_hauberk_c"  
-"norman_short_hauberk", "norman_short_hauberk_blue", "norman_short_hauberk_yellow"

#####Animations:
-"seax_draw"                    [From rear scabbard]
-"attacks_single_overswing_new" [Experimental, not used in Vikingr]  

-"mounted_pose_uniA", "mounted_pose_lance",
 "mounted_pose_fist", "mounted_pose_throw"   [Mounted charge poses]
-"lancer_armslength"                [Historical replacement for couched lance]
For the convenience of modders I have created an upload on moddb of the above mentioned assets: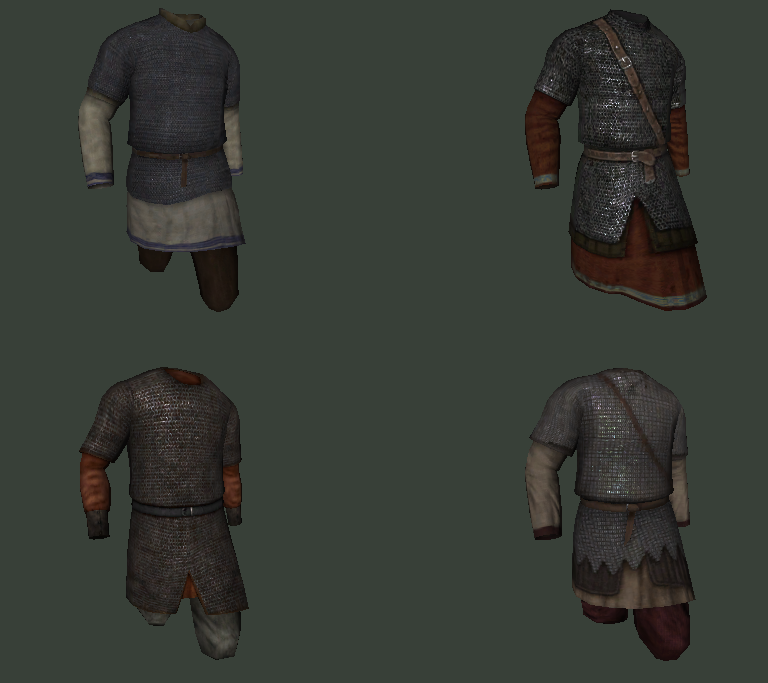 Upload for the Vikingr OSP, please read the forum thread for full details!
www.moddb.com
Credit goes to the Vikingr Development Team.
Take note that, as mentioned above, quite a few from the list are re-textures of Rath0s' OSP assets which you can find here:
This means that if you use the re-textures, you will need to credit Rath0s as well.
Last edited: