Veledentella's scenes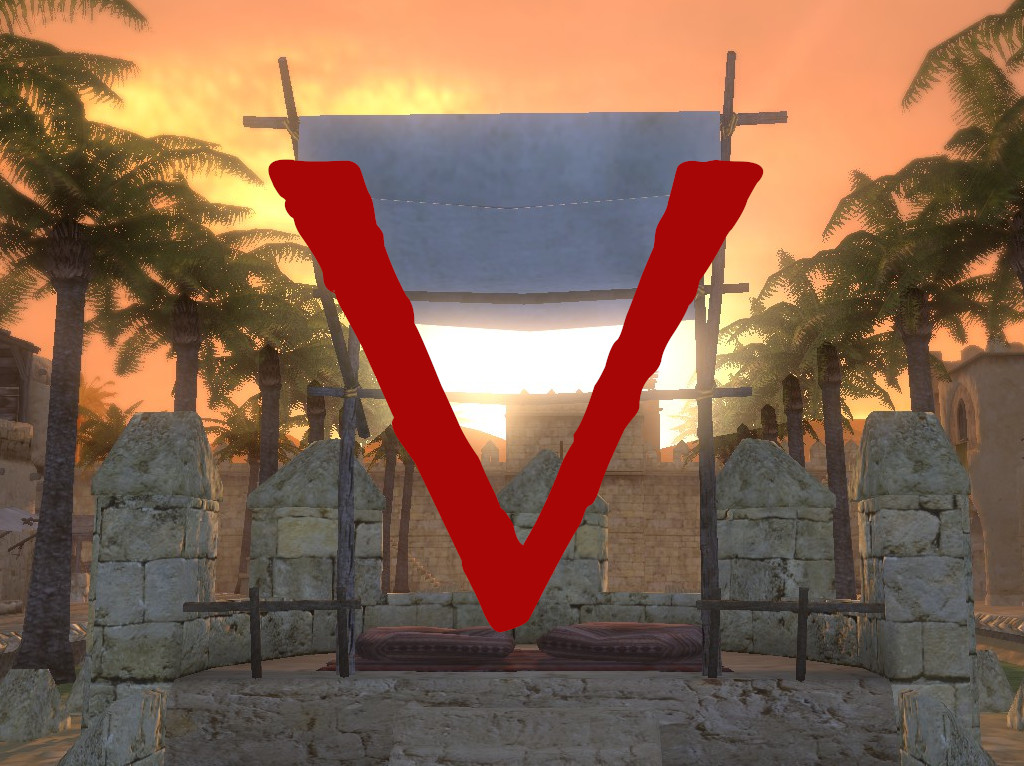 ​
1. Introduction
---
Having started scening in the second half of 2019, I embarked on making new works for MP in Native with NeoGK, as SP in general and most MP modules were already in decline. As a result, there were not that many opportunities to lend my hand, thus I focused on the above. I created my works for my server and client-side module (Varena) and now it is high time to share them with the community of Warband modding (or its remainder). Someone may find these scenes useful, should they want to incorporate them in their own projects (conditions apply); they can be used in many MP gamemodes (CTF/ DM/ B/ TDM), in various SP mods and in every project as they are built from Native objects (there are some additional NeoGK features which may not work elsewhere). I hope others will appreciate the scenes which will find a new home somewhere.
2. Panel pictures
---
It is recommended to download the modification of mine to preview the scenes in real time and in-game: https://forums.taleworlds.com/index.php?threads/varena-neogk.447294/.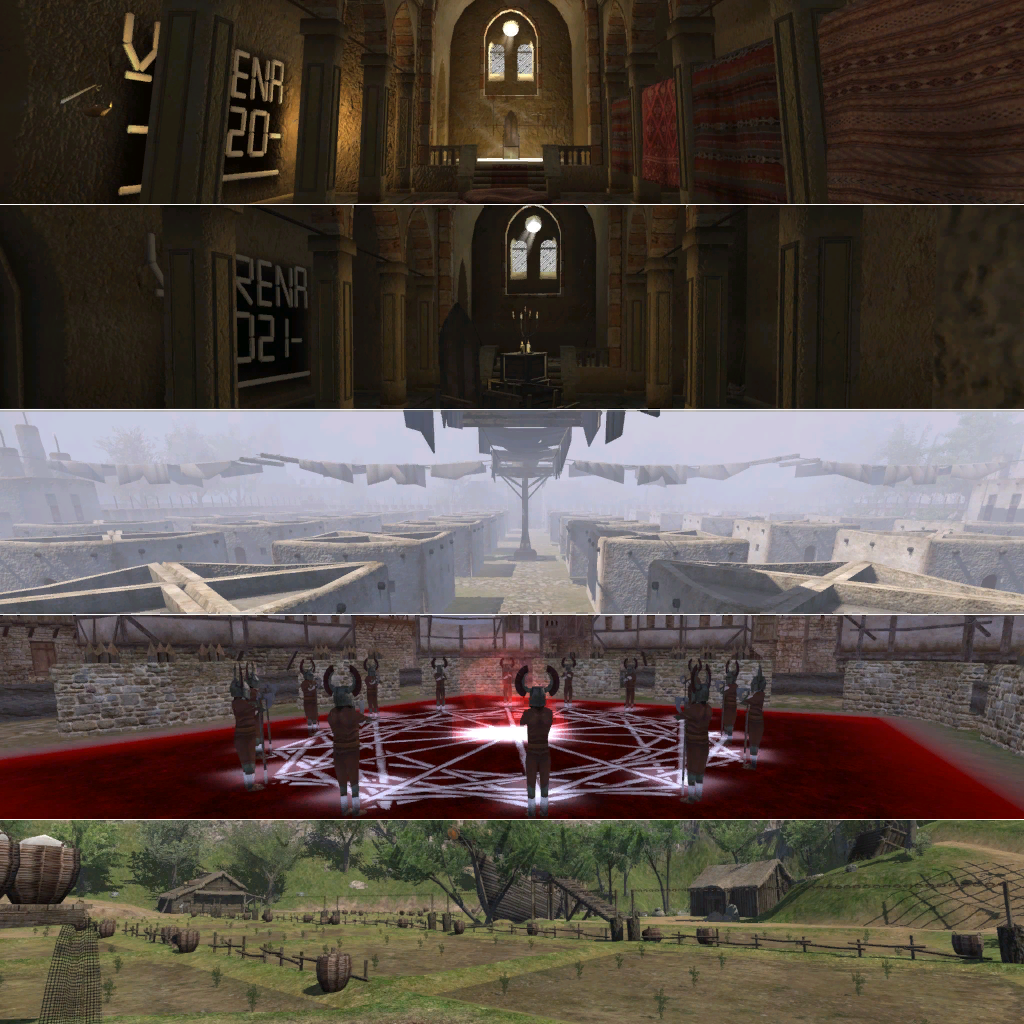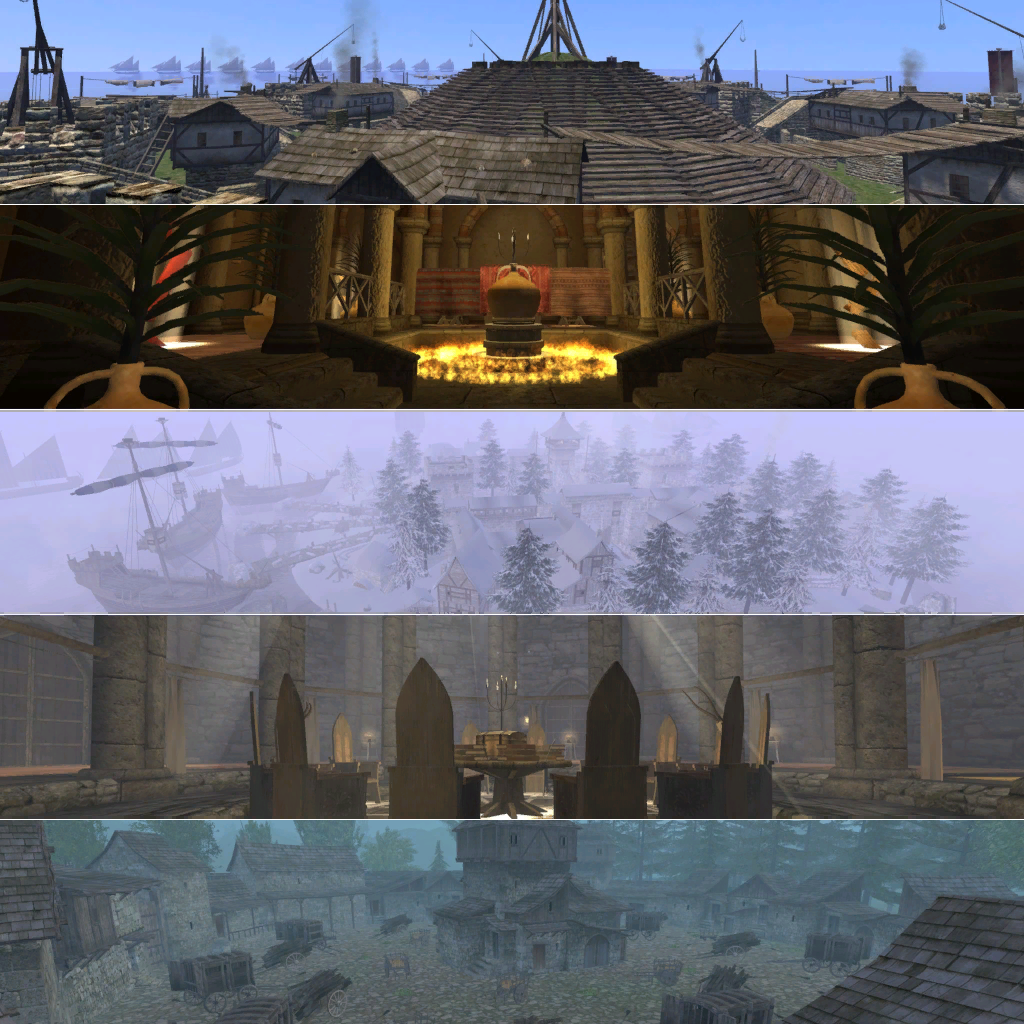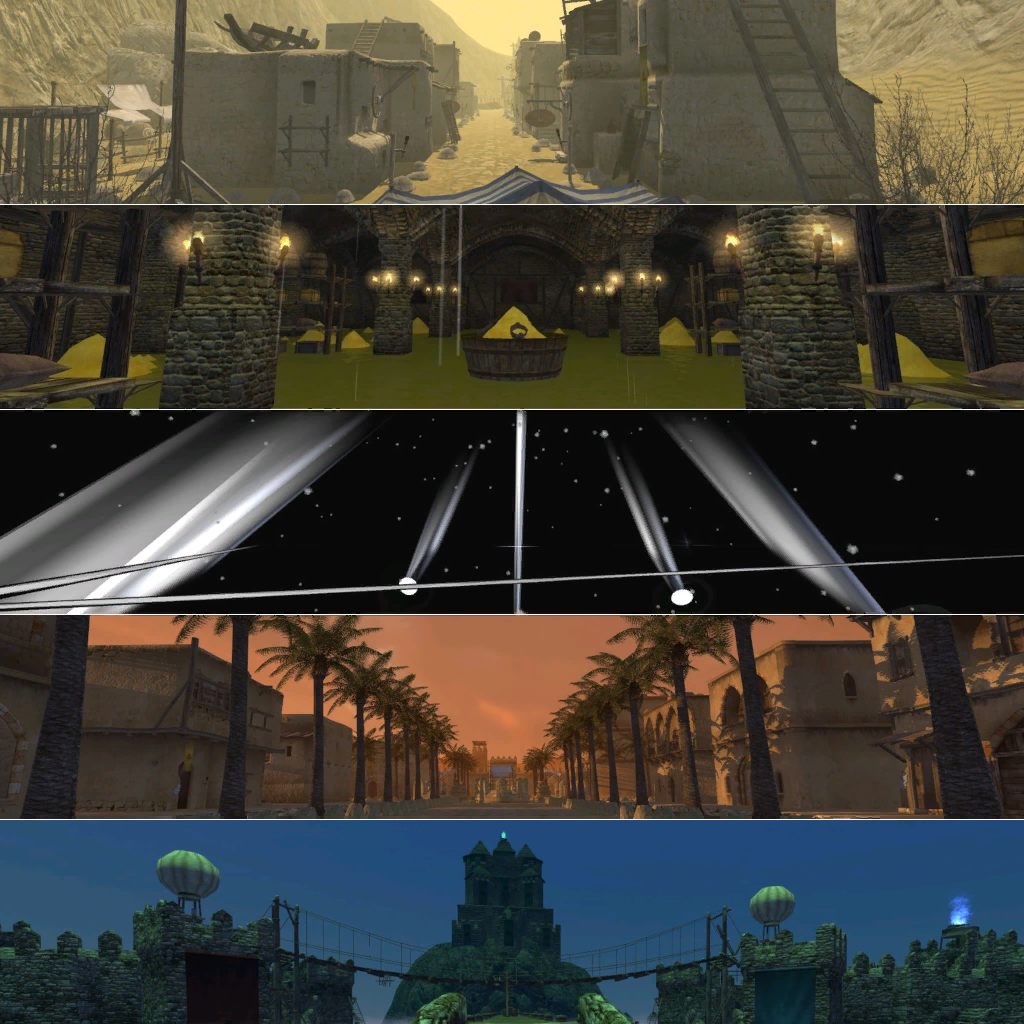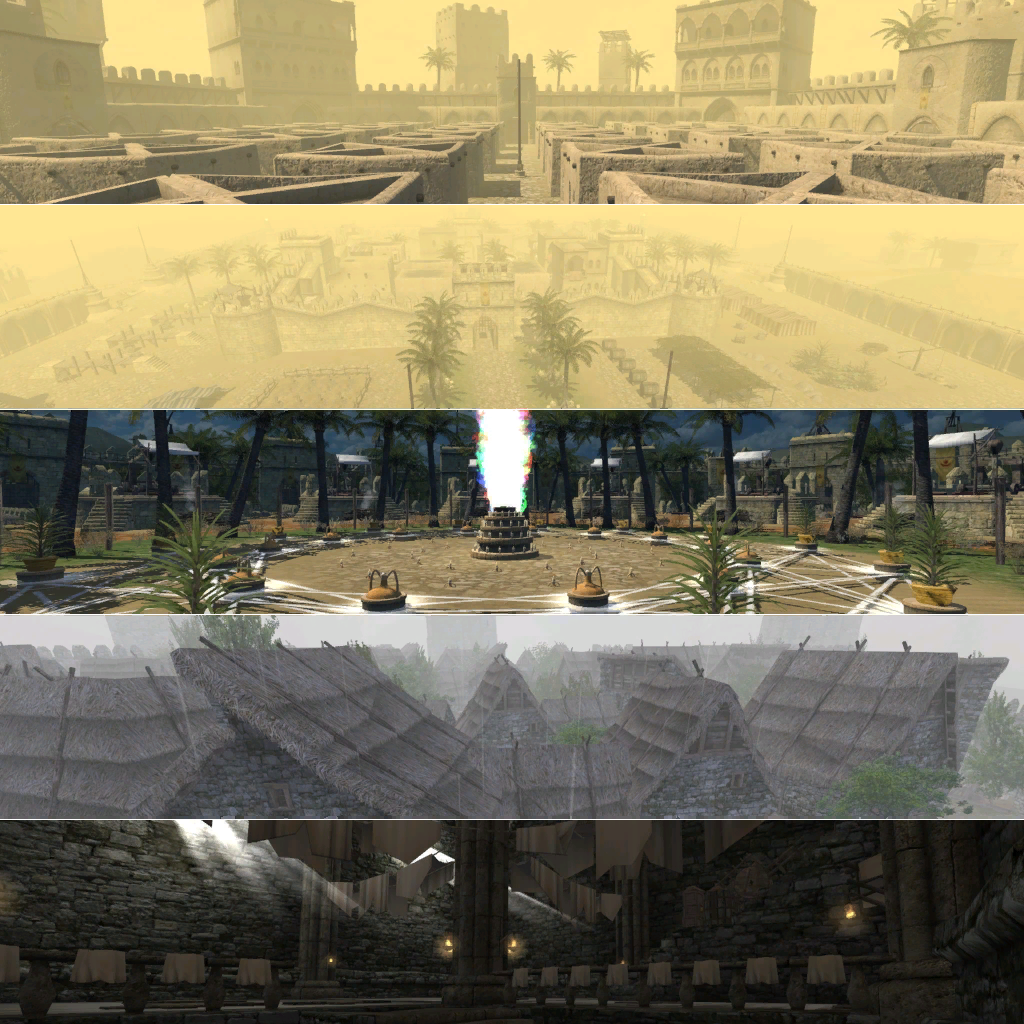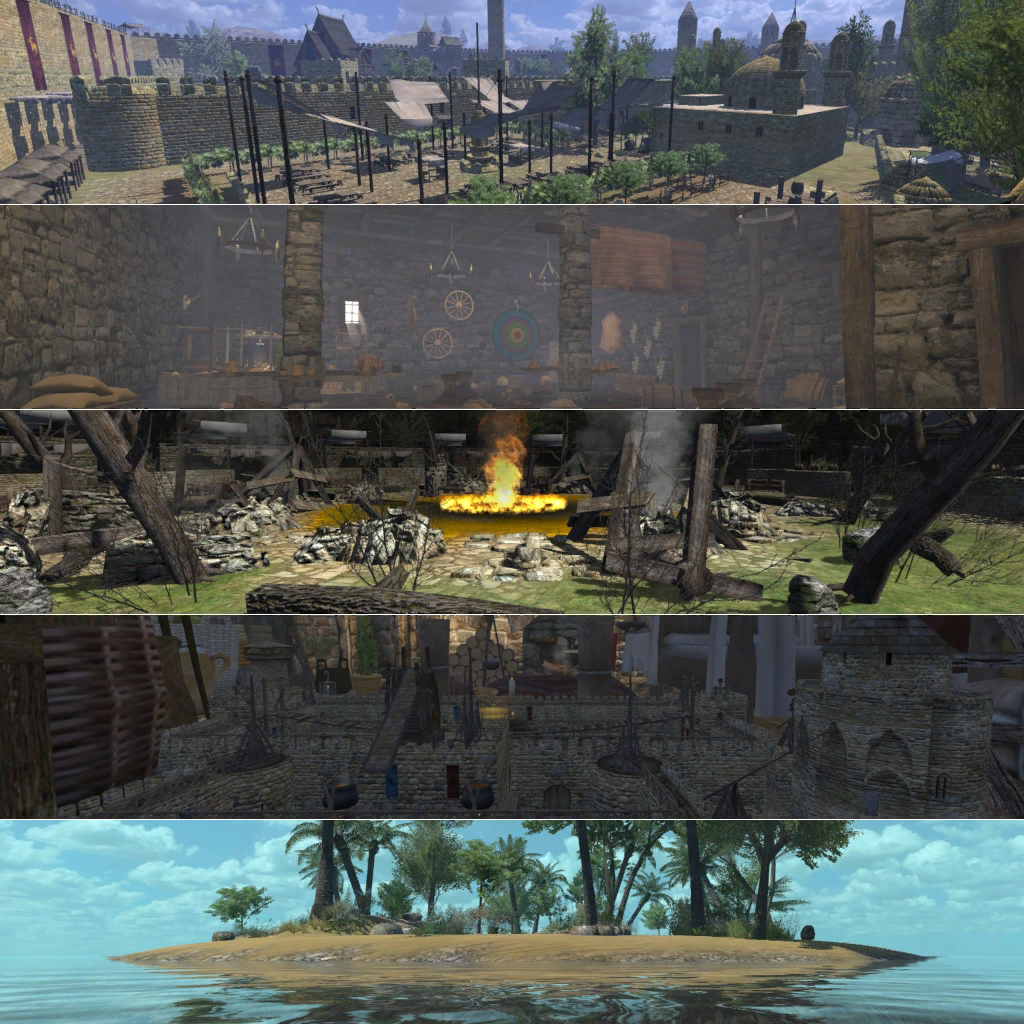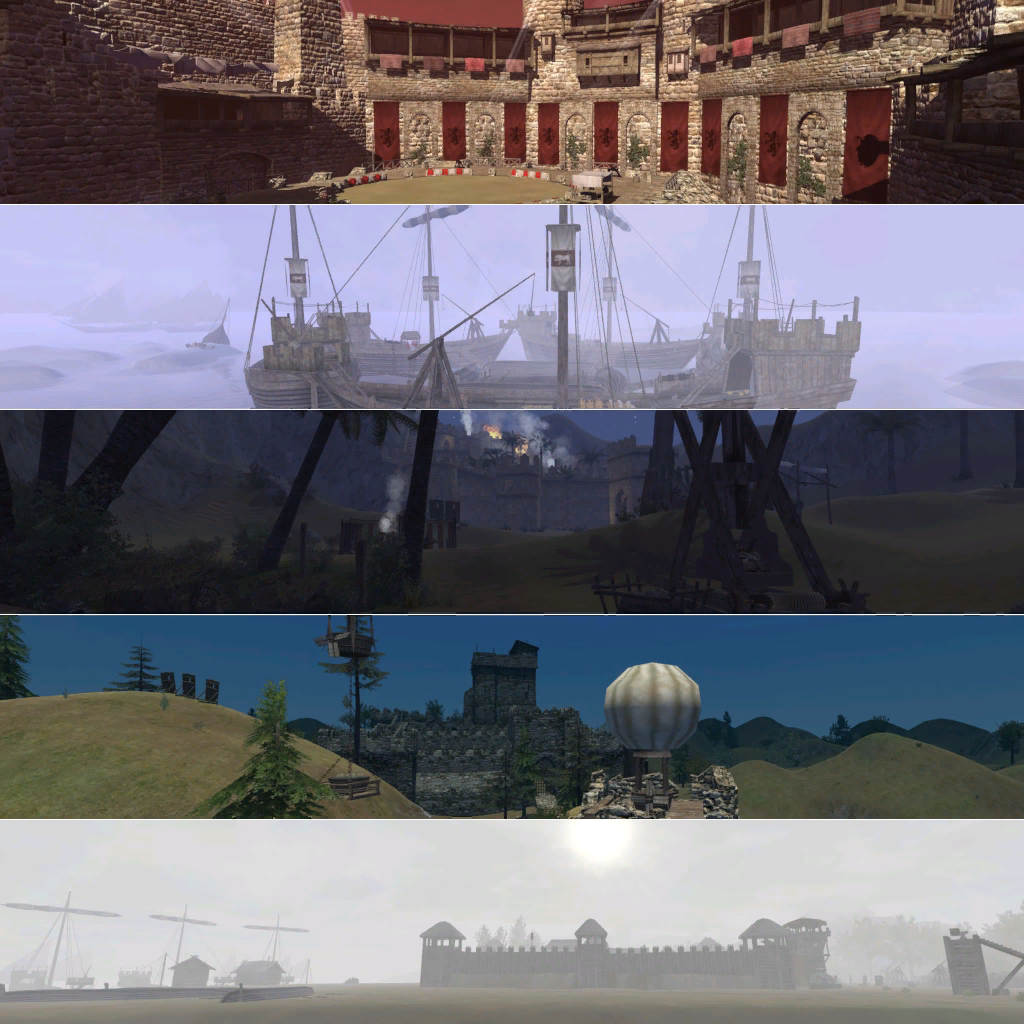 3. License, conditions of usage and applicable permissions
(read this!)
---
Generally, one may use the scenes freely, as long as the following requirements have been fulfilled.
There is one additional stipulation that transfer of the works from one party to another must take place only on condition that the receiving party has been made acquainted with this license (to prevent bypassing it). Simply put, someone creates a fake non-Native mod and transfers the files to continue their real project in Native (without asking for a permission) to circumvent the license; this type of situation must be avoided, hence the limitation.
Commercial projects (including donations) are permitted and redistribution/ adaptation/ usage is allowed as long as it does not conflict with other parts of this license.
Type of the project:
Modification:

the scenes may have both a signature and a string removed, but credit must be given to me.

Server:

the scenes must retain a signature made by me ("Veledentella") and a string stating the authorship ("<A scene> by Veledentella").
Module used:
Native:

the scenes may be used only on condition that I have granted permission to use them. I may be contacted via TW forum (a short message describing the project [server/ modification] would suffice) the binding permission is now the same as below, that is, the scenes may be used without my prior explicit permission.

Everything non-Native:

the scenes may be used without my prior explicit permission.
4. Installation and navigation through the folder
---
The folder is very easy to navigate through since every scene has its own folder containing gamemode version(s), .sco file(s) and text file(s) with entries for compiled and pre-compiled mods. Installation boils down to implementing the tuples of code in Module System (pre-compiled) or pasting them in text files (compiled).
Note: one may want to revert some flags (such as
sf_no_horses
) according to their needs; in this case, they would have to adjust compiled and pre-compiled tuples of code.
5. Download link
---
Current release of the scenes tied to Varena client-side mod: v1.0 (final version)
Link to the works:
6. Authorship and fair use
---
I have a right to distribute the scenes as all of them were made by me or were substantially edited by me; when it comes to the modifications of already-existing scenes, I edited two Native ones by TaleWorlds and two others by independent creators who had released their works as open-source on MBRepository.
7. Image preview of the scenes in alphabetical order
---
Atomized Barracks

Axe Rubbers

Battle on Rice

Beacon Isle Fort

Besieged Jameyyed Castle

Chamber of Secrets

Chilly Ambience

Circle of Power

Decluttering

Economy carved in rock

Farewell to Varena

Flooded Warehouse

In the Spotlight

Into the Void

Junction of Ahmerrad

Like in 1999

Linear Order

Mellow kind of yellow

Naval Carnival

Pearl of the Dunes

Rainy day in May

Rhodok Wedding Hall

Sacred November

Tavern Brawl

The Epicenter

Toy Soldiers

Virgin Island

Welcome to Varena

Bonus - my edits:

Greipenfurt Castle by Zagibu

Inch Tuth Il by Mendosa
Last edited: