Realistically, a shield was not a wall that you would hide behind, (while backpedaling) but a piece of kit for both offense and defense, and for it to be used effectively, it had to be actively moved around. Shields have been a major issue of concern, and while measures like block-crushing and kicks have been used to address them, I think a full redoing of the shield system would be far better to tackle those issues. I realize that it is very difficult to accurately portray the complexities of shield combat, but I think a few changes could be made to improve it.
In order of importance:
First off, a shield should not be an invisible force-field of complete protection. The protection range of a shield should match it's model, and the player should have to adjust the positioning of his shield to intercept melee attacks.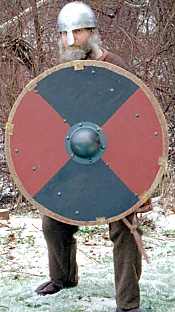 As you can see here, the head and legs are vulnerable to attack, and the shield must be used to intercept attacks to those areas. Long kite shields however would have more coverage and would protect the legs.
Some argue that this would essentially reduce shields to only be effective more blocking arrows, but that wouldn't be the case. The shield should use it's coverage hitbox to detect whether a melee attack goes around it or not. It would be easier to move your shield to defend than getting the right direction for a manual block, so a shield would still be superior in defence - it just wouldn't be an invisible barrier to stop all frontal attacks. This would solve complaints about shield-turtling, and add a more skill-based and interesting element to sword and board combat.
Secondly, I'd suggest that there be two separate types of shields: center grip shields, and arm-strap shields. Currently, all shields in game are arm-strap shields, which limits the options for shield defense somewhat. The Nord round shields at least should definitely be center-held. This would also be immensely beneficial to mods as well.
grip point for a viking shield: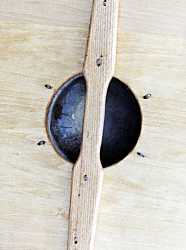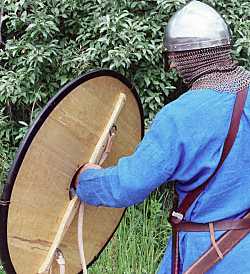 Thirdly: shields are an offensive tool as well as a defensive tool. A shield bash would be a pretty neat addition - essentially it is punching someone with the rim of your shield.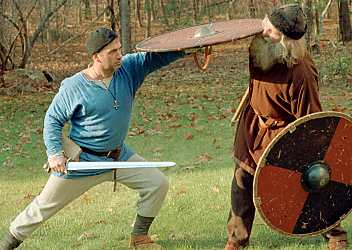 Another idea would be to allow for shields to be used to pin down an enemy's weapon arm, but that may be a little overpowered.
Fourthly: the encumbrance rating of a shield ought to be increased - the shields in the game only weigh around 2-4.5kg. However, a thick shield could weigh more than 7kg when dry. I'd advocate at least doubling the encumbrance of a shield. Also, carrying a shield can be pretty restrictive to one's speed, not to mention carrying several shields. Increasing the weight could help reduce the problem of multi-shield infantry.
Sources:
http://www.hurstwic.org/history/articles/manufacturing/text/viking_sword_technique.htm
http://www.hurstwic.org/history/articles/manufacturing/text/viking_shields.htm