Squire

Different items have the same image in the inventory and others are very similar, I would suggest making them different, more easy to recognize by just by the image.
E.g.: Wine and oil; olives, dates and beer; cheese and butter...
I suggest a more well thought and complete item size standardization. One where size varies according to Item categories (weapons, food...) and sub categories (spear, lance, sword...).
Also, considering real world relative sizes of items (length) (e.g.: bigger weapon = bigger item representation);
Expected real world quantity vs price vs item size or number of items per image;
Give more relevance to the part of the item which makes it more recognizable/differentiable (blade, handle, different color between similar items...) (e.g.: show the color of wine and oil or change the shape and color of the pottery);
Consider item position, orientation, rotation and direction (images with multiple items don't need to have all the same orientation... e.g.: you could put the one item showing overall length and other a differentiation factor, like blade shape).;
Combine different items (or similar for of them), to better represent other item, E.g.: wine

;
Relative item sizes between (sub)categories (e.g.: iron bar is the size of a horse, I would suggest an image of a pile of 3 bar in a pyramid shape

, 2 side by side

or just reduce the size a bit;
Some items are too small (e.g.: fish, butter and cheese...) again, you could add more items or increase the size

;
The item image should make good use of the size of the rectangle box;
Consider changing the background color of the item (of the rectangle box), maybe even remove/change the vignette effect, darker parts of items do not give good contrast, consider tweaking item colors/lightening to give good contrast to the background or vice-versa;
Sharper and more realistic item images are welcome.
I will leave this here as well, I think a similar design could be implemented as optional or at least it gives some inspiration.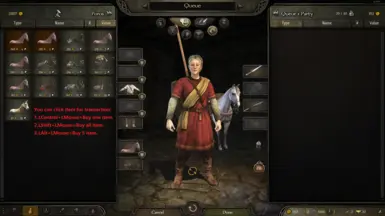 Overhaul the inventory in bannerloard, make it more convenience to use. Work for beta1.5.7.

www.nexusmods.com