Spanish Gifquisition
Grandmaster Knight

Another thing that does not convince me of this raw implementation is the "predisposition" of the agent; let me explain.
A cavalry charge is no mean feat, it's violent and dangerous. Well, the agents of the rear lines seem that instead of receiving an onslaught of horses they are going to receive a pizza of peperoni in the porch of their house.
The first two rows (red) I like the layout. The third and fourth should hold an overhead thrust position until they make contact with the charge (which should be in yellow). The rest of the ranks should hold a lower thrust position (always yellow, not passive blue).
| A line formation, all agents should point their pikes forward (schiltron style). | A dense square formation (Tercios pike squadron style), the agents deep inside the square could be more relaxed. |
| --- | --- |
| | |
It is because of these inconsistencies, that I will always advocate for the implementation of a button/command that forces an action that subordinates the AI by a decision made by the user... exactly like the bracing mods we have in Warband.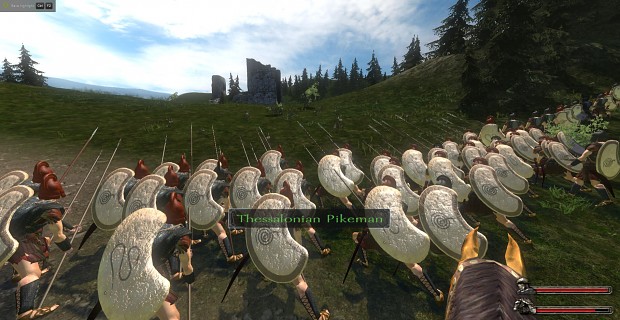 The performance achieved by
@bestmods168
is much closer to optimal behaviour than the official implementation by Taleworlds itself.
Last edited: