Small changes for authentic bridge-, settlement- and border-placements
Wandering through Calradia I came across some places where the placement of bound settlements, borders and bridges is questionable.
Some small changes like swapping 2 bound settlements or moving a bridge can make a huge difference for explaining how the counties would have developed and why settlements/castles/bridges are where they are.
Some thoughts about this:
Bound settlements should have a direct connection to their castle/city within their own county. Currently some bound settlements are cut off their castle/city by a river or a mountain and the villagers have to cross the neighbours land to get to their castle/city.
The bound settlements would have developed (1) were they have the resources but they would have stayed (2) where they are defendable and where they can be overlooked.
Rivers and mountains are natural borders and were often used as a defensive feature, but currently a lot of counties in Calradia don't make use of their geography. Instead some counties are split apart. Some settlements are literally served their neighbours on a silver plate begging to be raided.
So here are my examples for minimal changes that help pushing the realism of this beautiful world:
(maps thanks to Vesper_:
https://forums.taleworlds.com/index.php?threads/
-map-of-calradia-1084-update-15-04-20.385748/
)
1. Thorios
a bridge might be missing here to hold this county together:
2. Husn Fulq
another bridge to maintain power in a cut-off region:
3. Epicrotea and Mecalovea
Macelovea is so small and so close to Epicrotea, it doesn't seem to be a serious independent county:
4. Phycaon + neighbors
Phycaon needs a connection to it's bound settlement Spotia, if there was no bridge, they would have claimed Chanopsis:
5. Rhotae
some changes considering road connections and natural borders:
6. Khuzait Mountains
a huge natural border: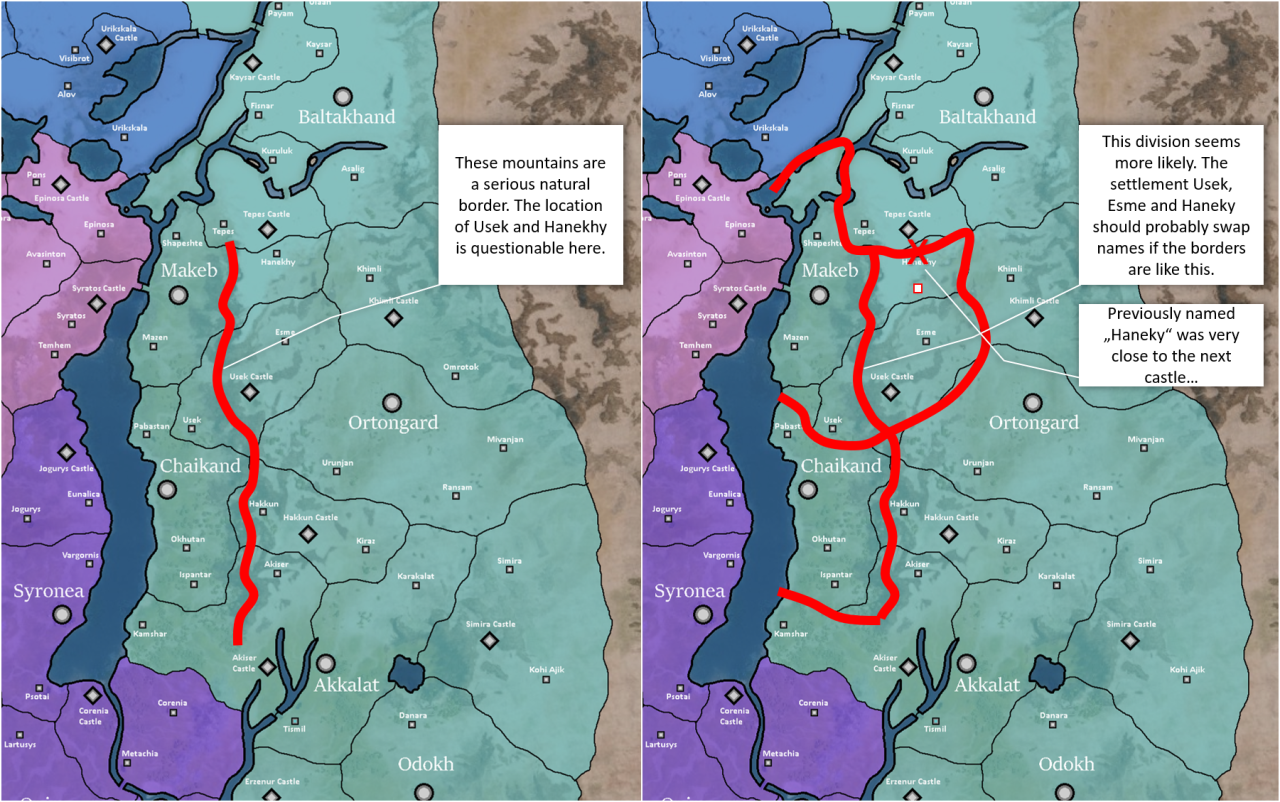 7. Tyal and Urikskala
a very provoking position:
8. Drapand
a lot of natural borders:
(...if I had to choose a position for Drapand Castle, i would place it besides the bridge that holds my land together...)
9. Rhemtoil
a risky position for a village:
10. western Battania
the most chaotic locations and divisions on the map:
-> What do you think about it? Do you have similar examples?
Last edited by a moderator: