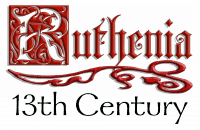 Hey folks, I am glad to announce remake and continuation of the mod 'Rus 13th Century: Way of the Warrior' for the game Mount & Blade II: Bannerlord -- the mod named 'Ruthenia 13th Century'.
Description:
The years 1237-1242 were a huge test for the Eastern Slavic lands. The Crusaders from Western Europe settled in the Baltic lands in order to baptize pagan Lithuania with fire and sword and control trade routes with the East, Turk-Mongolian hordes rushed to Western Europe from the East, Ruthenia and Poland were experiencing political decline and weakening and pagan Lithuania and Prussia sought to repulse the Teutonic Order.
The historical mod Ruthenia 13th Century seeks to recreate that dramatic time and let the player feel the realities of those years.
Planned features:
1) Date: approximately 1237-1242 years (exact date will be determined later)
2) Factions: Ruthenia (in the form of four independent factions: Novgorod, Vladimir, Cherhihiv and Galicia-Volhynia), Crusaders, Poland, Balts, Hungary, Horde.
3) The weapons, armor and architecture of that epoch.
4) New music.
5) Religion, the burning of monasteries and sanctuaries, crusades
6) Various new quests, for example, something like pseudo-half-story tasks (to help some character achieve certain goals (for example, to crown).
Janycz
Fddd
Vankod
EL_MIRADOR
Actively looking for people (programmers, testers, 3d-artists, 2d-artists...) to help make the mod.
Last edited: