Regular

"Here I am, and here you are, war to the Turks!"
- Milos Obrenovic at Takovo, April 23rd 1815.
​
Rise of Nationalism is an unofficial add-on for
Age of Blackpowder
set in the Balkans between 1815 and 1831.  In that time the region saw three major uprisings against the Ottoman Empire that laid the foundations of Bosnia, Greece, Montenegro and Serbia as modern nations.
Youtube video with images an info regarding the time period: http://www.youtube.com/watch?v=YTA0SGgGerE​
Download:
https://www.mbrepository.com/file.php?cid=7&id=1452
Rise of Nationalism should now work with Vista.  Vista users please leave feedback when you get a chance.
List of features:
-New map
-New factions (Bosnia, Greece, Montenegro, Ottoman Empire, and Serbia)
-New faction lords (historical)
-Some new companions
-Some new dialogs
-New outfits (a couple new meshes, lots of new textures)
-New troops and troop trees
----------------------------
v1.1 List of Changes:
-This mod should now work with Vista.  Captain Proof and I were able to figure out that the sound.txt file was causing the crash to desktop when using muskets.
-Faction Balance. (Ottomans are now stronger but more melee based, Montenegrins are stronger)
-New Flags.
-Added Balkan muskets.
-Reduced rate of fire on firearms.
---------------------------
Like Age of Blackpowder: Realm of Revolution. Rise of Nationalism deals primarily with ranged infantry.  But like AoB melee is still a major part of the game, a cavalry charge can be devastating as even the best of troops will only get off two shots before the lances and sabres of the riders are on top of them.  Some of the factions are very strait forward, designed to hammer away at their enemy with musketry, while other factions require a little more skill and maneuvering to archive success (don't expect the Ottomans to stand toe to toe exchanging musket fire with the Montenegrins and win).
Map screen shots:
Morava Valley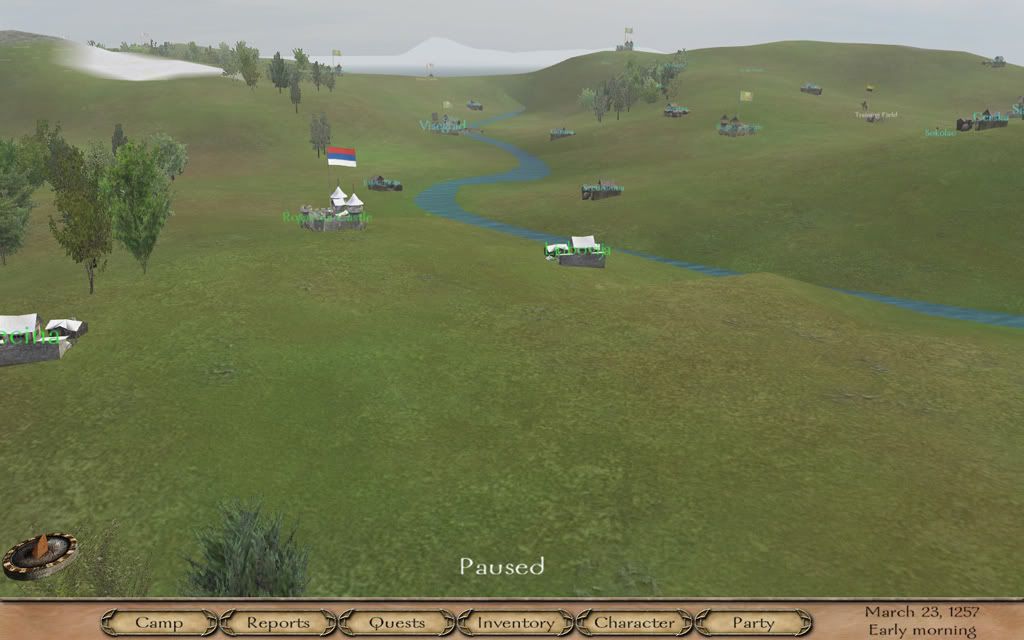 Podrinje Valley
Overhead from the map editor.
Factions
Sanjak of Bosnia:
Bosnia has always been in a precarious position as the Ottoman Empire's western most region.  The recent uprising in Serbia has given rise to a nation of highly militant and aggressive people whose designs on the region may incorporate the Christian populations in part of if not all of Bosnia.  This combined with dreadful Ottoman mismanagement has made it clear that if Bosnia is to defend itself it must be done by Bosnians!
The Bosnian army is somewhat antiquated as it is organized and equipped along Ottoman lines.  But many Bosnians are veterans of the recent wars with Austria and Russia and with the best cavalry in the Balkans the Bosnians may have an edge on the other factions.
Decent infantry, excellent cavalry.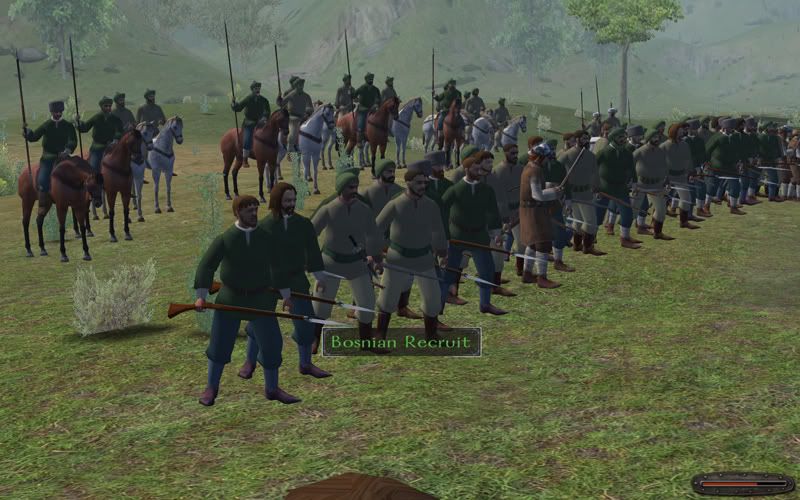 Bosnian Line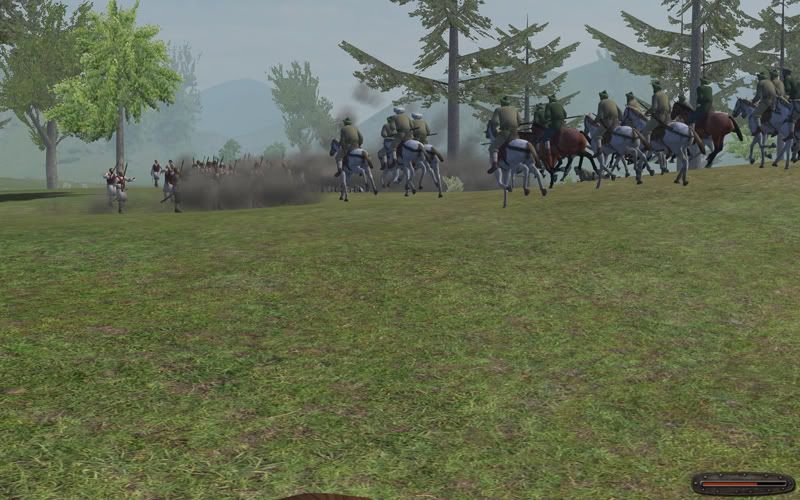 Bosnian Cavalry hits the flank
Hellenic Republic:
The Greeks have regained part of Greece and independence for themselves, but strife within their provisional senate about how and who should rule Greece has caused infighting and fragmentation among the population and armies.
The Greek army is haphazardly equipped but her soldiers are skilled and determined fighters.
-Strong infantry, no cavalry, short troop tree.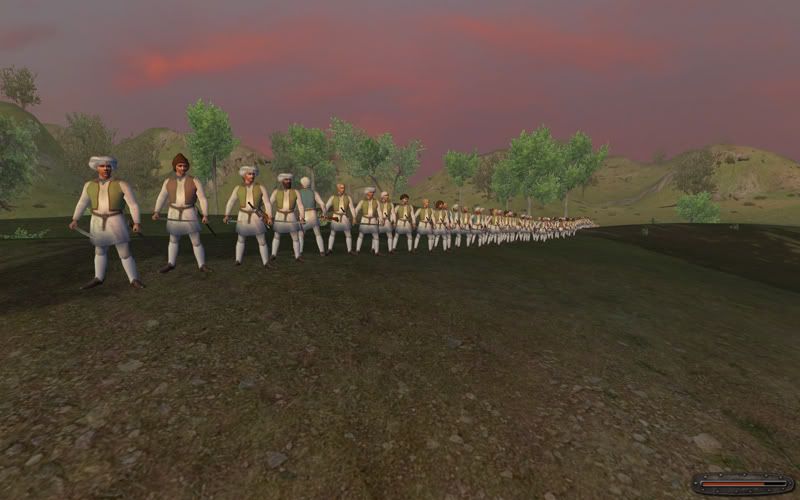 Greek Line
Bishopric of Montenegro:

Surrounded for centuries by the Ottoman Empire the noble Serbs of Black Mountain have never given up their fight against the hated Turk.  Now that their brothers across the Sandzak have finally archived some success the time is right for war.  But to be sure, if the old Serbian Empire is to be resurrected it can only be done by the Serbs of Black Mountain who have never tasted slavery.
Centuries of violence and blood shed have left Montenegro with the best equipped and most experienced army in the Balkans.  But their nation is dwarfed by those around them.  With only two city centers Montenegro is the smallest faction.
-Best infantry in the game, no cavalry.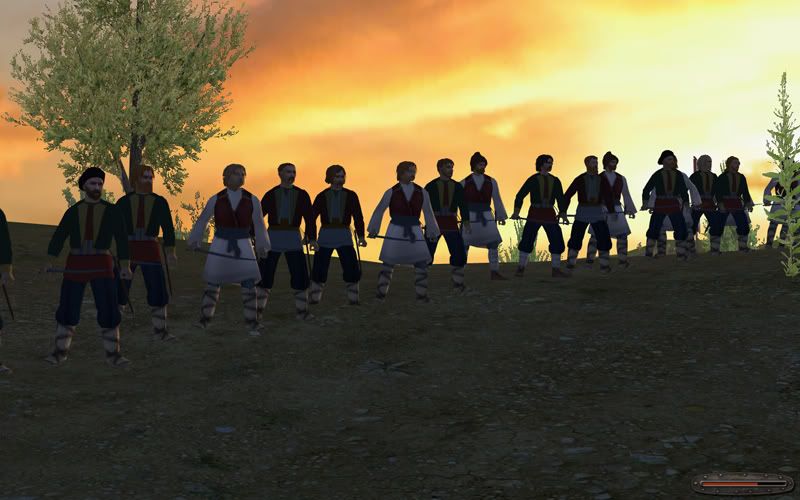 Montenegrin Line
Montenegrins Embattled
Ottoman Empire:
Times are changing and the leadership of the Ottoman Empire, even in spite of the efforts of some enlightened Sultans, keep resisting change.  The Janissary corps which was once the most feared military force in the world is now corrupted and no longer capable of facing modern European armies.  Rebellions across the Balkans have further weakened the Empire and the Christians have shown little mercy to the Turkish population.  To defend her people and for the sake of peace (The rebellious provinces are already eying up each other for more territory) the Empire must crush the upstarts and regain control of the region.
The army of the Ottoman Empire is well trained but its organization and equipment is antiquated and its higher level troops are mediocre at best.  If the Ottomans are to find success on the battle field they will need to rely on their wealth of resources to chip away at their opponents.
Strong beginning troops, weak higher end troops, good cavalry.  With 6 city centers and nearly twice the reinforcement rate of the other factions the Ottomans can field a staggering amount fo men.
Ottoman Line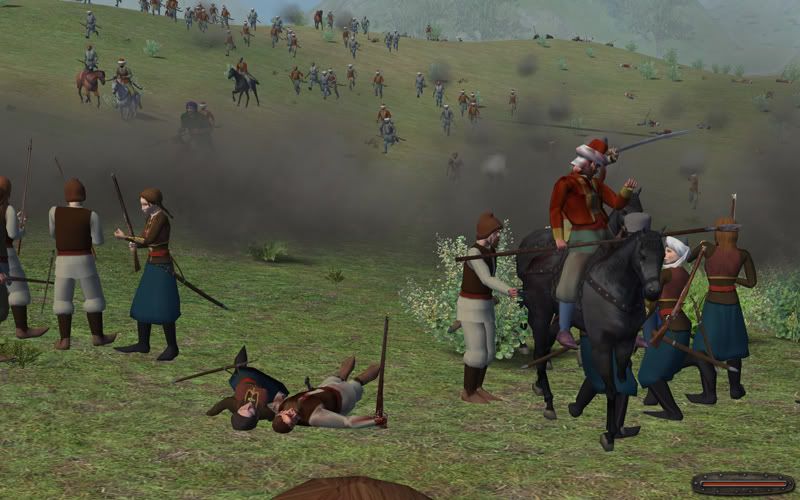 Ottoman charge hitting the Serbs
Principality of Serbia:
400 years of bondage have ended!  In two uprisings the Serbs have gained independence from their Moslem overlords.  But in truth only the Pashaluk of Belgrade has been liberated.  Southern Serbia and Bosnia are still enslaved.  The souls of the Kosovo Martyrs continue to cry out for vengeance!  But the Serbs must keep heart and remember that no amount of blood, Serb or Turkish, will avenge them.  Only when Kosovo hears the sound of Serbian trumpets and all Serbs are living again united and free can the Battle of Kosovo be put to rest.
Milos Obrenovic is creating a modern European style army out of the zadruga clans men and hajduks which brought the Ottoman Empire to its knees, but the Serbian army still has a long way to go.  Aided by a flood of muskets, shot and powder pouring across the Danube from friends in Austria and allies in Russia the Serbian army looks as though it may become the dominant power in the Balkans. 
Good infantry and good cavalry.
Serbian Line
Notes:

-I could use any feed back regarding faction balance.  I tried something very unorthodox by off setting faction size with troop strength, it may end up being something that cannot work in Mount and Blade.  As of yet I have not been able to test it extensively.
-I tried my best to make the factions as historically accurate as possible but there are a lot of holes in my research (I found very little info about Bosnian and Greek armies during this time period).  If you notice something is wrong or missing or if you have a suggestion please feel free to let me know.  I have an open mind and am always interested in learning something new about this part of the world!
-And lastly, I realize there has been and there still is a lot of tension surrounding the real life factions in this mod.  I attempted to be non-objective and I hope it shows.  I ask that any ensuing discussion regarding this mod remains non-objective. 
Credits:
-Bjorne and
Tavener
, for all their work creating Age of Blackpowder which was the base and inspiration for my mod!
-Dain Ironfoot, 18th century uniforms
-RR_Raptor65, the muskets from OSP Weapons
-MAXHARDMAN, animations
-D'Sparil, for the Janissary helmet.
-Manitas, .obj to .smd (armor rigging)
-Yellowmosquito, Banner and Flag Standardization pack v1.2
-Thorgrim, BRF Edit and Map Editor.
-Effidian, Unofficial Editor (items and troops).
-All of the Mount and Blade modding community.  Believe it not I had no modding experience before I set out to make this mod only a month ago!  Whenever I came upon a problem or issue I was able to quickly find a solution with a search on these forums.
And last but not least I would like to thank,
-Venizelos' Turkish coffee. 
-Camel filtered, Drina filtered, and Morava filtered cigarettes. 
-Manastirka plum brandy. 
Their emotional and material support in the times of frustration, insomnia and social isolation, which I discovered can sometimes be the result of a desire to create a minor modification for an already excellent game, was invaluable!
--------------
God bless! Наздравље! Nazdravlje! Tanri Korusun! O Theoz na eylogi!
-Thufir