Recruit

Check out version 2.0 thread, found

here.



VERSION 1.2 NOW AVAILABLE!
I want to present you my texture replacement pack for Mount & Blade. I made this texture pack because I wasn't too happy about the original textures and I believed I could do better. Who knows, maybe you'll like them
NOTES
- BACKUP YOUR Mount&Blade\Textures FOLDER BEFORE USING THIS!
- Note that most of the textures are quite big (2048 x 204
. I ran the game with these textures on an AMD64 3000+, 2GB RAM and a GF8600 512DDR3 with no problems.
- All textures are made from scratch or combined from other textures. Mainly I used satellite image parts for the world map textures.
- If you plan to use this texture back in your mods, I ask only to give me credits for my work and to link back to this page or the M&B repository links.
DOWNLOAD LINKS (links updated by Moderator)
Campaign Map Textures Pack 1.2
Battle Map Textures Pack 1.2
[FIX]
Ocean & Blood Texture Fix for 1.1
- zip containing the fixed ocean texture & blood textures.
FILE INFO
Campaign Map Texture Pack
- 2048x2048 sized textures which will replace your original World Map textures (like plains, steppe, ocean, mountains, snow, desert, etc). Some textures in this pack will also be used in the battle maps / city maps (like desert or snow)
Battle Map Texture Pack
- 2048x2048 & 1024x1024 sized textures which will replace original battle map or city map terrain textures (grass, cliffs, etc).
INSTALLATION
1 - Make a backup of your Textures folder (e.g. C:\Mount&Blade\Textures)
2 - Download the Battle Map and/or Campaign Map packs and unpack all dds files in your Textures folder (e.g. C:\Mount&Blade\Textures)
3 - Play
1.1 SCREENSHOTS
(click to zoom in)
CAMPAIGN MAP TEXTURE PACK: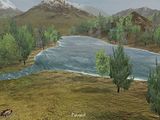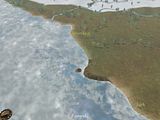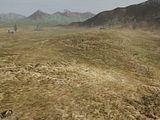 BATTLE MAP TEXTURE PACK:
VERSION 1.2 INFO: CHANGES & FIXES



Campaign Map:

- Fixed ocean LOD texture

Battle Map:

- Reduced texture 'sunlight reflection' trick for grass & dry grass textures

- Changed grass LOD textures

- Changed forest LOD textures

- Remade dry grass texture

- Remade cliff & stone textures

VERSION 1.1 INFO



Improved texture tiling when viewing the world at a great distance.

The campaign map textures are great when your camera is near the ground, but when you raise your view and look at the map from the sky, an ugly pattern appears as the texture repeats itself across the world. Version 1.1 will fix this and make the world map look great when viewed from the sky.

Ocean reflection simulation on world map.

By adding an transparency channel to the ocean texture I was able to create the illusion of water reflecting the sky. The water is not actually reflecting the sky, but it is transparent and you can see the sky sphere surrounding the world map and thus giving the illusion of the ocean reflecting the clouds.

Other texture improvements

like sand and snow reflecting sunlight. This is also a simulation and the effect is subtle but it looks great.

:: FEEDBACK ::

Performance results from users were favorable, meaning that the texture pack didn't cause any FPS problems. At least that I know of.

If you have any problems or bugs to report, please send me a PM.
Last edited by a moderator: