buıʇʇǝs uoıʇɔǝɹıp ʞɔɐʇʇɐ
Marquis

Hello!
Following the implementation of the
community calendar
that showcases the upcoming events and the sharing of community events on social media channels (
Twitter
,
Facebook
), we've been looking at more ways to expose your events to the whole community.
The next change is the improvement of the forum structure to work better with the new "Groups" feature that was introduced with the change to the XenForo forum platform.
As it stands right now, you can share Warband MP events within
The Guildhall - General Discussion
board or within your dedicated group. Tournament organizers also use the The Guildhall - General Discussion board to display their Sign-up thread there (which provides more exposure than just listing it in their group). These sign-up, one-day events and other tournament threads can easily get lost in that board though.
We would like to provide a
central board
that acts as a showcase for all
on-going
events and allows tournament & event organizers to display their "Main" or "Sign-up" thread there.
This will provide a regular forum user or a visitor with quick and easy access to all on-going events
.
Without trying to elaborate it too much, here's how it would look like.
The "Tournaments & Events" category would be listed under "The Realm". It would contain the "Mount & Blade II: Bannerlord" and "Mount & Blade: Warband" boards. This would be the only separation on the board level. Further filtering between events will be achieved with prefixes.

Each of the two boards will also hold a sub-board for "Completed" tournaments & events. Once a tournament or event is concluded, it will be moved to the "Completed" board. Should the event organizer decide to keep the same thread for the next iteration of the event, he would, of course, be able to keep it in the main board.
The two boards (BL and WB) will contain the following prefixes:
- Location: EU, NA, SA, OCE, CN, INT, OTHER
- Base (WB only): Native, DLC, Mod
- Type: Skirmish, Captain,...
- Stage: Open, In-progress, Completed
You will be able to swap between these prefixes as time progresses and the "Stage" of your event changes.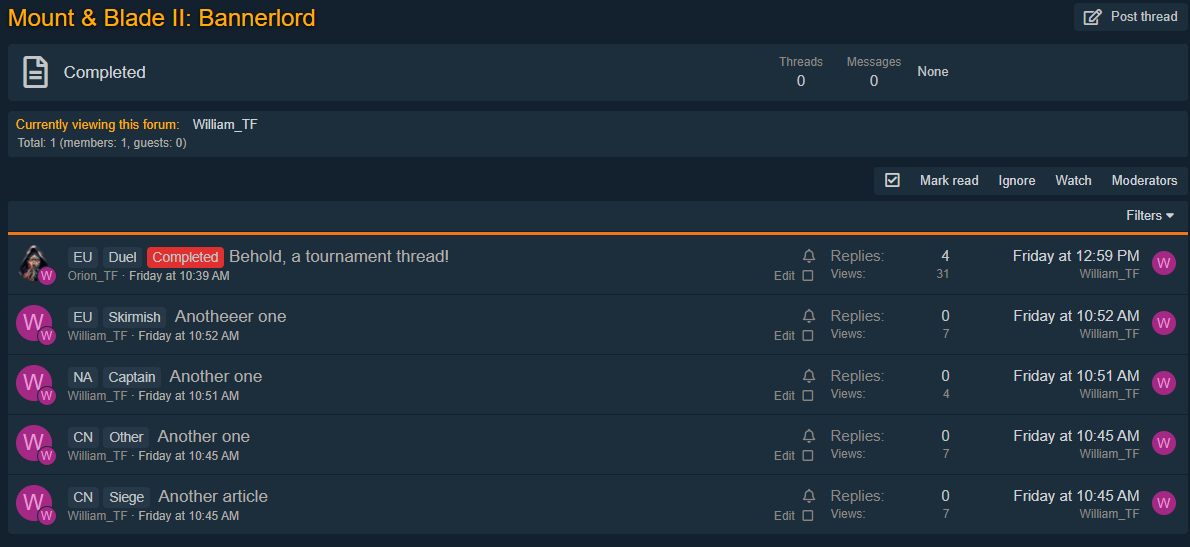 The same principles will be applied to the Mount & Blade: Warband board.
Please note that all NW and WFaS events will also be posted under the Warband board.
All existing events & tournaments, both concluded and in-progress would also be moved to these two new boards. Concluded one-thread events (non-recurring but with iterations like #1, #2,...) will be moved straight to the "completed" subboard. A single event/tournament can only have one "Live" thread in these boards. If more threads are needed, you're encouraged to create a group.
Let's take a look at some existing examples and how this will work with the new system:
Example #1 - BEAST
The BEAST tournament has multiple threads. The sign-up thread would be posted under Tournaments & Events -> Mount & Blade II: Bannerlord. The main tournament organization would happen directly in their group that they could promote directly through the Sign-up thread via the BB code (
explained here
).
Example #2 - Bannerlord Draft Cup [BDC]
Since this was a tournament that didn't require multiple threads, no group creation was needed. Should a similar event occur again, a sign-up thread would be posted under Tournaments & Events -> Mount & Blade II: Bannerlord. The thread would act both as a showcase for the event, present rules, allow players to sign-up and present the results when the event concludes.
Example #3 - Call to Arms Friday Bannerlord event
This is a weekly reoccurring event. As such, the event thread would be kept in the Tournaments & Events -> Mount & Blade II: Bannerlord board. If a reoccurring event stopped operating, it would be moved to the "Completed" board.
---
Please leave your feedback on the proposed changes!
Last edited: