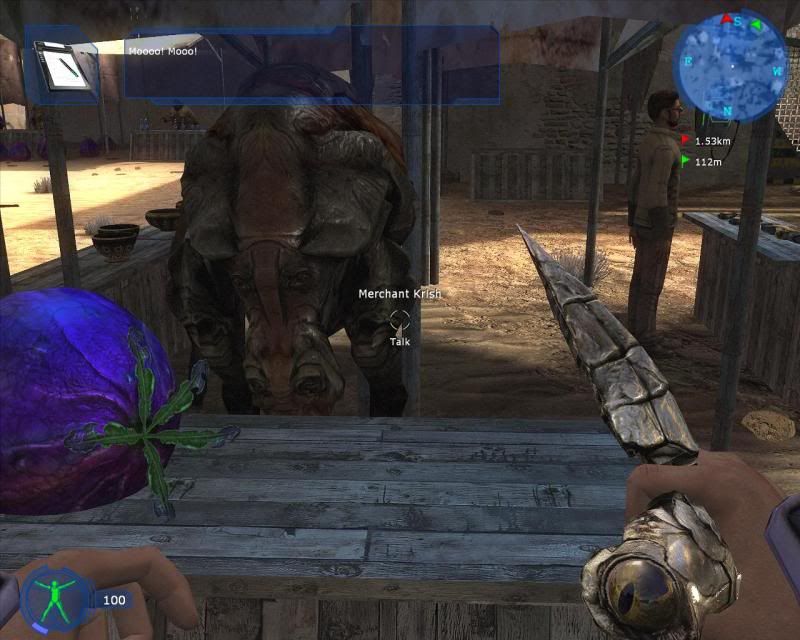 It's yet another inadvisable genre blending game from those crazy Russians. This time, it's by Deep Shadows who's previous insane affliction was Boiling Point. So it's bound to be good.
Couple of things to note here. I'm using the
Gamer's Gate version
. It ships in English, but it's not the same as
Wesps patch
. Both basically use the English files already in the game from a presumably aborted attempt at translation by the devs. Neither is perfect. Wesp is working through the dialogues in the game and correcting the text to read much better, however the in-game cinematics lack subtitles and are still in Russian. GG's version on the other hand leaves the spotty translation as is, but adds English voiceovers to the cinematics. Another issue with GG is they've ripped out the Russian dialogue, which leaves NPC's silent during conversation. It's also unpatched, though apparently you can use the
retail patch
and then apply Wesp's patch to that, though I haven't tested it yet.
Primarily this is a first person shooter / RPG hybrid, but you also get to cruise around space in a manner not unlike the average space sim. So it's a bit like Mass Effect got buggered by Deus Ex while FarCry 2 looked on and laughed.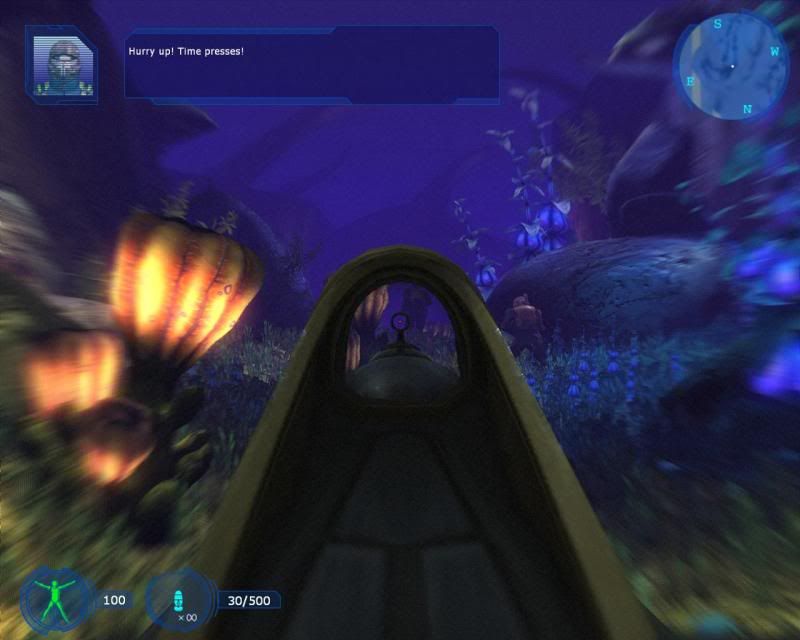 Initially it seems to be a straightforward shooter. You start off after a starship crash on some tropical planet (if the tropics were mainly blue and purple) which seems to be not entirely unlike Catachan. While we're here, a quick tour of the interface. In the top left corner is the message log where people exclaim! broken! English! at you in the mistaken belief you both give a **** and are capable of making head or tails of their nonsense. "Time presses" is pretty tame, later on you'll meet police inspectors who threaten to touch your arse if you break the law. Although I'm not sure if that's garbled translation or whether you really are getting propositioned by some kind of gay vice squad.
In the upper right is a minimap / compass thing, which is needed because the planets are pretty damn big. You can get directions to any of the missions you currently have by selecting them in the log, and for several missions this will be the only means you have of knowing what the hell you're supposed to be doing because the actual briefing will talk about soapy mushrooms or something.
I'm looking down the iron sights of my rifle here, note the depth of field blur effect around the outside. Like Stalker, this also has the slightly irritating tunnel vision effect, which means anytime you're waving your gun in front of yourself, whether looking down the sights or reloading, the rest of the world becomes a vague, blurry mess. Presumably gun fetishism is common in Russia or something. Bottom left we have the essentials. The guy doing a crap plane impersonation is your health meter. Health has both a numeric value and as the figure suggests, you can take locational damage resulting in wounded or maimed limbs. Damaged body parts will affect you in adverse ways until you can heal them, though thankfully they'll heal up to 80% on their own over time. The little blue bar on the left of the circle is stamina, which affects how far you can run. Next to it is your ammo for the currently equipped weapon. There's numerous weapons and ammunition types to play with, but I'll ***** about the combat later.
Anyway, literally three seconds after surviving your spaceship crash the game decides to set the ground rules and remind you it's Russian by wiping out your two fellow survivors. With plants.
That's the plant bastard. There's a couple of these which aren't too much of a threat, but we immediately hit a problem. Enemies are pretty much bullet sinks. See the ammo counter on the bottom? The mag holds thirty bullets. I've emptied almost half a clip into this vegetable ****er and it's not even flinching. And these are the second easiest things to kill in the game. It's not helped by the utter non-responsiveness of enemies when hit. These plants are actually one of the few enemies which react to getting hit, most of the time at least. Others you can empty entire clips into and they won't so much as blink, and then suddenly keel over dead. What's particularly galling is they went to the trouble of having bullets affect the environment; get into a fight amongst the trees and you'll see plants and branches wobble as bullets fly past, or even branches being shot off, yet hitting a living being will result in no reaction whatsoever. And the bastards seem to drink bullets.
Thankfully, the only other fight of note are some easily exploded insects. It's a short trek forwards before you get a rocket launcher, which is handy because some buggers in armour start trying to shoot you up. Again, empty three clips into them with the rifle to drop them, or a single grenade to the balls. Once you get to the end of this short section it turns out it's not actually real, you're in some kind of simulation. Cue another cutscene in which flat sounding voice actors attempt to convey some plot via the medium of surreal poetry.
You pass some kind of test, and get sent to the planet Goldyn, which is where the game proper starts. The interesting thing about Goldyn is your father who appears to have died in some bizarre spacesuit de pressurisation accident used to serve there, presumably back when it was moonlighting in another sci fi series as a hive of scum and villainy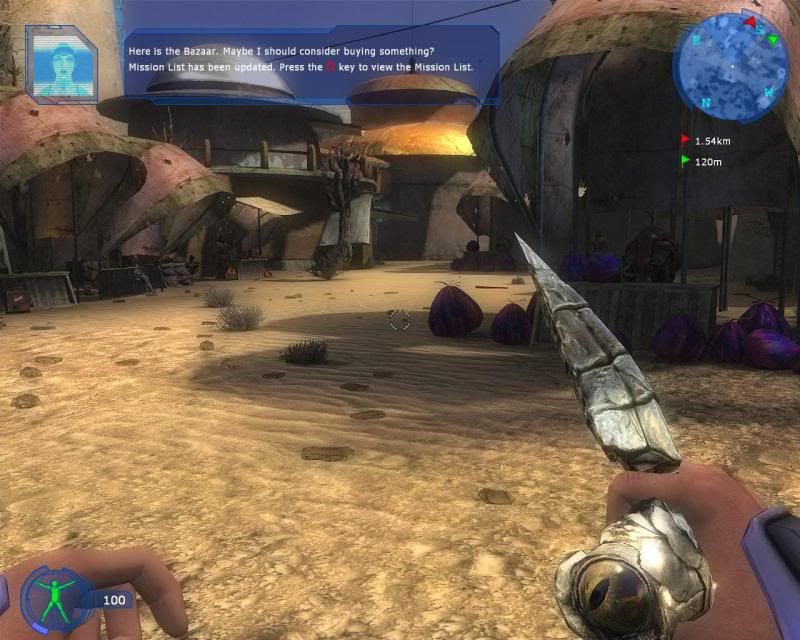 That's the main market on
Mos Eisley
Goldyn. Oh, and that freaky looking thing with an eye in my hand? That's my knife. No idea what it actually is as the description in the inventory talks about the mating practices of some alien or other, I decided not to pry further. Talking of inventories
This is me pretending I'm going to buy something. All the inventory objects have this stylised icon and a description in varying degrees of broken English. You're limited by weight, though it did remind me of Deus Ex for some reason. Note the tabs to sort at the top, I suspect "scenario" really means "Quest items".
You can wander this little backwater to your hearts content. In theory I'm supposed to report to some captain or other. In practice I explore a bit, swipe everything not nailed down and pick up a fair few quests. Conversations as I said are made strange by the lack of voice and the often confusing translation, but it's a standard system of them waffling on at you and you getting to select a response from a numbered list
There's a few interesting things to see while exploring the dock before heading into the town proper, ranging from illegal immigrants who you can opt to turn in or not to a mysterious science team here to study something. The actual locations are really well done. What isn't immediately apparent from the screenshots is how much life is in the place. People wander around, insects and small animals scuttle about while weird alien beasts of burden moo in the shadows.
Anyway, before long I have enough XP to level. Levelling is essentially a matter of picking a perk: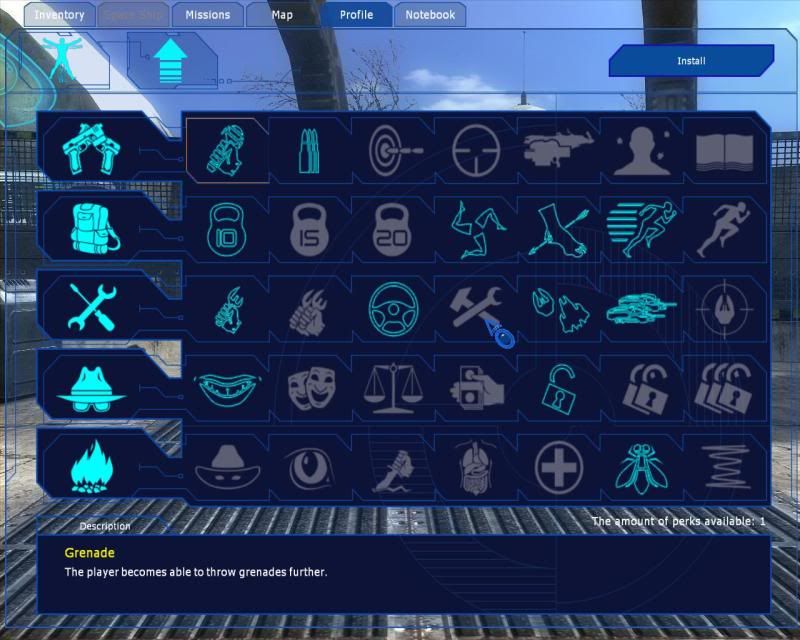 What you can add at any time depends on other perks and your level. One really neat thing is a given perk line isn't as simple as just sticking to one group, some of the combat skills require you have skills from the survival group too. While on the subject of the RPG bits
This is the final part of the character sheet, showing your XP and how far you are off the next level, your addiction if any (one of the few RPG's where you can roleplay an alcoholic!) and over on the right is a list of factions I can piss off or make buddies with over the course of the game.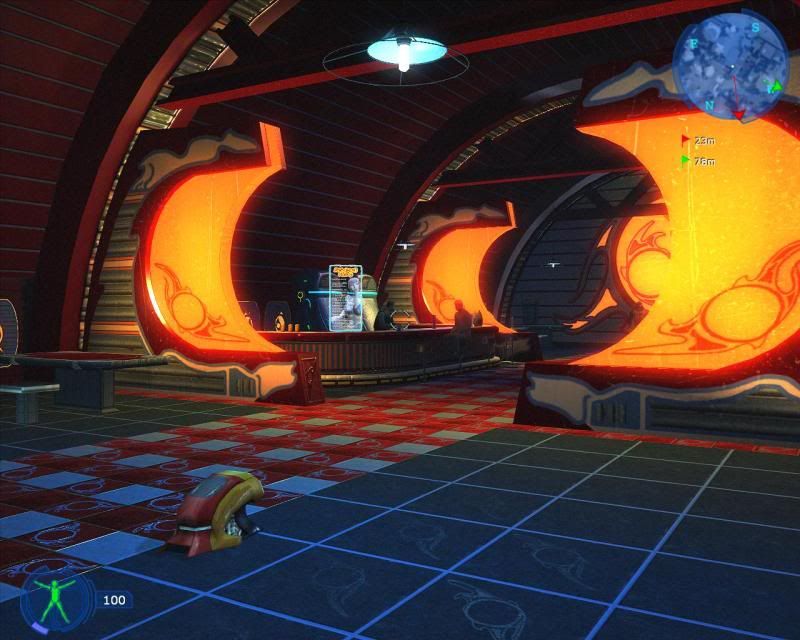 Another nice thing is there's seamless transitions between environments. I can walk off the street and into a bar without a single loading screen; furthermore, I can walk out of the town gate and off into the desert without one too.
And the Russian's quirky sense of humour is alive and well. Take this guy for example: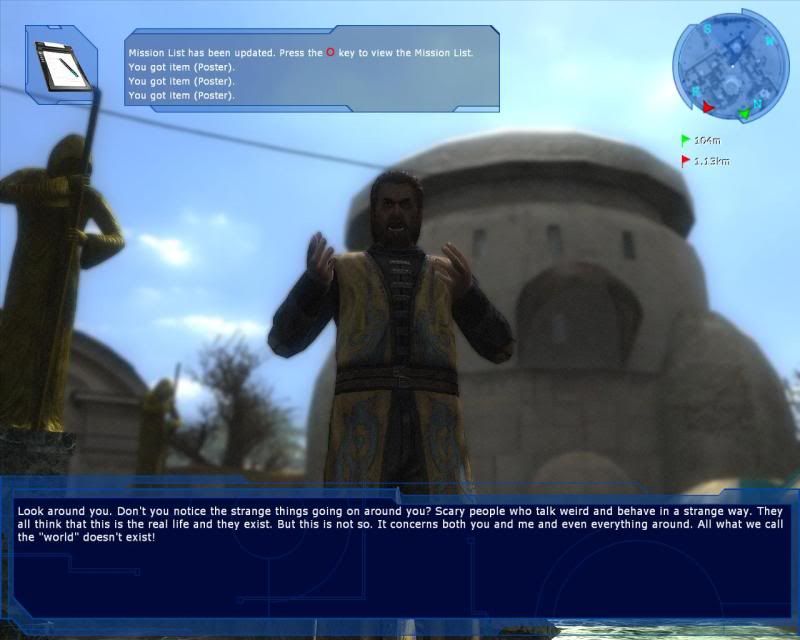 Ignoring the probably unintentional irony there, he's a member of a cult who don't believe they exist. In fact, they believe the whole universe is simply a videogame, and are searching for the one controlled by an entity known as The Player in order to encourage him not to complete the game as it will end their universe. Comedy and an oblique way of providing metagame info to the player in one fell swoop!
After finishing off the quests collected thus far that I am able to do, I'm finally left with no choice but to head out into the desert.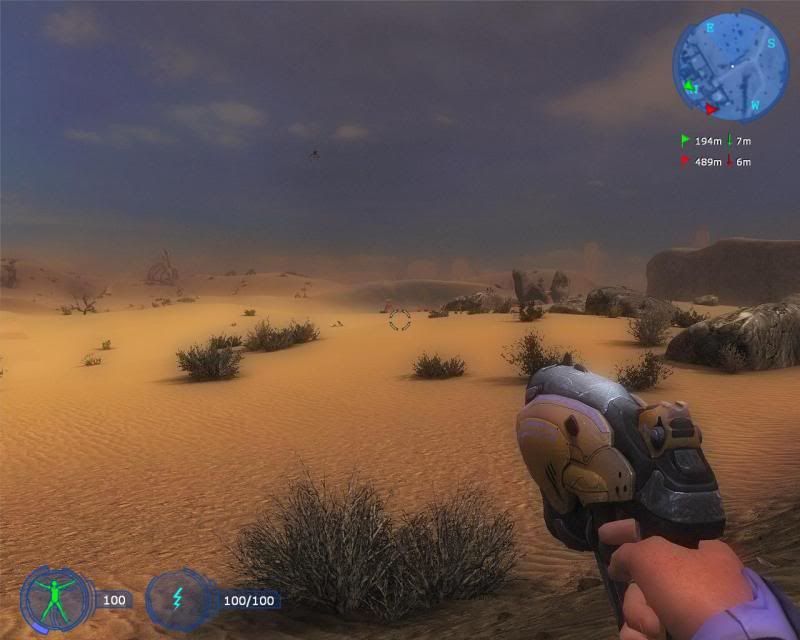 Yup, armed with nothing more than my weird knife and a crappy pistol (with infinite ammo!) I'm off to conquer the world. Or stick up posters, one of the two. Coming next episode - Some guy forces me to go get his car back, I shoot a lot of animals abd then get eaten by a swarm of midges and possibly more amusing mistranslations.