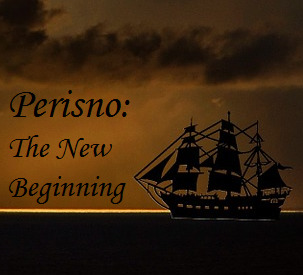 What is it?
It's a little "spinoff" project of mine I've been working on during the past few months.
Unlike the main "campaign" mode (official Perisno), it was made to be some sort of "
skirmish
" mode: short and flexible.
This "spinoff" features
a new map
: a new resource-rich island was discovered and the kingdoms of Perisno assembled expeditions to conquer this island.
And don't forget that Perisno (and, therefore, PNB) has
massive troop transfer
!
Plus since HF6 PNB has
this
.
And
this
since HF7
.
PNB-only features (some are 'for now')
:
- YOU decide which factions participate in the game;
- YOU decide which factions are your allies and which factions are your enemies (diplomacy cannot be changed inside the game);
- YOU decide which lords you call for help (save for a couple of starting ones, but you can replace them later) - there are faction lords + several universal mercenaries;
- you can suggest course of action to your allies from other factions, provided they like you & you have enough renown/persuasion;
- a new map;
- a new kingdom that you will see in the game;
- the kingdom of Perisno became an NPC faction: you can now fight for them, alongside them or against them;
- several dozens of new lords (some are completely new, and some of them you've seen in the main game as quest NPCs, companions etc.);
- female giants;
- optimized global map performance;
- significantly optimized battle triggers;
- improved AI (a crazy mix of redone native AI, Motomataru's AI, horse archer's AI by Jun Yue and my own framework code that glues it all together, optimizes its implementation and adds some additional scripts);
- re-done system of fiefs: outposts (have garrisons, but no scenes, just field battles), castles (I usually picked those with towers or multiple ladders), bases (~towns);
- re-done character creation system;
- more than a dozen of new high-end weapons of all kinds;
- moar banners;
- unique lords' party icons for all major factions;
Version II changelog
:
- The Third Legion was turned into a playable major faction (extended troop tree, 1 ruler, 3 lords, completely new town and arena scenes (TTL's base will be 'visitable'));
- fief improvements (a total of 14 for now) were added, they require 4 types of resources plus money to build and sometimes 5 types (4+1) to maintain, more details can be found inside the game in the information section;
- 11 new companions of different races, sexes, skills and stories (Note: 4 out of 11 companions are faction-specific (you have to be friendly with their faction and their faction has to participate). Those are Kierland (dwarf healer, Kaikoth), Eilona (elf scout, Elintor), Rendalion (elf 'lord', Geldar), Eadweard (knight of the RotF));
- as usual, new armors (for TTL and Hakkon), replacements of old armors (in particular, 2 'Gondor' armors and 5 'Gondor' shields and most of Revspartan's armors except for Tolranian Champions' armor; Hakkon's 'Roman' helmets were given to TTL and replaced with more "Greek" ones, several Hakkon soldiers were given new armor with 'muscled' torsos), new weapons, optimization&improvement of some old weapons (bows, xbows), improved textures of a couple of horses and tigers etc.
- the speed of 2h weapons and polearms was slightly buffed;
- as usual, bug fixing, including 2 cases of ctds.
Patch 1:
- textures (and models to a much lesser extent) of roughly 200 weapons (mostly melee weapons, but also some throwing weapons and a couple of bows) were fully/partially replaced, and hopefully they look better now. Some changes are not very noticeable, some are (mostly swords, Zann/Jin weapons, a couple of new maces/hammers instead of old ones, dwarven picks). Also several dozens of texture sets (~136 textures total) were rendered useless (if version III ever comes out and you make a clean install, you won't find them at all, for now they just won't be used), since about half of the weapons now use 1 large (4k) set of textures, which in theory should slightly improve performance.
-
Hotfix 1 for Patch 1
-
Hotfix 2 for Patch 1
Patch 2:
- https://forums.taleworlds.com/index.php/topic,368410.msg9030828.html#msg9030828
Patch 3:
- https://forums.taleworlds.com/index.php/topic,368410.msg9095971.html#msg9095971
Version II save files are not compatible with version I and vice versa.
Hotfixes, if there will be any, will most likely be compatible though, as usual.
What you will not find in PNB
:
- any quests;
- marriage (for now);
- any 'lady' ladies (but you will find more 'lord' ladies) - such tough place as the island is not for them;
- any other statuses but 'lord' (i.e. you can only be a lord - not a mercenary, not a freelancer, not a king (for now), not anybody else; you have a permanent marshal status which you can temporarily delegate and then take back at any time);
- any abilities except for "borrow ammo" and "whistle for horse" (no more of this legal cheating in form of healing "abilities");
- any diplomacy (you can only change your relations with minor factions by helping them) except for initial settings - when you assign teams for all kingdoms;
- lords switching factions;
- any intrigues (who should get this fief? who should be the marshal?) - it no longer takes kings many days to decide to whom they should give a fief, they do it very quickly now, without endless debates;
- any villages;
- any signs of complex Native economy (production & production-based and trade-based prices & caravans & enterprises etc.), it was simplified;
- land and banking system;
- any claimants;
- any PBOD;
- in general, about 50% of original content. The main idea of PNB was "keeping things to minimum".
Why?
1) Because this way I can get rid of long games which very few people have strength to finish.
2) Because this way I can increase difficulty over time (you will see how) in a completely immersive way. Plus you yourself can change difficulty from "very easy" to "very hard" by deciding how many allies and how many enemies you will have.
3) Because this way I can provide an opportunity to play for factions from start to finish in a rather short period of time (estimated length of the mod - 250-300 days, not 1000+).
4) Because this way allowed me to clean the code and optimize it - something I would never be able to achieve in original mess.
5) Because this way I can make more major faction from minor factions (to-do).
6) Because skirmish modes in games never cared about lore, and that gives me freedom (and you too, if you, for example, finally want to play as a Falcon, despite the fact that participation in this madness is against their lore).
To-do
- marriage (if I manage to write something decent) and more 'lord' ladies;
- more universal mercenary lords;
Download link
:
http://www.nexusmods.com/mbwarband/mods/6177/?
You need to install it as a new module, not into any other module's folder.
Alternatively, yandex.disk link:
https://yadi.sk/d/3DsvSNHXBLu1VA
Latest hotfix/patch
:
None
, only install the full version.
Translations (v. II)
:
Chinese (provided by Tiberivs):
https://mega.nz/#!81s23ZSB!MXTUbdfqGOPneoGWKEku5tLNx1wha4n9daxy7-aeCZ0 (Simplified)
https://mega.nz/#!09FT0CKI!r7emIF2235SR-vrkrfiZU1V2YeozeimHc1pphDQUqCM (Traditional)
Credits
:
Perisno Team
Original Perisno credits: https://forums.taleworlds.com/index.php/topic,294021.0.html
0.8-0.9 credits:
https://forums.taleworlds.com/index.php/topic,359948.0.html
PNB credits:
OSP global map by Yifeng_konjac
Flowing in the Dark by Mattia Vlad Morleo (CC)
Some pictures from pixabay.com:
https://pixabay.com/en/sea-sailing-vessel-ocean-sunset-1101168/
https://pixabay.com/en/ship-strom-sea-night-fantasy-red-2202910/
https://pixabay.com/en/sunset-sea-island-croatia-coast-523912/
https://pixabay.com/en/sunset-mountains-island-scenic-410133/
https://pixabay.com/en/landscape-panorama-scenic-clouds-2278315/
Jan Tuma´s Sturmhaube by Tumajan
Developer's notes
:
Don't forget to visit "Key Points of PNB" in notes to read some more key stuff about the mod. There is also a note on the new faction's history.