Recruit

Oregonia: A State of War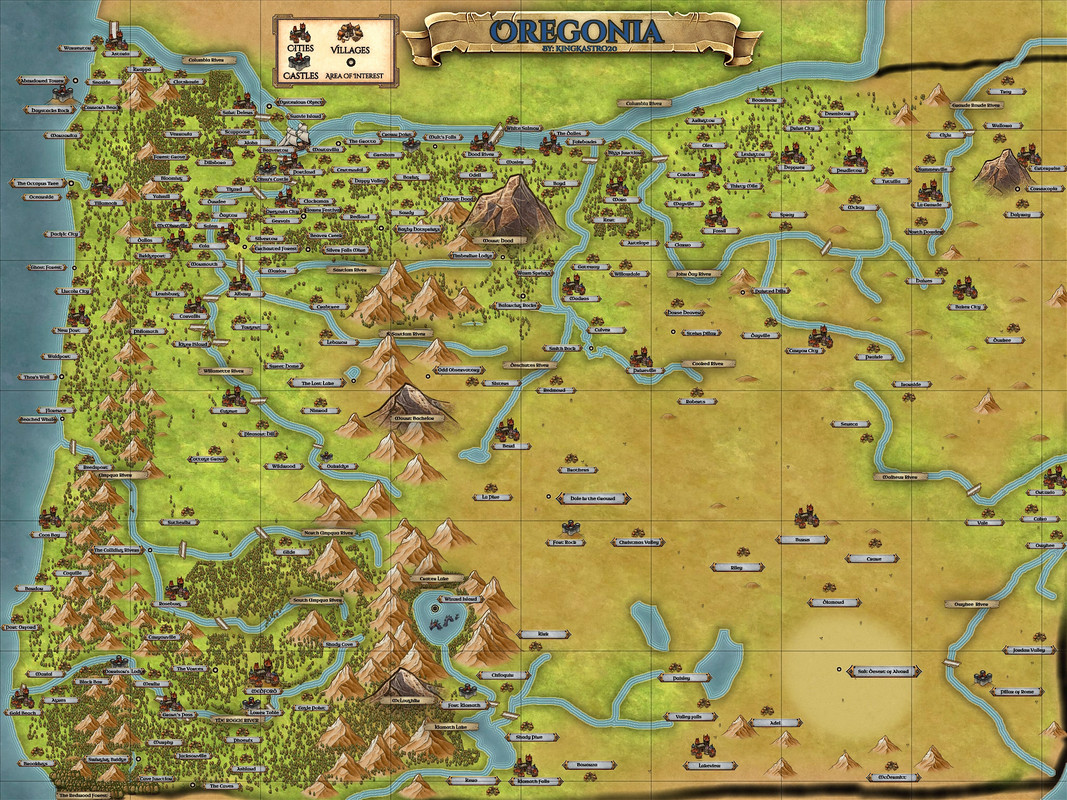 Compared to:
Map of Oregon (with its counties and the biggest cities in each county)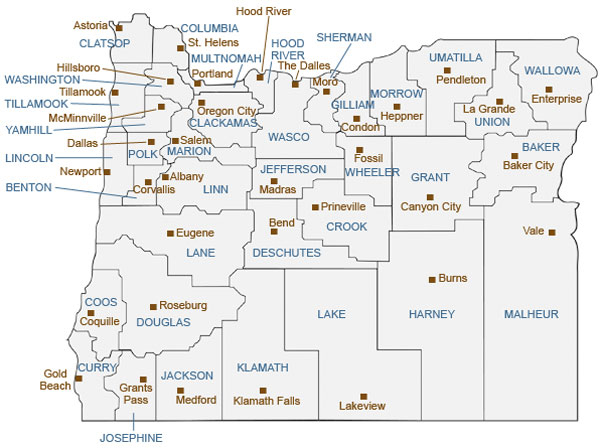 INTRODUCTION:
(INSERT INTRODUCTION TO THE STORY AND BACKGROUND OF THIS MOD)
ABOUT THE MOD:
​
This is going to be an overhaul mod that will take you on a journey through the modern state of Oregon, but reimagined as a medieval and slightly fantasy based land that has been in constant war. This mod will focus more on story telling (Like having many fun and engaging long questlines) and scenery instead of adding new items to the game; however, that does not mean there won't be, just that those things come first.There is so much that I have planned for this mod, although it will be my first mod, so this whole process will be new to me. Some of the features that I have for this mod include:
FEATURES:

Map:​
- (See Picture) The map will be almost exactly like the real state of Oregon. Actual bump maps of real areas will be used to make all scenes/locations.
Every County in Oregon will be converted into a clan:
Ex. Jackson County will become the clan "Jackson"
Each Clan (County) will have one city (The biggest city in that county).
Ex. Clan Jackson will have Medford as its city
Each city will have be accompanied by 3 villages
- Ex. Medford will have the villages of Phoenix, Ashland, Jacksonville
Throughout the land, Castles will be added to a region if it fits.
- Each castle is accompanied by 2 villages
There will also be Areas Of Interest to explore:
- Modeled after actual locations
- You will be able to explore/gain experience, find treasures, and learn the history of the location.
*It is worth noting that I will be slightly changing some locations actual location slightly (Such as putting the city of Medford on top of a natural called Table Rock, instead of it actually being adjacent to it) and I will also be making some locations that do not have a population into castles in some situations (Such as Fort Rock, which is actually only a natural formation of rock, into a castle).
Questlines:​
- This questline will be more than just a generic storyline that has only a little story which only exists to point you in the direction of uniting the kingdom (although it will point you to that). This questline will focus heavily on an actual storyline, that will hopefully have different paths and choices.
- Each of the unique companions will have a questline that will give them more of a backstory. This will help you form more of a relation with them and help them not feel just like a soldier that you can change the outfit of.
- Some of the areas that you explore throughout Oregonia will hold secrets that will start you off on a quest, or a quest given to you on your travels will point you in the direction of a location.
- These will be the quests that are originally in the game, most of which are repetitive and generated continually as you play.
Companions:​
- These companions will be based off of characters in Oregon's history, literature, film, etc.
- These companions will have their own unique story questlines, and will have more unique features about them.
- These companions are the same as the natives games, which are procedurally generated, although they will be updated to include more lore friendly generic names.
Invasions:​
As of now, there is only one invasion planned:
- The Rajneeshee will invade Oregonia, and are a cultic faction that will form near the north middle part of the map.
Main Factions:​
- These main factions will be based off areas of Oregon: (Names of counties may be slightly changed to turn into clans)
- * denotes capital of that faction, but the overall capital of Oregonia will be Marion (Salem Oregon's capital)
The Northern Empire: (Northern central oregon)
- Is made up of the clans (counties): *Multnomah*, Clackamas, Hood River (Hoods), Washington, Columbia, Clatsop, Wasco, Sherman, Marion, Yamhill, Polk, Benton
- This faction will have units similar to the empire.
The Southern Republic: (South Central Oregon)
- Is made up of the clans (counties): *Jackson*, Josephine, Klamath, Douglas, Lane, Deschutes, Jefferson, Linn
- This faction will have units similar to vlandia.
The Western Raiders: (Coastal Oregon)
- Is made up of the clans (counties): *Lincoln*, Coos, Curry, Tillamook
- This faction will have units similar to Sturgia.
Eastern Nomads: (North Eastern Oregon)
- Is made up of the clans (counties): *Wallowa*, Union, Baker, Umatilla, Morrow, Gilliam, Sherman, Wheeler,
- This faction will have units similar to Kuzhaite.
Eastern Desert Tribes: (South Eastern Oregon)
- Is made up of the clans (counties): *Malheur*, Harney, Lake, Crook, Grant
- This faction will have units similar to Aserai.
A 100% Nomadic Faction:
​
- This will be another main faction called the "First Men" (Modeled from the native american tribes of Oregon)
- This faction will have units similar to Battania, except not look as highlandish and celtic. (They will obviously look more native american)
- The different clans will be the different tribes found in Oregon (although, I am aware that these tribes were probably never allied with each other)
- Each clan will consist of one party, the leader being the chief, and you will be able to interact with this part as both a party, and a city since you will be able to explore the parties encampment. (although, I am also aware that these tribes were also probably not as nomadic as this, if at all).
Custom/Native spawns:​
- All the usual: (looters, bandits, raiders, ect)
- New ones like: Cultists, Loggers, Free Spirits (Hippies)
Mercenary Groups:​
- There will be multiple mercenary groups which I think will be based off a mix of sports/college groups, groups actually in the area and what the area is actually known for.
UofO (Ducks); A gladiator type group that specializes in throwing
OSU (Beavers); A gladiator type group that specializes in melee
SOU (Hawks); A group that specializes in bows.
OIT (Owls); A group of mercenaries that specialize in maces.
Timbers (Soccer Team); A group of that specialises in axe weapons.
Winterhawks (hockey); A group of First Men who specialize in being able to transverse the train fast, and have superior range, but weakly armored melee.
Son's of the Beach (A group located on the coast); A group of people who help those in need on the coast.
Special Unit Orders:​
Oxbow Brotherhood (Bend):
- Bow based
Knights of the Rose and Thorn (Roseburg):
- Knight type Calvary Based… obviously, there will be two different types
Order of the Crown (Crown Point):
- Melee shield and sword based
Cult of Mazama (Wizard Island; which is an area of interest but will be recruitable there after a questline is done)
- Hooded robes
Custom Flags: (I have made so far)​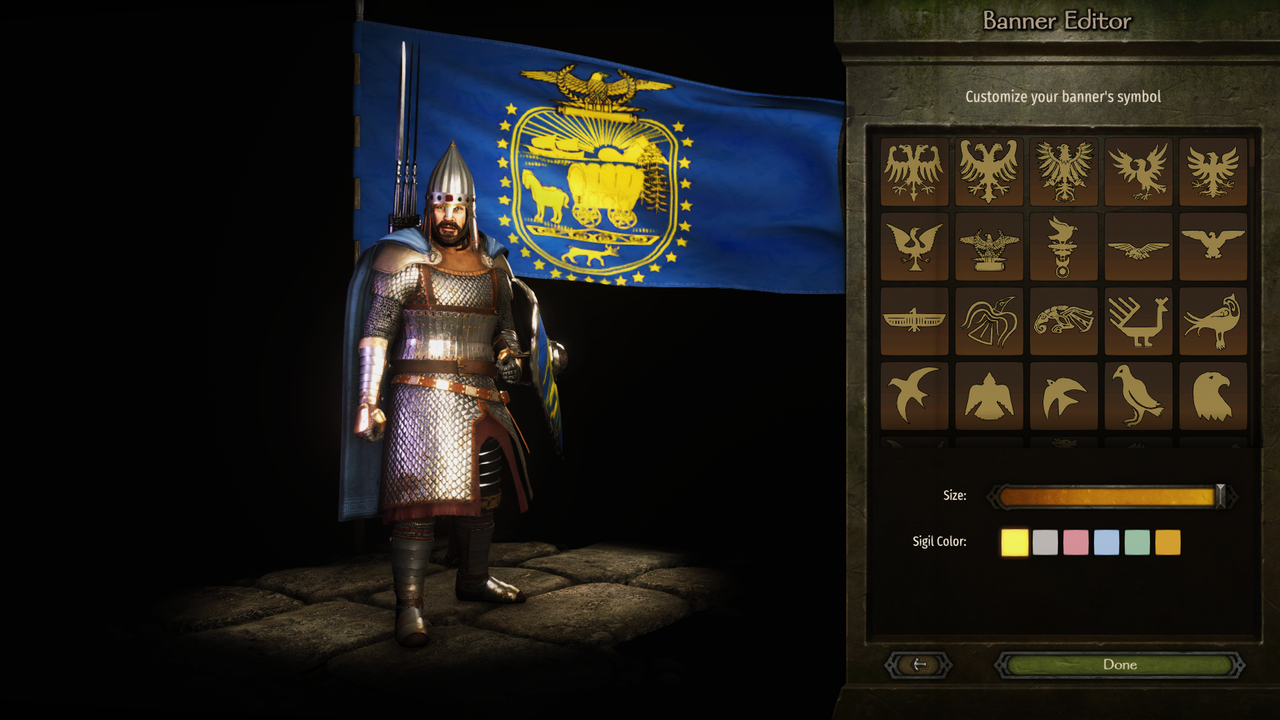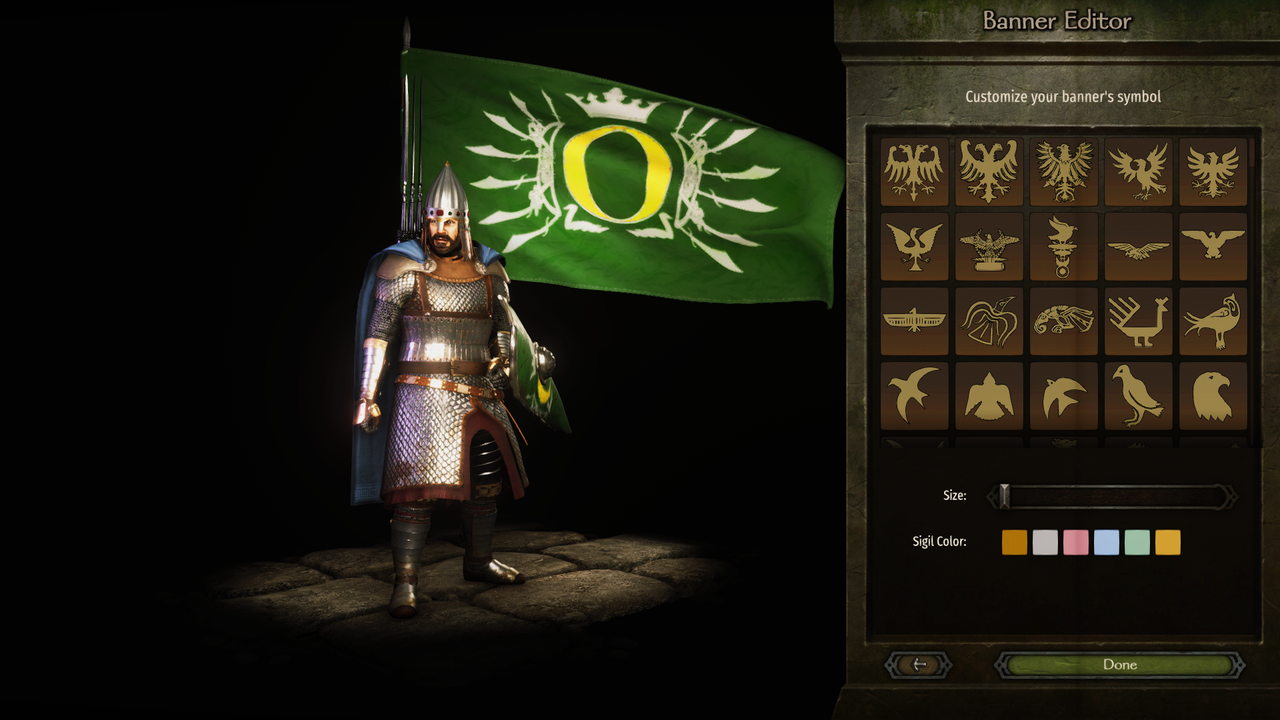 *I will continue to update this with changes, or new information that becomes available*

Help Wanted!​
Although I am going to have no problem creating most of the different scenes and map of Oregonia, I will definitely need help in a lot of certain areas:​
- Coding: (Including Creating unit trees, cultures, factions, and everything else that the mod tools do not cover or that need coding)
- Story Writing: (I already have a general outline to get started)
- Model Creators: (Although, this mod could be made without any new models)
- Scene Design:
*Contact me on here if you would like to help out with the project*
*Later on, I may form a discord group to talk about the project and take ideas like other big mods have done*


Feedback Wanted!​
- If there is any idea that you have that you think I should implement, please feel free to include it! Although, if you have anything negative to say, at least make it helpful instead of insulting. I really would like feedback on the map I created, and any locations I should include, or any changes to it.
Plans:​
This is an idea that I really have been wanting to do since warband but I always felt like it couldn't be done (since I have no background with modding). But with the release of these tools, I hope that more people like me can fulfill their modding dreams. That being said, I hope that I will have the time to finish this, and acquire the help I need to finish it. Nothing is set in stone, and as of right now, this is just an idea that may be finished a long time from now (since it is just myself working on the project). Although, the order that I would like to complete things in is:
Get the game map completed (cities, factions, cultures, ect will be filled in with ones from native game)
Get custom scenes for each city, village, area of interest, ect. (This will most likely be completed way later since there is so much to do)
Get custom cities, factions , cultures, ect.
Include Nomadic Faction, and Invasion
Finish Main Quests
Finish Side Quests
Focus on additional custom content