Sergeant

Feudal Europe - In the year of the Lord 1184
​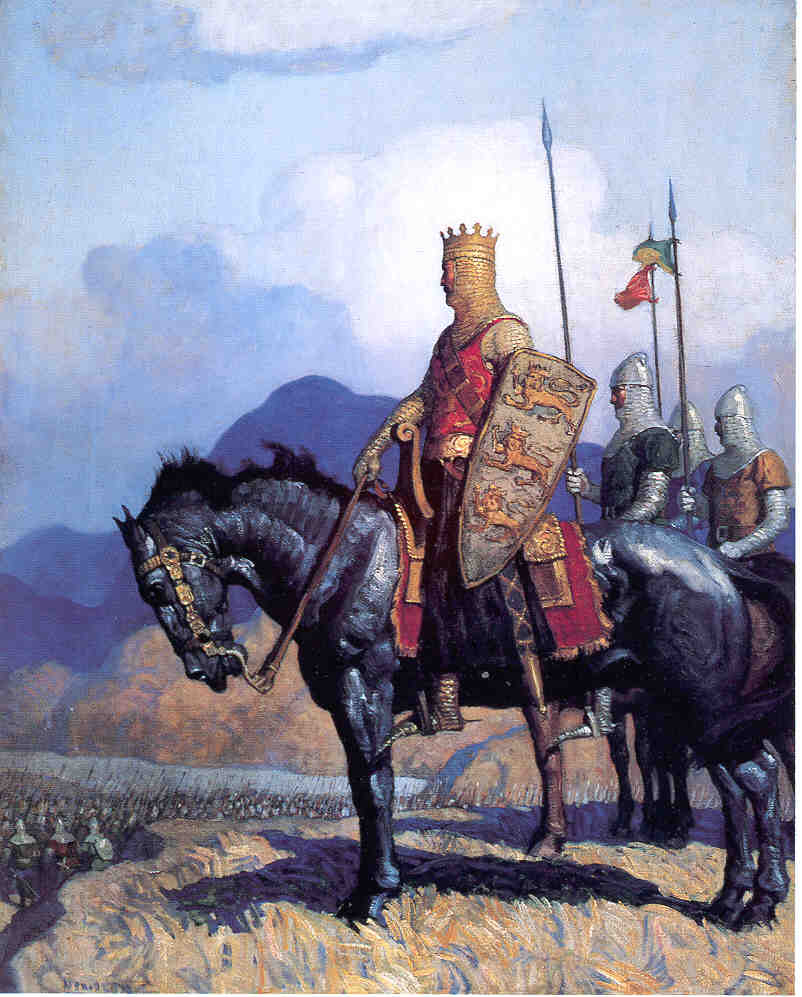 http://www.gamefront.com/files/22249618/Blue+Blood.rar
​
If you're interested
I am new to this forum, however I have been an active modder for a long time now, I have made several mods for myself. Recently I helped the Europe 1200 mod with a patch, and that woke something in me that wanted to make its own mod about feudal Europe. Especially because I feel I am able to put some things on the table that could and should have been in the other feudal mods by now. I am not super strong with history myself, but my good friend has been helping me out with historical info, and telling me what a feudal Europe mod should contain. I think this mod delivers in the field of historical accuracy with never before seen features, but download it and judge for yourself.
The mod takes place in year 1184. I wasnt happy about setting a specific date for the mod to take place in, because I wanted to focus mostly on warfare and game play outside of a date, but at the same time I wanted to use a map of Europe, and I had to choose a year as some sort of frame of operations in terms of what places should be included, who should be king of the countries, and what country should control what land.

So why 1184? No reason. I wanted something in the age of heraldry, because I love heraldry much more than I love any other aspect of the medieval, but I also wanted to place the mod before the Byzantine Empire fell apart.
Current Features
-Ten countries: Almohads, Aragon, Castille, England, France, Ireland, Leon, Norway, Portugalm, Scotland
-Complete reworked recruitment system. The recruitment does now resemble the feudal reality, read bellow for a complete guide.
-Map of Europe
-Historical Kings, Settlements, Lords, Banners and family relations
-Diplomacy, Custom Commander, Training Fields (used Native Mod Compilation - Lite 1.00 as base for this mod, see credits)
-Freelancer 1.5, with several improvements and modifications by me.
-Start the game as a noble if you want
-Naval battles
Long term plans
-Complete map of Europe with all the relevant countries
-Many never seen before features, aspects to the game such as mercenaries, religion and culture that goes deep into gameplay, not just something that scratches the surface. I also want to make complicated sieges that resemble real medieval siege warfare.
-Herladic Horses (I am waiting for WSE to be updated to the newest Warband patch)
-Any nice suggestions you guys might come up with
Latest Changelog
_Units will now get all their weapon guaranteed (we can choose exactly wich ones, but lazyness made me apply it to all soldiers).
_Spears and lances (and some other polearms) will now break randomly. (It's based upon a simple script,we can make it complex as much as we want).
_Soldiers will always use their polearms first in battles.
_Increased horse scales (size of the horse) by 20 (if you want to get back to the original horse scales, just reduce 20 from each one) I'll see how they look in game.
-Breakable weapons are optional
-Removed tf_female flag from two of the Almohad lords (ups)
-Corrections to the simple_trigger that sets party icons based on land or sea
-Reduced bandit party size
-Restored simple_trigger on faction stances to orignal (I am going to playtest)
-Player gain 65 when joining a country via enlistment
-Fixed a freelancer bug that would trap you if you entered a battle where a person from another country was leading your side
-AI will now charge much earlier, not all that circeling around each other
-Fixed the never ending spawning of bandit camps
-Casualties for your levies would not be calculated correctly when batteling with allies
-Rebalanced wages
-Andalusian levies no longer cost wages, just like everybody else
-Reduced ideal garrison size for cities/castle
-Cities/castle garrison can no longer go more than 30% over ideal
-Nerfed the global economy
-The "lords by known relation" report  and "change faction color" option is converted to Blue Blood now
-Removed the faction relations report
-Player party sized increased when player is marshall or king
-Fixed typos
-Revamped Norwegian noble troops
-Fixed the wierd walls in hallscenes
-Fixed a game breaking provocation bug
-Removed some debug messages
Screenshots
Random pics of Scottish troops

Teaser :
http://www.youtube.com/watch?v=0-TgW3PC3Xc
Guide to new way recruitment works.
highly recommended
to read this before giving the mod a shot
In Blue Blood, there is no such thing as recruitment. It is now impossible to go to a village and "recruit volunteers", it doesn't matter if youre a peasant, a vassal, a king, if you own the village or not, it's just not possible.

In order to be able to get troops, you must own a fief, be it a village, castle or town doesn't matter. Then you must raise the levy available in this fief, either by yourself, or by having a knight in your service do it (more on this later). When you raise the levy in your fief, all the troops available will join you for a maximum of 3 weeks before returning to their home. There is no stopping this - once the three weeks have passed the troops will return home, and you will not be able to summon them again for another 3 weeks. It is possible to let your men return home sooner than the three weeks, and the waiting for the next time you will be able to summon them will also become smaller by this. If you are defeated in battle, it will be 3 weeks before you can summon the levy again no matter what. While the levy is summoned the prosperity of the fief will fall, and the fief will give less income as there are fewer hands to work and pay taxes. Also, a rich fief will give you more and better troops than a poor fief.


Furthermore, different kind of fiefs gives different kind of troops. What troops wield largely on region and culture, but this is what can be said generally about troops of Western Europe:

Village
A village will give you more troops than a castle and less troops than a town. The people from villages are mostly poor serfs, and wield weak bows, crossbows, spears and axes and often shields. If the village is wealthy some people might be wielding stronger versions of these weapons, or have horses and wield a sword. If the village is poor people will sometimes be wielding pitchforks, staffs and small knives.

Most of the peasants armor will be of low-medium strength, but it can (and will) vary based on wealth and region.

Castle
Will give very few troops. Most people live and work at the castle and the castle can't afford to loose too many hands. The men from the castle will usually wield better weapons and armor than the village people, but nothing too impressive.

Town
A town will give you the biggest amount of troops. The towns men are sponsored by the town itself and will wield powerful crossbows, big spears (or even pikes), and swords. This does too vary depending on income and region however. Armor can be anything from a rag of clothing to a full chain mail. Holding a city will give you great power, but beware, the cities are hard to control and they wont accept a tyrant. If you tax cities too hard they may just close their gate on you, and not even your personal retainers may be able to take on a city manned with angry people armed with the newest weaponry and armor by the wealthy merchants. (last part if a WIP for now)




Knights
Earlier I mentioned that you can raise the levy yourself, or have a knight do it in your stead. Im gonna lay down the differences between the two here.
When you gain a fief you have two options, govern it directly yourself, or have a knight govern the fief in your stead. The benefits of governing a fief yourself is that all of the tax revenue from the fief goes to you, however the downside of governing a fief yourself is that you have to travel there yourself in order to raise the levy, and the peasants might be more rebellious when they don't have constant presence of authority to remind them of their place (rebellious part is WIP).
The upside of having a knight governing a fief for you is that you can summon him/them using a companion or minister, and they will come directly to you with the entire levy from the fief. Plus, they will arrive themselves fully armored and with two squires at their side, that is 3 very powerful horsemen you don't get from governing the fief yourself. The downside is that you will only receive a fraction of the village's tax revenue (really its nothing), so you will have fewer coins in your own pocket should you get in need of mercenaries or a personal retainer.

Another cool feature is that when you let a knight govern a fief, the knight becomes an actual character, with his own unique name, his own unique herald and so forth, and you will be able to talk to him at the fief he governs, and have him by your side in battle. The name of the knight will not be totally random either. His first name will depend on what country you are serving, the last name will depend on the fief you grant him.

Personal Retainer and Mercenaries
It is possible to have troops on you at all time, even when your subjects are having one of their three week breaks. This can be done by hiring mercenaries or by keeping your own personal retainer. There is difference between the two, and depending on your money and strength of your kingdom and your enemies you might want different choices. The great thing about both retainers and mercenaries are that both kind of troops are very skilled, and they one on one can best anyone summoned from one of your fiefs (unless its a knight or squire), but that is about it for the equalities.

Personal Retainers
A castle under your direct control is required for you to be able to keep a personal retainer. A personal retainer can be as large as you want (but you have a force limit based on leadership and other variables like in Native, which also applies for summoned troops and mercenaries) but is also very expensive, and you want a big bunch of money or a big income before setting up a personal retainer or you are gonna be broke, and that is very bad. Being broke means you cant afford food, and even summoned troops wont answer your call if you cant feed them. Subjects will also stop paying their taxes because they know you have no people to come and teach them a lesson for not doing it. You will have to beg a friendly lord for help and hope he will come to the rescue and show the peasant who the boss is (WIP). If you have money however, a personal retainer is money well spent, they are a terror on the battlefield, the best you can have other than a knight, and they will ride your enemies down ruthlessly. Retainers are also the only kind of troops that can be upgraded in classic Native style. But be aware of your enemies, they will likely have retainers too (and if not then mercenaries), and if your opponent have a bigger retainer than you have, then youre in potential trouble.

Mercenaries
Mercenaries can be hired in taverns like always. You can find all sorts of people, almughavars, longbowmen, pikemen, a normal swordsman et cetera (In alpha release mercenaries are the same as in Native). Mercenaries are cold killers that only cares about the gold you pay them. They are cheaper than retainers because they can take care of their own equipment and training, but they act like scum of the earth. They piss where they want, scare the common folk and lower the morale of the camp and the entire army. When they are out of employment they are not afraid to plunder whoever they come across, and should the day come when you are unable to pay them, it is truly time to leg it and summon the folk, or they will strip you of everything you got and burn down your fiefs. (Last part is WIP)

Note: Mercenaries only lower morale when you have summoned subjects amongst your ranks. They are great in their own company, and professional retainers can deal with them fine. The way morale loss i calculated in by deducting the % of mercenaries compared to your total amount of troops from morale. So if you have 100 troops of which 10 are mercenaries, the morale of your army will be lowered by 10%.

In future versions there will be bands of mercenaries roaming around and plundering. They will not attack a lord, unless very weak, or a lonely traveller, but they will ambush caravans, peasants going to the market, and even attack villages and plunder them unless stopped. Mercenaries were a terror in medieval times, hated by everyone, and I plan on making them like that in Blue Blood too.



Now, you are probably thinking (or maybe not if you like Osama), this is really great, but what the **** am I supposed to do when I start the game as a worthless peasant?
You have a couple of options. I have modified freelancer so that if you earn the highest rank you will be offered a fief for your loyal services to the kingdom. If this does not appeal to you, you can find some companions (there will be several new companions in the future but for now they, and their dialog is native), and kill looters, bandits, join tournaments and the usual until you have enough renown to join a kingdom as a vassal, or enough money to hire mercenaries and assault a castle, although I wouldn't recommend it.
I NEED YOUR HELP
I hope I will have caught some peoples interest so much that they will work with me to make this mod great. There is a list of everything I could possibly want here, if I get even half of these it would be a real blessing.
-Texturers
-Scene Maker
-Writers (new companion concept, character creation rework)
-3d artist
-2d artist
-Media artist - someone who can maybe make a few videos for youtube, take some nice screenshots, maybe even help me moderate a sub forum should I be so lucky
-Music artist
I hope you will give the mod a shot, feedback is always welcome.
Team
Udud - Everything nobody else is taking care off
Sayd Ûthman - Everything nobody else is taking care off
Active Contributors
Quapitty - Banner making, artwork,researching
Wu-long - Writing
SpruceTrap - Research
MihailoSRB - Research
Mod Signature - Thanks to Quapitty
Code:
[URL=http://forums.taleworlds.com/index.php/topic,234363.0.html][IMG]http://img534.imageshack.us/img534/6476/bbbanner1.png[/IMG][/URL]
Credits so far
Rubik - Custom Commander
Waihti - Diplomacy
Lucky Lancer - Training Fields
Bismarck - For combining the above to a module, which I used as a base
Mtarini - OpenBRF
Freelancer - Taragoth, Caba'drin, Duh, Windyplains, Schmidy, Ikaguia, Pundragon
Al_Mansur - Al_Mansur OSP Helmets
Leandrojas_ - Map
Kovas - Teutonic and Lithuanian items pack
Pino69 - Armor pack
Sayd Ûthman - Norman Helmet pack
Dejawolf - Medieval Helmet pack
Thick1988 - Warband Items Variant pack
Gothic Knight - Byzantine helmet
Dunde- Coding help
MadVader - Coding help
Cesar de Quart - Banners
Iggorbb - OSP pack
Rathos - Weapons and Armors OSP
Kuauik - Special thanks for all his great armors
Fredelios - OSP armor pack
Duh - code to tweak player party limit
Domagoj03 - For the teaser