Sergeant

Your Holiness,

My name is Matias Ishijo, and I am a faithful christian in the lands of Japan.




My father was a merchant ship sailor. My mother, a humble Japanese farmer. In this land I grew, surviving by producing and selling crafts, but I soon knew this wasn't my calling. In a vision, Jesus himself came to me, and gave me the commandment that would reshape my destiny: "Build a kingdom in those heathen lands, in the liking of the Sons of Rome, and spread my holy word through all Asia."

Those words stayed on my heart till I reached adulthood, when I sold all my worldly possession (with the sole exception of the clothes on my body and the a sword I solemnly crafted for the purpose of craving my kingdom, called Heathen Bane), and took a ship to Hakata, land of the Otomo, in the southern island of Kyushu, the only openly christian clan in this whole land.




A kingdom is nothing without men, specially one I must build by the force of arms, and no arms are stronger than the ones brought by the European Traders. So I scouted the lands of the Otomo, looking in the villages for faithful Christians accustomed with the wielding of muskets, willing to partake in this quest with me. Undoubtedly I will be successful, due to Otomo's tradition with those weapons, and due to the sheer size of their dominion, in no time I will have an army t--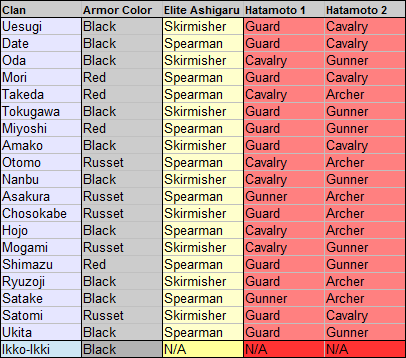 ​
... as I was saying, I decided to scout the lands of the Ryuzoji clan, the only one that have a tradition of training the common men in the use of matchlocks. In the whole island. The first island the Europeans visited.

Blasted samurai.

So I began recruiting in every village.


Matias: Hello old man. Good night. You look down on your luck. What's the matter?




Elder: Woe on us, mister! An evil cattle robber just stole our only milking cow! Our most important source of income and nourishment! Without the money she brought, surely poverty and famine will strike our peaceful village!

Matias: I don't know who this evil man is, but I surely hope he get caught and be punished, for he attacked and stole cows in many villages of this land I have been into! However... of the goodness of my heart, I am willing to help you. Give me young, able bodied men to scout MY cattle trough this bandit infested lands, and I will reward your village with 5 coins a head.

Elder: ... this cow seems eerly familiar. Looks like our milking cow. Except she have a spot of black ink where our mark was supposed to be.

Matias: I assure you this is actually a natural black spot on her fur. Anyways, as I said... 8 coins for each man.

Elder: Her fur is brown. There was supposed to be no spot in it.

Matias: 10! 10 GODDAMNED COINS FOR EACH MAN!

Elder: Now we are talking.


Even though pagan, the people of Ryuzoji are Christian in morals. Not only a good number of voluntaries have arisen for my cause, but they also donated me cattle to fund my efforts. I will remember to not use very persuasive methods of conversion on them as soon I arise to power. With those cows, I march to the nearest city to sell them, and move for the next phase of my plan: train those peasants into a firing line worthy of an European state. My childhood memories come to use, as I remember the way my father taught me various things, and decided to implement it in those peasants training.


Matias: Okay, so this is the plan: I will hit all of you in the face with this wooden stick until you either pass out or learn how to shoot a matchlock. If you pass out, I will wait until you wake up, and repeat the bea-- training. Rinse and repeat until I have an elite force of riflemen.




Peasant 1: Uuh... sir? I don't really think this is how t-- *BONK*

Matias: TOO SLOW, SUCKER! NEXT!

Peasant 2: Are you insane?! What y-- *BONK*

Matias: SEE FATHER?! I AM LIKE YOU NOW! ARE YOU PROUD OF ME?! DO YOU LOVE ME NOW?!

Peasant 3: Are you... are you crying? *BONK* *BONK* *BONK* *BONK* *BONK* *BONK*





*BONK*

As expected, it took no time for them to learn the basics of discipline, formation, melee combat, and to run faster whenever I ask for a beer.




Matias: Alright you Primitive Screwheads, listen up! You see this? This... is my boomstick! A twelve g--

Skirmisher Ashigaru: Sir, we... we know what this is, this is the reason you recruited us in first place. This is a musket. A poorly crafted one in terrible conditions, by the way.

Matias: ... it shuts its goddamned tap or it gets the stick to the face until it becomes an Elite Skirmisher Ashigaru.

Skirmisher Ashigaru: ...

With my small band of faithful arms men, I can finally proceed to the next phase of my plan: seek for supporters of my cause. I will need money, more soldiers, and specialists in hopes to be able to conquer myself a small place in this empire, to build my kingdom. My small band will assure my safety as I scout the whole land for those, and even if I am attacked, my soldiers and, mostly importantly, Christ will protect me. With them, I will walk trough the valley of --




Matias: MY DEATH! MY GODDAMNED DEATH IS NIGH! LUCK, YOU SADISTIC DOMINATRIX!