So to show the approximate difference between having the Capturer Bonus in its current form and not having it I made some graphs with a simplified version of the equation. This will also give people a rough idea of the distribution of fiefs in a kingdom per clan tier.
The Distance Factor for the graphs is set to 1 for all cases.
For the equation I set all base clan strength numbers to 200. By this I mean I made the total strength of all vassal parties combined equals 200 for each faction. Then for each fief owned I assumed a standard value of 1,000,000 and a combined strength of 500 (garrison + militia parties). So for each fief owned, a clan's total strength would increase by 500 and their total settlement value by 1,000,000. For example, a clan with two owned fiefs would have a total strength of 1200 and a total value of 2 million.
The ruling clan gets an extra 100 points from the Ruler Bonus. For non-ruler factions I plotted the line both with and without the Capturer Bonuses for tiers 3-5.
The Y axis shows approximate initial Merit Scores for an election based on the
current
number of fiefs each clan owns. The X axis shows the current number of fiefs owned (sorry I didn't label my axes in the pictures).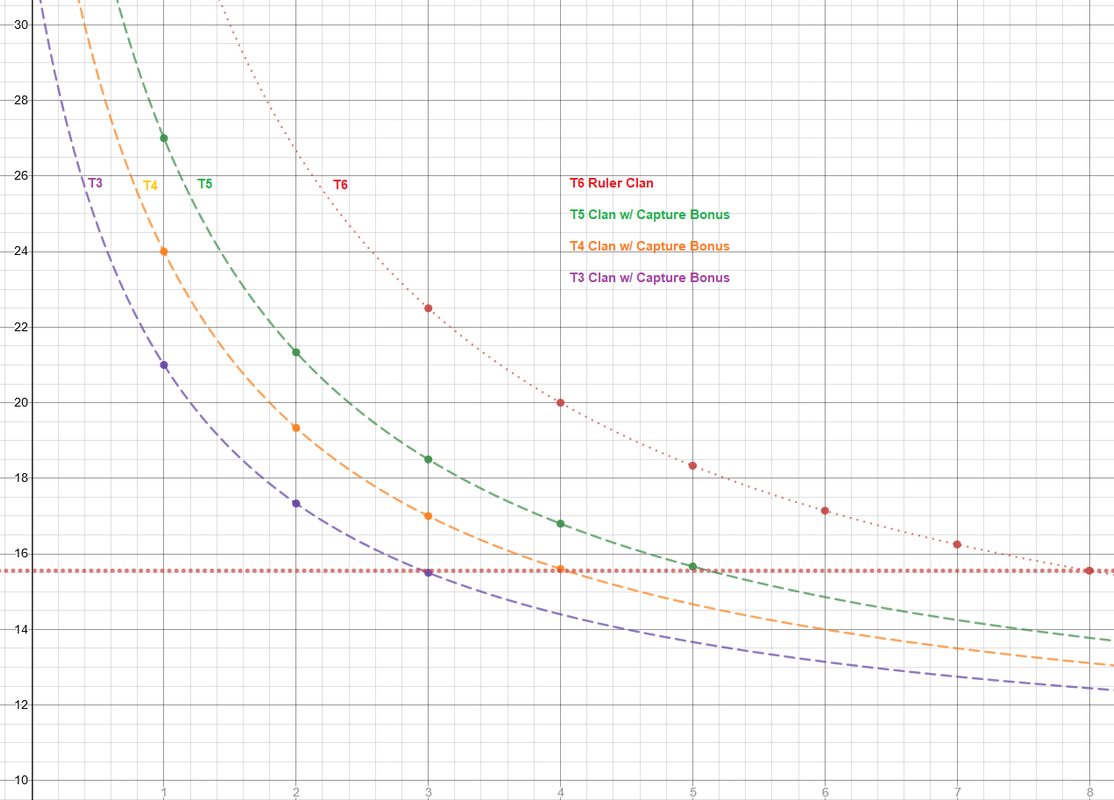 Here's a comparison of each tier with and without the capturer bonus vs. the ruler clan.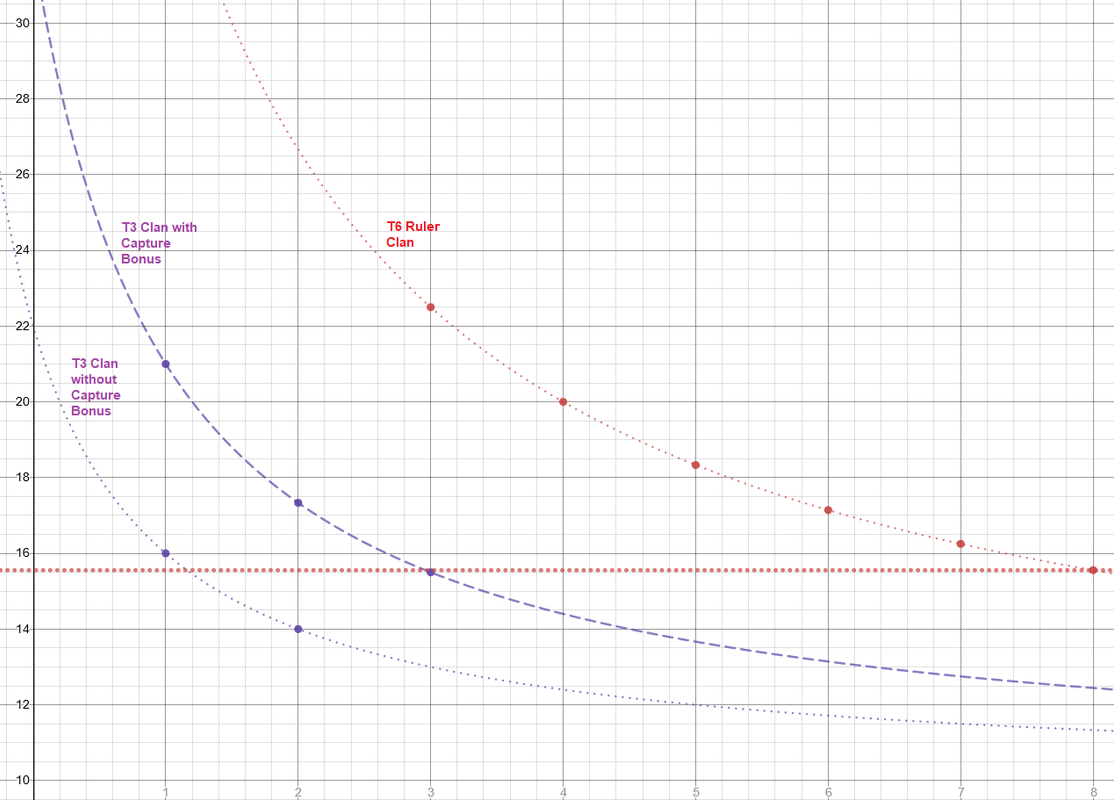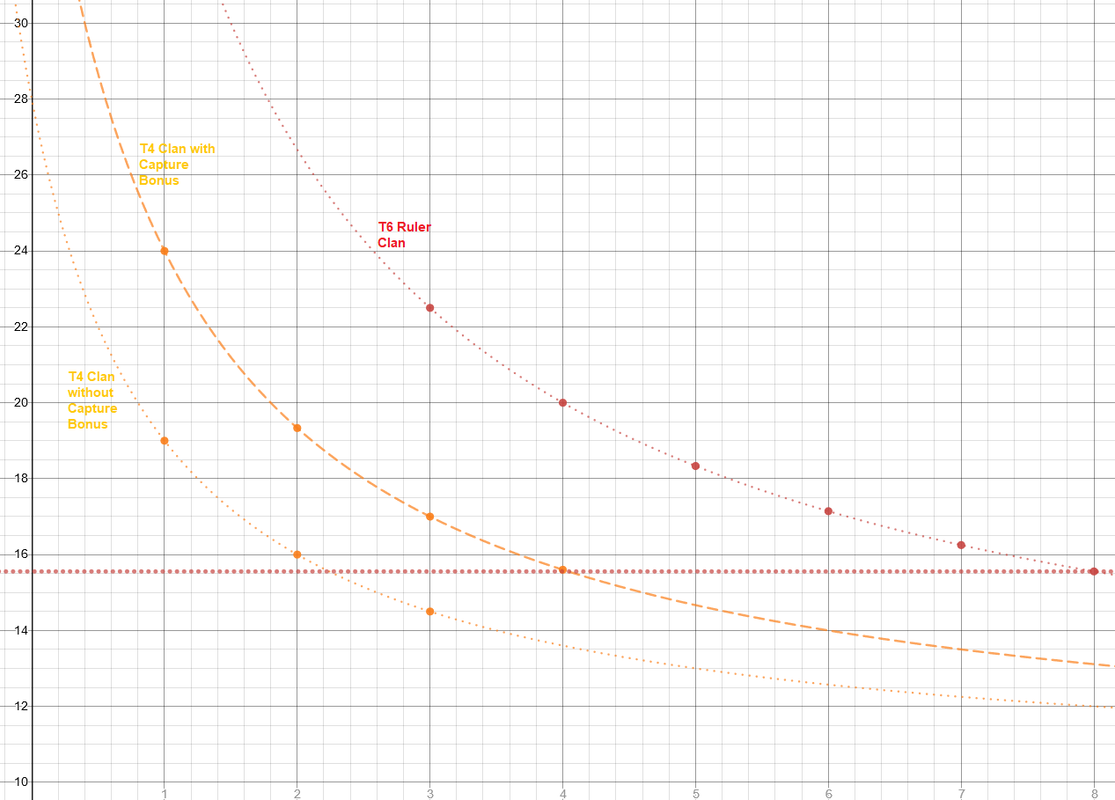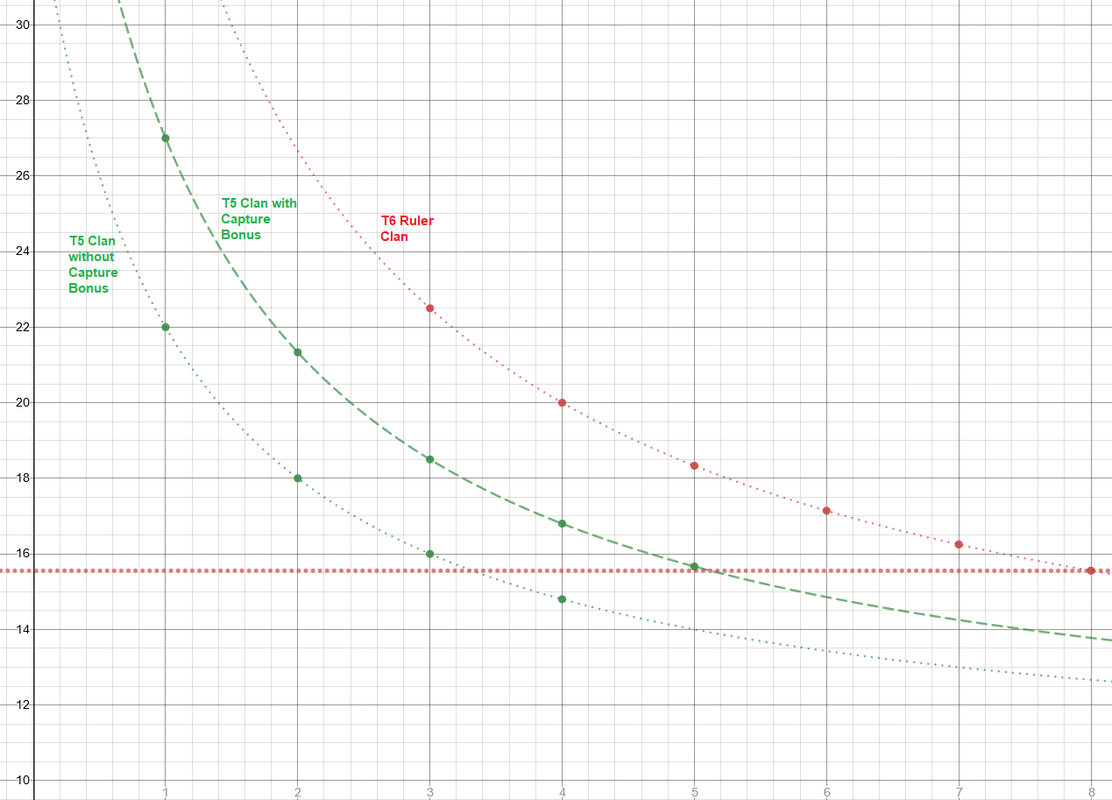 Each dot represents the Merit Score per number of owned fiefs of a clan in a new fief election. For example, in the last graph, the ruling clan with 4 owned fiefs would have a merit score of ~20, while a tier 5 clan with 1 owned fief would have a merit score of ~22, meaning the tier 5 clan would have a slight advantage in the election initially (without distance factored in). If the same tier 5 clan were the capturer of the fief, then they would have a merit score of ~27, giving them a large advantage.
This is just meant to be a simple illustration and these numbers are not are true representation of the conditions you would see in a real game because the settlement values and clan strengths vary significantly, so please don't take these numbers as 100% fact.
Once the bug is fixed that halves the average distance for ruler clans, the distance factor for each clan should be more or less fair (depending on where their starter fiefs are located). Some factions will still have rulers with clear advantages from the Distance Factor depending on starting wars and fief locations. For instance, Monchug owns both Chaikhand and Makeb and is at war with the N. Empire to the west, so he will always have an advantage when it comes to newly conquered lands, but it (probably) won't be as insurmountable as it is currently.
I will deal with this problem. Thanks for detailed analsys.
Great! Don't forget to subtract the total strength of the militia and garrison parties of the newly conquered fief (including militias from bound villages) from the ruler clan's total strength or he will still get a small boost from having a slightly higher total clan strength.
Funny that you mention it, that's exactly what I did with my mod here:
Nice!
When you wrote this on your mod page:
it fixes a bug in how the game determines what clans are to be candidates for the fief that affected only the player's faction
which part are you referring to. Was that the case for patches prior to 1.4.1? The current formula applies to all factions, including non-player ones. Or did you mean something not related to the distance calculations?
Also, have you had a chance to look at the SettlementClaimantDecision.DetermineSupport yet, and if so, what are your thoughts on it? The stuff with the Calculating trait seems a bit off to me.