Knight at Arms

Thing is, his comment didn't say destrier was a breed.
No he did not, but he implied it in the description. Destriers were not cross between anything.
This isn't proof Arabian horses were considered destriers.
Any horse could have been considered Destrier, if it fulfilled the requirements. As I said above, Destrier is not a breed. Again:
The word destrier does not refer to a breed, but to a type of horse: the finest and strongest warhorse.
It says they're strong and possess superior stamina. They were not, however, as large as most European knights would have wanted in a destrier.
European knights did not want their horses to be large:
They apparently were not enormous draft types.[7] Recent research undertaken at the Museum of London, using literary, pictorial and archeological sources, suggests war horses (including destriers) averaged from 14 to 15 hands (56 to 60 inches, 142 to 152 cm), and differed from a riding horse in their strength, musculature and training, rather than in their size.
Medieval war horse been large is nothing but a pop culture myth.
The breed standard stated by the United States Equestrian Federation, describes Arabians as standing between 14.1 to 15.1 hands (57 to 61 inches, 145 to 155 cm) tall, "with the occasional individual over or under".[3] Thus, all Arabians, regardless of height, are classified as "horses", even though 14.2 hands (58 inches, 147 cm) is the traditional cutoff height between a horse and a pony.
And again:
Recent research undertaken at the Museum of London, using literary, pictorial and archeological sources, suggests war horses (including destriers) averaged from 14 to 15 hands
Modern Friesians are draught horses, yes, but in the late Middle Ages, such horses were commonly sought after as destriers due to the rising need for horses capable of carrying a great deal of weight with little effort.

As draught horses go, Friesians are on the light side and even today are used under saddle. Indeed, there's no indication that the modern Friesian is overly different than its medieval ancestor. As far back as 11th century depictions, we can see horses resembling the modern Friesian carrying knights.

It's also not entirely correct to say draught horses didn't exist during the era. The term "draught horse" is relatively recent, but the role of a draught horse and the selective breeding that went into that role existed quite far back. The role existed as far back as the 12th century, at the very least.
Again, draught horses did not exist during Middle Ages. They were bred later. There simply were not there to be sought for or resemble anything. Mules, oxen and bulls were mainly used to do heavy drawing. Moreover draught horses does not make good war horses anyway:
Another faulty assumption is that to obtain a strong, battle-effective mount fit to carry an armed and armoured fighter, the horse would have to be cross-bred with draughts (e.g. Shire or Belgian – or the ever-popular Friesian, a carriage-horse). But heavy draughts do not make an appearance until the High to Late Middle Ages. Until the advances in agriculture, in rigging and tack, the pivoting axle and whippletree, and the mould-board plough, which came together from the 9th C onwards, the European heavy draught animal was the ox, not the horse.35 Anyway, draughts are built for just that: to pull, not to carry, and to plod or stride steadily, not to dance.36
Combat Training for Horse and Rider in the Early Middle Ages, Jürg Gassmann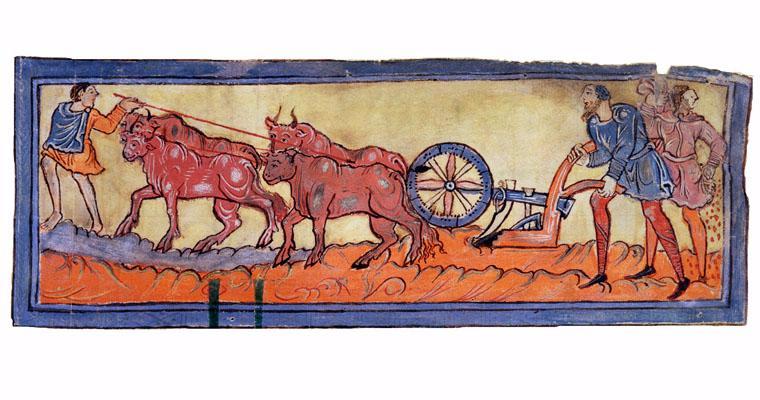 Dyrrhachium? Tours? Bouvines? William Longespee at Bouvines, who charged deep into enemy lines (well after his lance would've made contact) and was captured? There are several cases of armies relying on the weight and mass of horses to break enemy lines. Lances merely amplified this by focusing that force on a fine point. This doesn't change the fact that horses colliding with enemy warriors wouldn't push right past them in most cases. Parthia managed to require remarkably dense formations of heavy infantry to stop, and this was long before the age of heavily armored knights.
Citations please.
Those are accidents.
Horses don't like to run into objects, but they will.
By accident.
Why do you think the cavalry hammer and anvil was such a classic strategy throughout ancient and medieval warfare? Horses are fine trampling enemy fighters, particularly if they're not ready for the horse.
"Hammer and anvil" is name of the tactics, horses were not hammers literary.
In general, the role of the cataphract unit was to charge and smash into enemy lines taking advantage of the sheer mass and armor that would have inevitably instilled terror into the hearts of the defending infantry.

It's statements like this, and the existence of the flying wedge, that lead me to think otherwise. The point of the wedge, you see, was to break through the enemy formation and disrupt it. How do you do this but to drive your horse straight through the enemy ranks? How do you drive your horse through the ranks but by training it to collide with enemies?
Point of the wedge was to increase controlability of the cavalry unit as all horseman simply follow lead of the man on the point. Colliding in to line of infantry will only send the men and horses flying to the ground, and the only thing it will break is riders neck, if they were lucky enough not to land on the lance or spear before that.
And you break enemy ranks on horse the same way you break them on foot: by fighting them. That's why cavalry carries actual weapons. Horse was not weapon, horse was a transport device.
Nowhere does "breaking enemy formation" imply colliding yourself in to it.
Another thing to consider in general is that it was rarely one horse against a line of infantry. It was a line of horses. Friendly presences on the battlefield are a morale boon to men, and why not to horses? Horses tend to have a herd mentality anyway. Therefore if ten horses can be convinced to keep charging, could 50 or 100 not be expected to, for the most part, follow suit? After all, one of the primary components for training a medieval warhorse was to get it used to conquering its fear.
Sure, and thanks to the same herd mentality if ten horses decide to not suicide themselves on spears and pikes and stop, all of them will. Now how big chance there is to convince ten horses to commit suicide as opposed of the chance that ten will refuse to do so? I bet on a preservation instinct.
Besides, why on earth would you want to collide your horse in to infantry line if horse is literally the most expensive and hardest to replace part of your equipment and once dead or maimed, you're nothing but another foot man without any advantages of cavalry?
That's right, you wouldn't. Not under normal conditions.
You're way, way wrong about this. It's true that the "levy" as labeled at the top organizational level consisted of a noble house's obligation of military force. What you don't account for is the fact that only the central core of these were knights and household men at arms. The rest consisted of mercenaries and

feudal levies

, who were conscripted men from among a noble's subjects. In other words, the peasantry.

Typically the feudal armies consisted of a core of highly skilled knights and their household troops, mercenaries hired for the time of the campaign and feudal levies fulfilling their feudal obligations, who usually were little more than rabble. They could, however, be efficient in disadvantageous terrain. Towns and cities could also field militias.

As central governments grew in power, a return to the citizen and mercenary armies of the classical period also began, as central levies of the peasantry began to be the central recruiting tool. It was estimated that the best infantrymen came from the younger sons of free land-owning yeomen, such as the English archers and Swiss pikemen. England was one of the most centralized states in the Late Middle Ages, and the armies that fought the Hundred Years' War were mostly paid, professionals.
Free land-owning yeomen was nothing close to a rabble, they were well off middle class:
The Concise Oxford Dictionary states that a yeoman was "a person qualified by possessing free land of 40/- (shillings) annual [feudal] value, and who can serve on juries and vote for a Knight of the Shire. He is sometimes described as a small landowner, a farmer of the middle classes".[4] Sir Anthony Richard Wagner, Garter Principal King of Arms, wrote that "a Yeoman would not normally have less than 100 acres" (40 hectares) "and in social status is one step down from the Landed gentry, but above, say, a husbandman".[5] Often it was hard to distinguish minor landed gentry from the wealthier yeomen, and wealthier husbandmen from the poorer yeomen.

Yeomen were often constables of their parish, and sometimes chief constables of the district, shire or hundred. Many yeomen held the positions of bailiffs for the High Sheriff or for the shire or hundred. Other civic duties would include churchwarden, bridge warden, and other warden duties. It was also common for a yeoman to be an overseer for his parish. Yeomen, whether working for a lord, king, shire, knight, district or parish, served in localised or municipal police forces raised by or led by the landed gentry.
These were primarily unprofessional folk with a minimum of training. It wasn't until rather late in the medieval period that we started seeing more professional armies the likes of which England showed us. Your source draws specifically from the Anglo-Saxon military, which had a distinct system of fyrd service.
Knights were not professional folk either. There's difference between unprofessional and unskilled. Men that were levied as archers in to English armies were required to train every week by law. And you are free to reference all Medieval systems of levy that would raise armies full of "rabble".
Medieval armies been composed of "rabble" is nothing but another pop culture myth.
Medieval times weren't a uniform thing; every culture had its own methods. In most of Europe, particularly as feudalism took a strong hold, the system was more akin to what we popularly know as "feudal levies". In these cases, the term "levy" as you're reading it refers to a noble landowner's obligation to provide a certain number of troops for his liege's wars. It implies nothing specific about the quality of those troops, short of a certain number of trained knights being a part of the obligation in many cultures.
Oh but it does. Medieval law did not just specified how many men one is obliged to bring when called to arms, it also specify what equipment they should have.
"Training a horse to risk its life", as the comment you're referring to states, is not the same as training a horse to forfeit its life. That's what training them to charge into spears would be.
You are free to post all the historical sources that shows training of horses to collide in to infantry lines.
Not a single picture of a horse colliding in to infantry.
Last edited: