Knight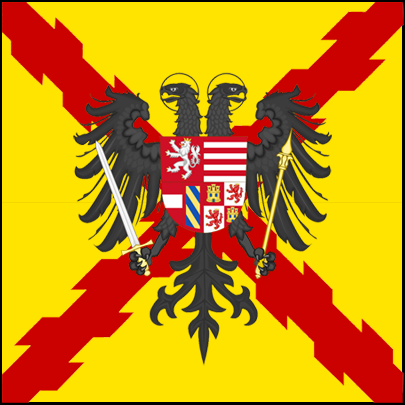 The House of Habsburg ruled and affected much of Europe during both the 16th and 17th centuries, as it's most powerful dynasty. The family was split into two branches - the senior, who ruled Spain and it's possessions, and the junior, the Austrian side of the dynasty who ruled the Holy Roman Empire, the Kingdom of Hungary and Croatia and the Kingdom of Bohemia. Leopold I was the Holy Roman Emperor at the time of the Deluge.

In Spain, during the 16th century, the army was reorganised to contain new formations, the Tercio, the first truly professional military units of the Early Modern era. The nucleus of these formations comprised of well-trained volunteer infantry - armoured swordsmen, pikemen and musketeers working together in mutual support. Such a formation was a mobile stronghold in it's own right, able to fend off most enemy troops through the Tercio's size and array of arms.  Such was the success of these formations that their use spread across Europe, notably to the Habsburgs of the Holy Roman Empire, who employed them to great effect against their many enemies, a natural progression from the German Landsknechts and Swiss pikemen with whom the Habsburgs had secured their rule of the Holy Roman Empire.

By the time of the Deluge the Tercio, in it's original form, was in it's twilight, with Tercio units adapting to the changes in Early Modern warfare. They are possibly the deadliest melee infantry formation in the Deluge, but now with even greater musketeer cover.






The Habsburg Tercio are a dedicated infantry unit for the Deluge. Depicting soldiers serving the junior branch of the House of Habsburg, they take to the field as one of the feared Tercio units, hard-bitten professionals who drive all before them. Fielding both pike and shotte they are well-equipped to deal with any opponents they face, although it is with their long pikes that they strike fear into their enemies.

The formation comprises a mixture of those from across the lands of Europe, drawn together as a body of professionals ready to strike at whoever dares face them in battle!
  ___________________________________________________________________________________________________________________ 
Members& Ranks
                          The company is commanded by the grizzled Friedrich von Wasserburg, a veteran who fought as a Captain for the Kaiser in the Thirty Years War. After that conflict he has no calling except war, no tools needed except his trusty pike and sword. Accompanying him as Sergeant is Domingos Jorge Velho, a Portuguese ex-Bandeirante who fought the Dutch as a skilled musketeer for years. In search of more gold and fame he has joined the Tercio, to fight like his ancestors with skill and courage. The men come from all across Europe, and they lack nothing in personality.
                          Captain Friedrich von Wasserburg
                          Sergeant Domingos Jorge Velho
                          Corporal Juan Martinez
                          Pikeman Petar Parchevich
                          Pikeman Gilberto Cattaneo
                          Pikeman Prospero Ojolocura
                          Pikeman Anthone Kennick
                          Pikeman Rudolf Schmidt
                          Pikeman Adrian Brancoveanu
                          Pikeman Petar Vasilev
                          Pikeman Wolfram von Galen
                          Pikeman Oskar Freudenheim
                          Musketeer Nicolao Ojolocura
                          Musketeer Jacobo Ojolocura
                          Musketeer Symington
                          Musketeer Albrecht von Mercy
                          Musketeer Ferdinand von Wilhelmstadt
Upon joining one is expected to take a
Historical Character Name
, outlined here:
Imperial Eagle said:

We are making a change now: From now on players are encouraged to take a Historical Name, suitable to the time period and setting. In this setting the most likely name types would be German and Spanish names, although one could also reasonably be an Italian, Walloon, Flemish, Portuguese, Croat, Czech, Slovak, Slovene, Silesian or Hungarian and still fit within the Habsburg armies of the time. Please also refrain from taking a name belonging to an important historical character.

This move is taken for greater historical immersion, therefore the in-game character name will no longer require the HT tag or rank. We have our ingame banner (which may be replaced by our real clan banner in the next update) and our historical names to identify ourselves.
    We will accept any members, EU or NA, who can speak English and understand combat in a pike and shotte environment.
            We are always eager for those looking for a good historical experience.​
__________________________________________________________________________________________________________
Rules
Speak English capably.
Have Teamspeak 3, to communicate with your comrades.
Be willing to take up pike and shot at the Deluge's Organized Warfare events, every two weeks. Additional action in normal servers is greatly recommended, especially with pikes, as it is a great way to show our force's special strength.
No trolling, teamkilling/wounding, or any disobedience to your superiors' orders will be tolerated in these events. If I hear or see much of your trouble, you will be removed.
Always fight together with your teammate, a lone pikeman is as good as dead.
_______________________________________________________________________________________
For information or wanting to join, add KaiserFegelein on Steam or send a private message on the forum. Alternately, you may make an introductory post here on our thread.

Credit goes to rapier17 (Richard_Flockton of the Lucky Dogs) for the images and arrangement.
​
March with us, for pride and adventure....
                   ​
​
​


​