Works for Warband 1.125
Updated 6/6/2010: multiplayer version below & at download
Updated 6/5/2010: single-player destructible version (at download)
Updated 6/2/2010: single-player deployable, collapsible version (at download)
Problem: you're at a big disadvantage against bowmen as a crossbowman, because you need cover to reload!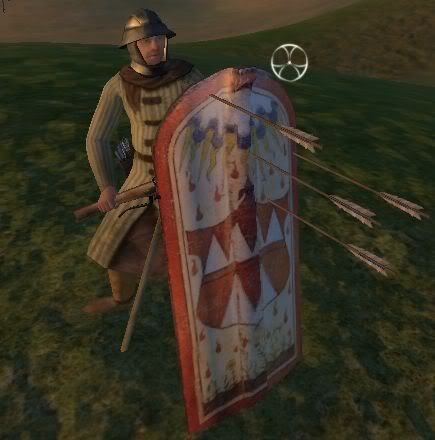 Solution: http://www.youtube.com/watch?v=Olnq32yEmZQ
If you have the pavise equipped and hit g, the scene prop is set in front of you.
If you hit h and are near the prop, it changes back to an item.
(1st version only)
As many pavise items there are, a prop is set.
Use in any mods you like, but send me a message so I can see what's happening with it!
Download
: https://sites.google.com/site/cartread/mount-blade
Comments, suggestions for improvement welcome.
Multiplayer Deployable, destructible version:
For the multiplayer version to work, you have to place (in Edit mode) pavise scene props at z position -100 (far underground).
However many pavise scene props you place there, that is the limit for the players.
mission_temp:
Code:
      #pavise
      (0, 0, 0, [],
       [
        (try_for_agents, ":cur_agent"),
        
            (agent_is_human, ":cur_agent"),         
            (agent_is_alive, ":cur_agent"),  
            (agent_get_position, pos2, ":cur_agent"),
            #==click g && has pavise
            (try_begin),

                (agent_get_wielded_item, ":shield_item", ":cur_agent", 1),
                (eq, ":shield_item", "itm_pavise"),
                (key_clicked, key_g),
                (clear_omitted_keys),
            
                (scene_prop_get_num_instances, ":num_props", "spr_pavise"),
                (position_move_y, pos2, 50),
                (set_spawn_position, pos2),

                (assign, ":pav_found", 0),#pf
                #FOR # props if prop at LATENT spot
                (try_for_range, ":prop_no", 0, ":num_props"),
                    (eq, ":pav_found", 0),#pf
                    (scene_prop_get_instance, ":scene_prop_id", "spr_pavise", ":prop_no"),
                    (prop_instance_get_position, pos3, ":scene_prop_id"), #pos3 holds position of current prop
                    (position_get_z, ":z_coor", pos3),
                    (eq, ":z_coor", -100*100),#-100 LATENT spot

                    (prop_instance_set_position, ":scene_prop_id", pos2),#pavise move
                    (agent_unequip_item, ":cur_agent", "itm_pavise"),
                    (assign, ":pav_found", 1),#pf
                (try_end),
            (try_end),#click g
        (try_end),#for agents
        ]),#0,0,0 pavise
item:
Code:
["pavise", "Pavise Shield",   [("pavise_wep" ,0)], itp_merchandise|itp_type_shield|itp_cant_use_on_horseback|itp_wooden_parry, itcf_carry_board_shield,  
488 , weight(6.6)|hit_points(660)|body_armor(16)|spd_rtng(60)|shield_width(57)|shield_height(132),imodbits_shield ],
scene_props:
Code:
  ("pavise",sokf_moveable|sokf_destructible,"pavise_prop","bo_pavise", [
    #check_castle_door_use_trigger,

   (ti_on_init_scene_prop,
    [
      (store_trigger_param_1, ":instance_no"),
      (scene_prop_set_hit_points, ":instance_no", 100),
    ]),
     
   (ti_on_scene_prop_destroy,
    [
      (play_sound, "snd_dummy_destroyed"),
      
      (assign, ":rotate_side", 86),
      
      (try_begin),
        (this_or_next|multiplayer_is_server),
		(neg|game_in_multiplayer_mode),

        (store_trigger_param_1, ":instance_no"),      
        (store_trigger_param_2, ":attacker_agent_no"),

        (set_fixed_point_multiplier, 100),
        (prop_instance_get_position, pos1, ":instance_no"),

        (try_begin),
          (ge, ":attacker_agent_no", 0),
          (agent_get_position, pos2, ":attacker_agent_no"),
          (try_begin),
            (position_is_behind_position, pos2, pos1),
            (val_mul, ":rotate_side", -1),
          (try_end),
        (try_end),
      
        (init_position, pos3),

        (try_begin),
          (ge, ":rotate_side", 0),
          (position_move_y, pos3, -100),
        (else_try),
          (position_move_y, pos3, 100),
        (try_end),
      
        (position_move_x, pos3, -50),
        (position_transform_position_to_parent, pos4, pos1, pos3),
        (position_move_z, pos4, 100),
        (position_get_distance_to_ground_level, ":height_to_terrain", pos4),
        (val_sub, ":height_to_terrain", 100),
        (assign, ":z_difference", ":height_to_terrain"),
        #(assign, reg0, ":z_difference"),
        #(display_message, "@{!}z dif : {reg0}"),
        (val_div, ":z_difference", 3),

        (try_begin),
          (ge, ":rotate_side", 0),
          (val_add, ":rotate_side", ":z_difference"),
        (else_try),
          (val_sub, ":rotate_side", ":z_difference"),
        (try_end),

        (position_rotate_x, pos1, ":rotate_side"),
        (prop_instance_animate_to_position, ":instance_no", pos1, 70), #animate to position 1 in 0.7 second
      (try_end),
    ]),       
  
    (ti_on_scene_prop_hit,
    [
      (store_trigger_param_1, ":instance_no"),       
      (store_trigger_param_2, ":damage"),
      
      (try_begin),
        (scene_prop_get_hit_points, ":hit_points", ":instance_no"),
        (val_sub, ":hit_points", ":damage"),
        (gt, ":hit_points", 0),
        (play_sound, "snd_dummy_hit"),
      (else_try),
        (neg|multiplayer_is_server),
        (play_sound, "snd_dummy_destroyed"),
      (try_end),

      (try_begin),
        (this_or_next|multiplayer_is_server),
		(neg|game_in_multiplayer_mode),

        (particle_system_burst, "psys_dummy_smoke", pos1, 3),
        (particle_system_burst, "psys_dummy_straw", pos1, 10),
      (try_end),      
    ]),
  ]),
Single-player Deployable, destructible version:
mission_temp:
Code:
      #pavise
      (0, 0, 0, 
        [],
        [
            (get_player_agent_no, ":player_agent"),
            (agent_get_position, pos2, ":player_agent"),
            (try_begin),

                (agent_get_wielded_item, ":shield_item", ":player_agent", 1),
                (eq, ":shield_item", "itm_pavise"),
                (key_clicked, key_g),

                (position_move_y, pos2, 50),
                (set_spawn_position, pos2),
                (spawn_scene_prop, "spr_pavise"),#pavise spawn
                (agent_unequip_item, ":player_agent", "itm_pavise"),
            (try_end),
        ]),#0,0,0 pavise
item:
Code:
["pavise", "Pavise Shield",   [("pavise_wep" ,0)], itp_merchandise|itp_type_shield|itp_cant_use_on_horseback|itp_wooden_parry, itcf_carry_board_shield,  
488 , weight(6.6)|hit_points(660)|body_armor(16)|spd_rtng(60)|shield_width(57)|shield_height(132),imodbits_shield ],
scene_props:
Code:
  ("pavise",sokf_moveable|sokf_destructible,"pavise_prop","bo_pavise", [
    #check_castle_door_use_trigger,

   (ti_on_init_scene_prop,
    [
      (store_trigger_param_1, ":instance_no"),
      (scene_prop_set_hit_points, ":instance_no", 100),
    ]),
     
   (ti_on_scene_prop_destroy,
    [
      (play_sound, "snd_dummy_destroyed"),
      
      (assign, ":rotate_side", 86),
      
      (try_begin),
        (this_or_next|multiplayer_is_server),
		(neg|game_in_multiplayer_mode),

        (store_trigger_param_1, ":instance_no"),      
        (store_trigger_param_2, ":attacker_agent_no"),

        (set_fixed_point_multiplier, 100),
        (prop_instance_get_position, pos1, ":instance_no"),

        (try_begin),
          (ge, ":attacker_agent_no", 0),
          (agent_get_position, pos2, ":attacker_agent_no"),
          (try_begin),
            (position_is_behind_position, pos2, pos1),
            (val_mul, ":rotate_side", -1),
          (try_end),
        (try_end),
      
        (init_position, pos3),

        (try_begin),
          (ge, ":rotate_side", 0),
          (position_move_y, pos3, -100),
        (else_try),
          (position_move_y, pos3, 100),
        (try_end),
      
        (position_move_x, pos3, -50),
        (position_transform_position_to_parent, pos4, pos1, pos3),
        (position_move_z, pos4, 100),
        (position_get_distance_to_ground_level, ":height_to_terrain", pos4),
        (val_sub, ":height_to_terrain", 100),
        (assign, ":z_difference", ":height_to_terrain"),
        #(assign, reg0, ":z_difference"),
        #(display_message, "@{!}z dif : {reg0}"),
        (val_div, ":z_difference", 3),

        (try_begin),
          (ge, ":rotate_side", 0),
          (val_add, ":rotate_side", ":z_difference"),
        (else_try),
          (val_sub, ":rotate_side", ":z_difference"),
        (try_end),

        (position_rotate_x, pos1, ":rotate_side"),
        (prop_instance_animate_to_position, ":instance_no", pos1, 70), #animate to position 1 in 0.7 second
      (try_end),
    ]),       
  
    (ti_on_scene_prop_hit,
    [
      (store_trigger_param_1, ":instance_no"),       
      (store_trigger_param_2, ":damage"),
      
      (try_begin),
        (scene_prop_get_hit_points, ":hit_points", ":instance_no"),
        (val_sub, ":hit_points", ":damage"),
        (gt, ":hit_points", 0),
        (play_sound, "snd_dummy_hit"),
      (else_try),
        (neg|multiplayer_is_server),
        (play_sound, "snd_dummy_destroyed"),
      (try_end),

      (try_begin),
        (this_or_next|multiplayer_is_server),
		(neg|game_in_multiplayer_mode),

        (particle_system_burst, "psys_dummy_smoke", pos1, 3),
        (particle_system_burst, "psys_dummy_straw", pos1, 10),
      (try_end),      
    ]),
  ]),
Single-player Deployable, collapsible, indestructible version:
mission_temp:
Code:
      #pavise
      (0, 0, 0, 
        [],
        [

            (get_player_agent_no, ":player_agent"),
            (agent_get_position, pos2, ":player_agent"),
            #==click g && has pavise
            (try_begin),
                #(agent_has_item_equipped, ":player_agent", "itm_pavise"),
                (agent_get_wielded_item, ":shield_item", ":player_agent", 1),
                (eq, ":shield_item", "itm_pavise"),
                (key_clicked, key_g),
                (clear_omitted_keys),
            
                (scene_prop_get_num_instances, ":num_props", "spr_pavise"),
                (position_move_y, pos2, 50),
                (set_spawn_position, pos2),

                (assign, ":pav_found", 0),#pf
                #FOR # props if prop at LATENT spot
                (try_for_range, ":prop_no", 0, ":num_props"),
                    (eq, ":pav_found", 0),#pf
                    (scene_prop_get_instance, ":scene_prop_id", "spr_pavise", ":prop_no"),
                    (prop_instance_get_position, pos3, ":scene_prop_id"), #pos3 holds position of current prop
                    (position_get_z, ":z_coor", pos3),
                    (eq, ":z_coor", -100*100),#-100 LATENT spot

                    (prop_instance_set_position, ":scene_prop_id", pos2),#pavise move
                    (get_player_agent_no, ":player_agent"),
                    (agent_unequip_item, ":player_agent", "itm_pavise"),
                    (assign, ":pav_found", 1),#pf
                (try_end),

                (try_begin),
                    (lt, ":pav_found", 1),#pf

                    (spawn_scene_prop, "spr_pavise"),#pavise spawn
                    (get_player_agent_no, ":player_agent"),
                    (agent_unequip_item, ":player_agent", "itm_pavise"),
                (try_end),
            (try_end),

            (scene_prop_get_num_instances, ":num_props", "spr_pavise"),
            #==click h && near proped pavise
            (try_begin),
                (key_clicked, key_h),
                (clear_omitted_keys),
                #FOR # props if prop close to player
                (try_for_range, ":prop_no", 0, ":num_props"),
                    (scene_prop_get_instance, ":scene_prop_id", "spr_pavise", ":prop_no"),
                    (prop_instance_get_position, pos3, ":scene_prop_id"), #pos3 holds position of current prop
                    (get_distance_between_positions, ":player_distance", pos2, pos3),
                    (le, ":player_distance", 100),

                    (position_set_z, pos3, -100*100),#-100 LATENT spot
                    (prop_instance_set_position, ":scene_prop_id", pos3),#pavise move

                    (set_spawn_position, pos2),
                    (position_move_y, pos2, 50),
                    (spawn_item, "itm_pavise"),#pavise spawn
                (try_end),
                #(scene_prop_set_visibility, ":scene_prop_id", 0),
                #(init_position, pos1),
            (try_end),

        ]),#0,0,0 pavise
item:
Code:
["pavise", "Pavise Shield",   [("pavise_wep" ,0)], itp_merchandise|itp_type_shield|itp_cant_use_on_horseback|itp_wooden_parry, itcf_carry_board_shield,  
488 , weight(6.6)|hit_points(660)|body_armor(16)|spd_rtng(60)|shield_width(57)|shield_height(132),imodbits_shield ],
scene_prop:
Code:
("pavise",sokf_moveable,"pavise_prop","bo_pavise",[]),