=======================================================================================
Welcome warrior to the weekly event giving you your dose of epic charges and glorious moments.

Join us every Tuesday night at 21:00 GMT+2 for our semi-RP Battle Mode event.
=======================================================================================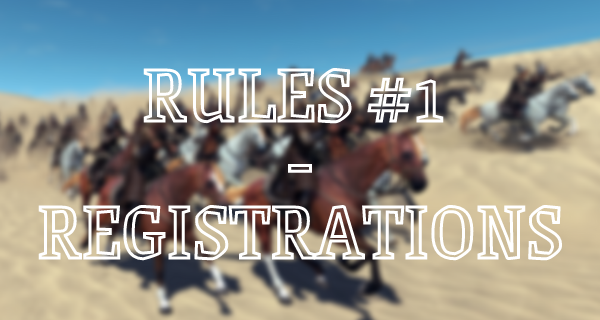 1.1 Any clan that has not been banned from the event can register as long as they meet the minimum and maximum requirements below show in the appendices. You can register up to 4 units but only one unit per type (light infantry, heavy infantry, cavalry, archery)

1.2 A clan can register according to the 2 following methods:
Regular: Your clan commits to participate in the event every week and in exchange the administration commits to reserve the requested slots every week for your clan. An absence from the event without having informed the administration at least 7 days before will be considered as a warning. The second absence will result in a ban of your clan
Occasional: Your clan registers for a specific session of the event and commits to participate in this session. An absence from the event will result in a warning. The second absence results in a ban from your clan
2.1. Each clan agrees to respect the common rules of decorum and to respect any sanction pronounced by the organizers.

2.2. Any attempt to cheat or circumvent the rules will be sanctioned

2.3. When a unit hit the merging limit in terms of number of players, it should immediately join another unit.

2.4. Every player should wear the tag of his clan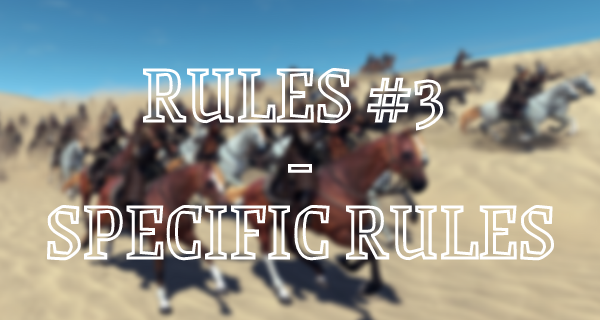 These rules apply to specific type of units as show in the appendices :
3.1 FbC (FormBeforeCharging):
Regardless of the type of unit, each unit must be in formation before charging on an enemy unit. The minimum formation is a line formation as shown below but you can be more creative (column, chevron, etc...).
Failure to do so will result in a slay of all players who charged without first forming. This also applies to charged units that wish to countercharge.
3.2 FbM
(Form Before Moving):
The same rule applies to moving
3.3. Flee:
The unit is allowed to turn its back and run away in a disorganized manner.
3.4. Crouch:
The unit is allowed to crouch. Any unit can still crouch for the first line if she manage to form in multiple lines.
3.5. Fire:
The unit is allowed to use throwing weapons
3.6. FO (FreeOfficer):
The officer is allowed to leave his formation to explore and learn about enemy positions.
3.7. Loose Formation :
Archers are allowed to form in a loose formation. That means the players composing an archer unit are allowed to have a space of 1 man between them and still be considering as in a formation.
3.8. Fire while moving :
Unit is allowed to fire while moving but never while charging.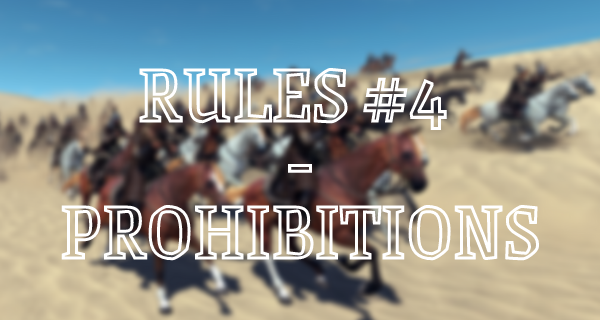 These rules apply to all type of units :


4.1. FiC (FireInCharge): It is forbidden to fire during a charge

4.2 OA (OfficerAim): Expressly shoot an officer with an arc or a throwable weapon is forbidden

4.3. FooF (FireOutOfFormation) : Fire/throw out of the formation is forbidden

4.4. Looting : Looting is totally forbidden in any cases (arrows, shields, weapons,..). Only cavalary can pick up horses.
================================REGISTRATION============================
Code:
Team Name :

Team Tag :

Type of unit :

Average number of players (+/-2) :

Type of registration (Regular or Once) :

Leader Steam Id :

I have read and agree to the rules. I'll accept any form of sanctions if i'll should broke the rules.
=================================APPENDICES============================
| Min.Max/Type of Unit | Light Infantry | Heavy Infantry | Archer | Cavalry |
| --- | --- | --- | --- | --- |
| Min | 5 | 10 | 6 | 5 |
| Max | 20 | 15 | 10 | 9 |
| Merging Limit | 3 | 5 | 3 | 3 |
✦ Form before Moving
✦ Flee
✦ Crouch
✦ Fire and Fire while moving
✦ FO (Free Officer)
✦ Form before Moving
✦ Form before Charging
✦ FO (Free Officer)
✦ Form before Moving
✦ Flee
✦ Crouch
✦ Fire
✦ FO (Free Officer)
✦ Loose Formation
✦ Form before Moving
✦ Flee
Last edited: