Recruit

There are a number of reasons why the new settlement icons are bad and compromise gameplay in a number of key ways.
As you can see, each town has a box with its name, next to the banner of whichever clan owns that town. This is the first big problem, lack of variation in banners. In warband, each lord had their own unique banner with a unique look. With the new banner creation feature, it would be really cool to design your own complex banner to better represent you and your clan. Instead, we are forced to just pick one color and slap on a boring symbol. TLDR:
TRULY CUSTOM BANNERS ARE IMPOSSIBLE
You might say, then why dont they just make each clan banner unique and keep the current settlement icon system? You would not be able to tell factions apart. Here is the map from the game of thrones mod that utilizes this setup. Its a mess, you cant tell factions apart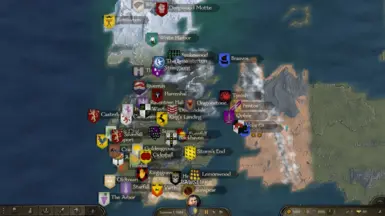 Second big problem, the green color given to settlement icons in allied factions just does not look good in my opinion. This seems trivial, but when you spend 70 percent of your in game time looking at a map it should look good.
My proposed solution? Return to the old 2016 era settlement icons