Grandmaster Knight


Brytenwalda team present...
...An epic event that will decide the fate of Britannia.
MONS BADONICUS/MYNYDD BADDON BATTLE​
"de postrema patriae victoria quae temporibus nostris dei nutu donata est" Gildas
Campaign Background
Tides of invaders arriving daily to the shores of Britannia. Saxons, Jutes and Angles invading the weak kingdoms of the Britons.

Aelle joined Angles and Jutes kings in an alliance. Beron is the most powerful king, with more than 30,000 men under his command, and over 6,000 to Drythen Krisvk orders. But other kings and lords, as EAFA or Arius, also feature thousands of men.

They have joined with the men who brought Aelle across the sea. Their advance in britons lands covered by several kilometers. In its advance, they leaving villages burned, and bodies for the crows.

The situation has reached a crisis point. Arthur Pendragon has gathered all the men who brought Dunmonia, and allies of the highlands. He is moving eastward to meet to his enemy.
But they are just a few thousand men, too few.

Arthur depends that Romano-British of the old kingdom of Regia and the Britons of Aetia come to your call.

The Dux Ballista has a some thousand men, and Romano-Regia is still a powerful kingdom, despite losses against the Jutes received. It also has Murtagh, a Warlord, which has caused many losses at Anglo kingdom of Mercia. Or Wulfbruk, the last survivor of the fall of the kingdom of Lundein.

Aetia is a young state, forged by a jute who has join to the Britons. It is still a weak state, but their king, Aetius, has fierce warriors, veterans of a thousand campaigns.

Maps and info
Historically: In or around 500-520 AD, the Romano-British kings joined together under a Dux named "Arthur" and inflicted a severe defeat on an invading Anglo army command by Aelle at Mons Badonicus that stopped Anglo-Saxon expansion for the fifty or more years.
Will history repeat itself? or we will change the past?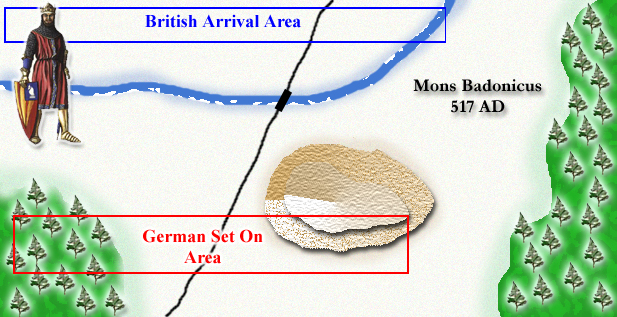 ​
font: http://www.indiawargamers.com/resources/misc/saga_gallery.html
​
Battle terrain in Warlords Mode
: plain
Size
: Big
Attacker
: Invasors
Defenders
: Britons
Objectives
: Destroy the enemy.
Note
: The battle will be for 6 rounds. The first round will be for duels between champions, and the other 5 rounds is the main battle. The side that wins three rounds of those five, gets the victory.

DATE
Friday at 19:00 GTM+1
The Armies:
---------
Arthur's Army:
Faction
: Glastenic
Commander
: Thorgil
Kings
: Ballista, Aethel
Lords
: Murtagh, Yebenoso and Wulfbruk
Extras
: ...
Minimum players need in battle: 5
TOTAL ARMY STRENG POINTS
: 50.800
--------
Aelle's Army:
Faction
: Anglia
Commander
: Adorno
Kings
: Beron, Eafa, Arius
Lords
: Kirsvk
Extras
: ...
Minimum players need in battle: 6
TOTAL ARMY STRENG POINTS
: 62.000
-------
Too, each player will have
9.000 coins
for items, they need go dress like Warlords.
AID
:
-Each side can do 3 questions about terrain, enemy, diplomacy...
-Each side can invite to max 4 Lords (internal campaign players) for join to them in battle if they wish.
-Each side can invite to max 2 mercenaries (external campaign players) for join to them in battle if they wish.
Arthut and Aelle, by Yeyo Balbas, http://yeyobalbas.blogspot.com.es/2010_02_01_archive.html
​