This is a post dedicated to the community, those who are still newbies and a video suggestion for
@Strat
, if you will give me the honor.
Update 1.8 is like Tanos dagger, perfectly balanced between improvements and new bugs. The remarkable thing about upgrades is being able to reset your character and allow you to create a better character by reusing perks that give attributes and talents.
Creating a character is what fascinates me the most, from what kind of soldier will it be, to what behavior and what partners. And getting to the best distributed character regarding attributes was always my goal, and I think I achieved it.
With you my Chads 1.8: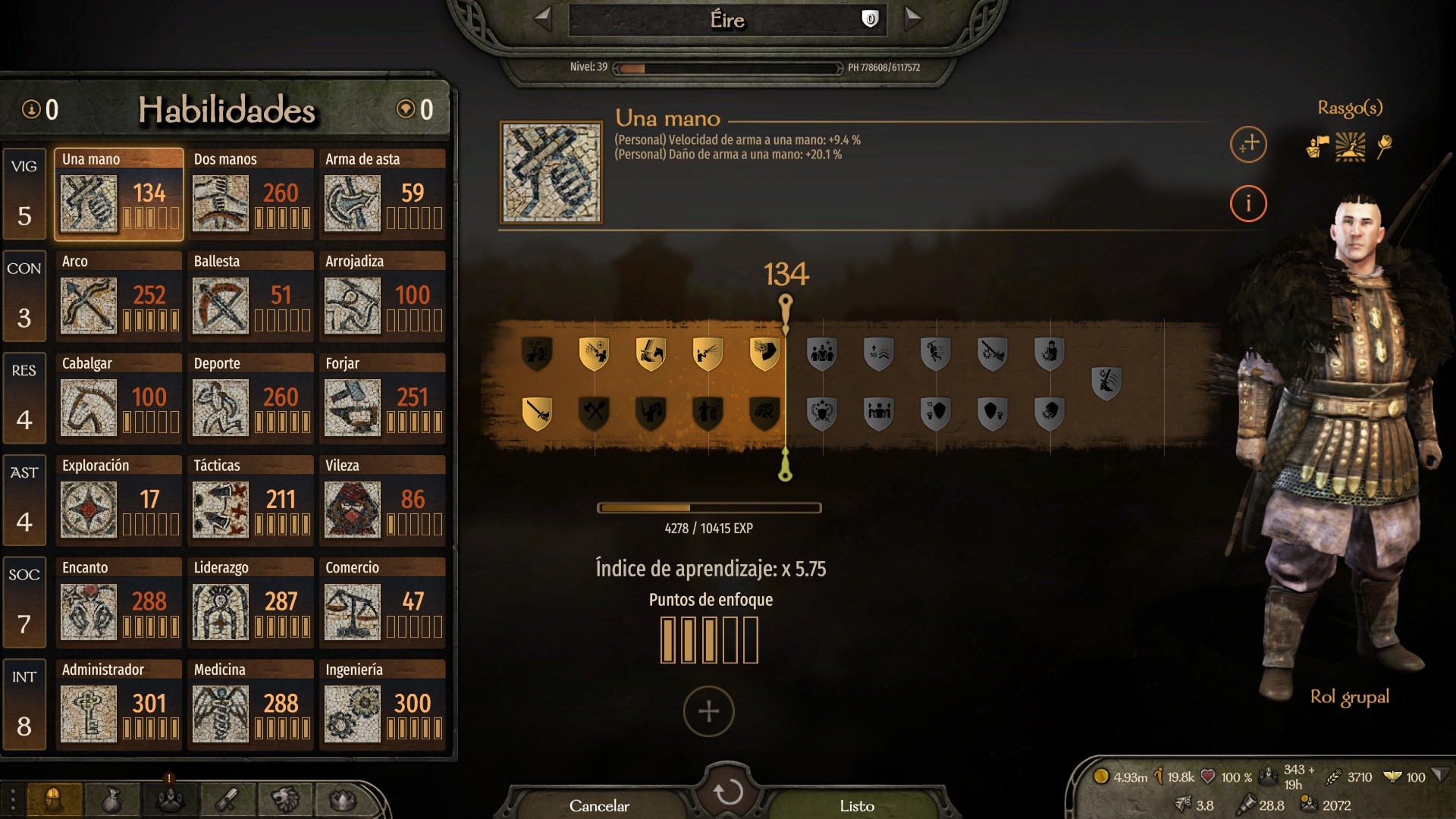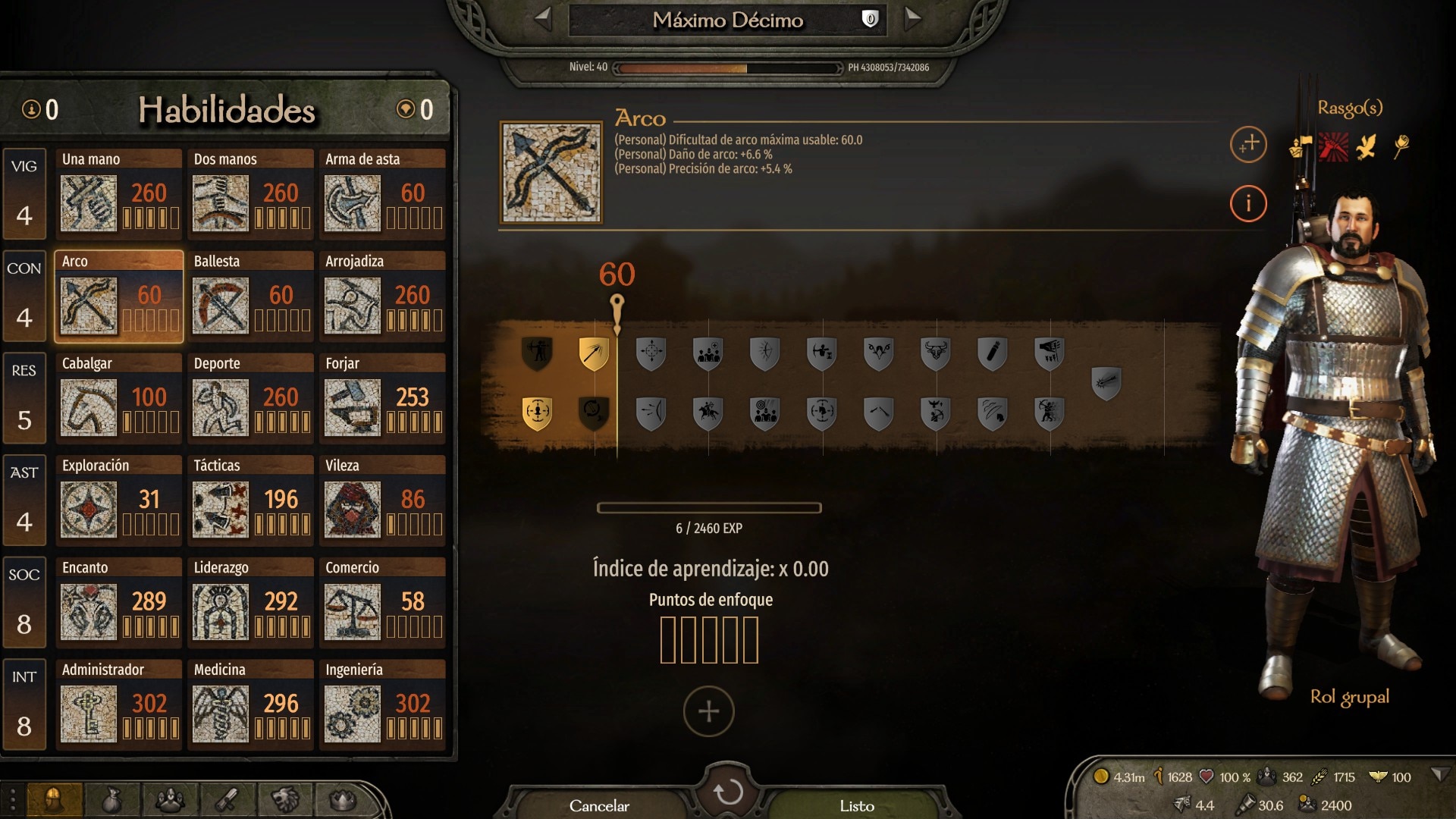 Both characters start their game with 30 years old, I used to do them at 20, but with 30 it will give you extra points and a nice age, between longevity and wives.
In its creation you must not exceed 3 talent points in Vigor, Control and Resistance. It is not necessary to max Charisma and Intelligence, but it increases over Cunning and not exceed 3 points of those already mentioned.
About what to improve first, the most important thing at the beginning is Sport and Blacksmithing. Well, these are the two skills that will allow you to reach 5 talent points in Vigor, Control and Resistance. In addition to giving you a free point in one-handed, two-handed and throwing weapons.
The extra Control stats will be gained faster than the Vigor stats, so I'll stick to maxing this path first and then move on to maxing out Vigor. Although you can always reset it to your liking.
The second is medicine, steward, leadership, charm. In that order, improve them as you see the need or as you like. Finally engineering and tactics.
At some point put a point in vileness towards as in mount.
Now, because these characters are special. Well, the simple thing is, the Battanian is an excellent archer captain and the Imperial is an excellent infantry captain. His troops have massive health and are immortal, the men they lead have improved armor, movement speed, accuracy, damage, everything. The Imperial has so much power in his arms that he can sneak attack in a siege and break the gate and siege weapons with his bare hands by throwing rocks. He destroys battering rams and siege ladders!!! With his hands! is there anything more chad than that?
About why take the vigor, control and resistance only to 5. Well, you will maximize the important skills to the maximum, minus the last perk and it really does not make sense to lose 2 talent points, for something trivial like more life for your character, or more damage for the overwhelming damage you already deal. In addition to the 2-handed weapons, you will reach the last skill and you will be unstoppable with two-handed swords or sledgehammers. It is important to have one-handed ability, not only because of the perks, but when mounted, it is best to attack with a sword that can also be used with one hand, as it widens your impact range. If you go for the infantry captain build, it will give you awesome upgrades as well.
The fact that each character only has 100 points in cavalry is simple, after that most perks are irrelevant but they have ability to ride level 90 horses, including the thoroughbred which you can get from a fellow scout, which you will need it, because both characters in that are blind.
Raising tactics will give you some captain perks, but also the ability in the future to auto-resolve battles with minimal or no damage to troops, useful for when your patience runs out.
Both characters, in addition to starting at 30 years old, were created thinking of reaching level 40, which I consider to be "easy" until then, but even before that you will begin to appreciate your power. After 40, well from then on it's a matter of taste. Raise tracking to be an autonomous tracker, put an archery point on the imperial to be able to use good bows in sieges. Trade, for those who know at level 45 to be able to reach 300 and be able to buy settlements. Whatever comes to mind, but if you follow my steps up to here, you will have a giant party of demigods capable of destroying cities alone, destroying armies without suffering casualties, becoming a Chad.
I hope that whoever got here will like my publication and I hope it will be of help to you, any questions, I will answer with pleasure.