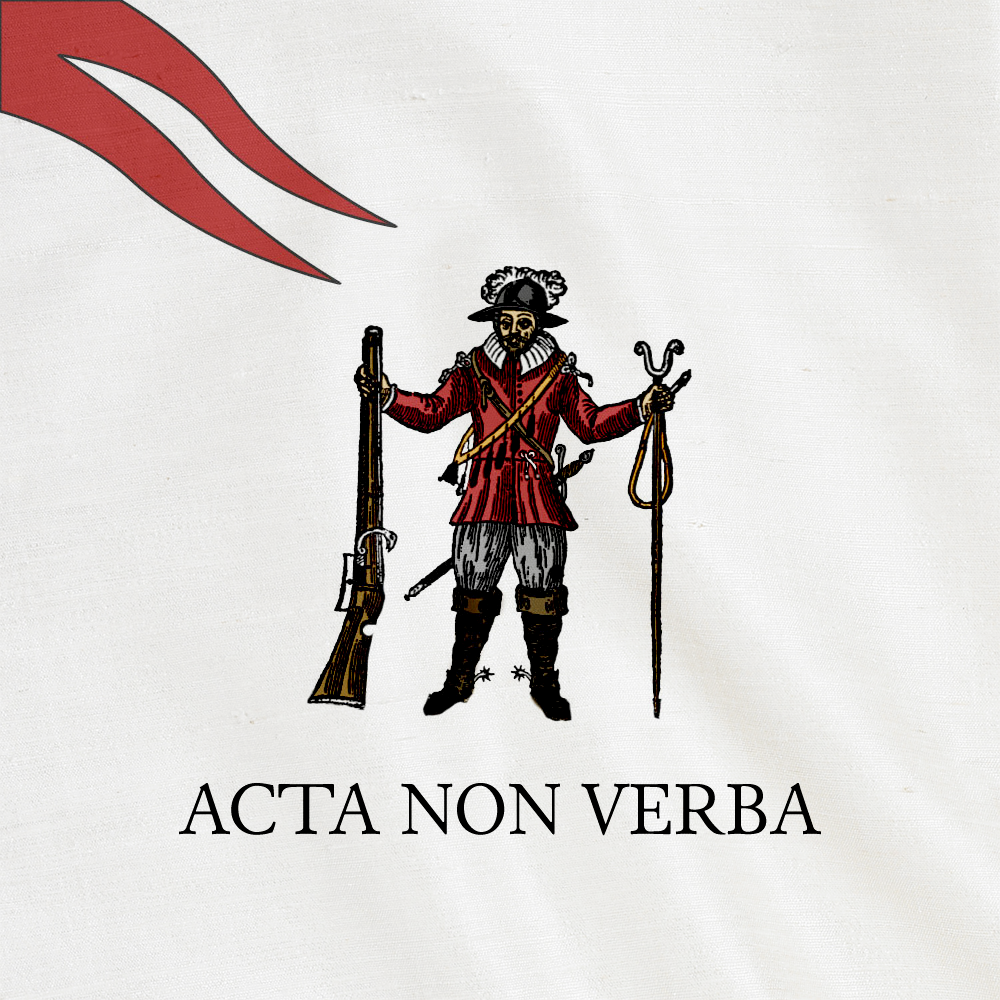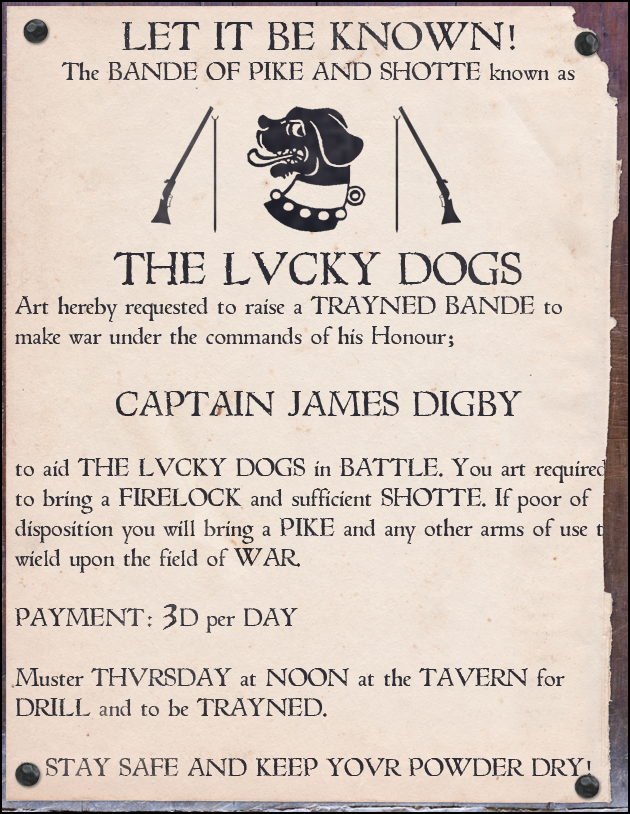 [size=8pt]The Trayned Bande is an event-only institution aiming to offer players, who would not normally be able to join a clan for whatever reason, to participate in The Deluge events alongside our semi-historical & organised clan, the Bande of Pike & Shotte. Players who wish to play alongside the Lucky Dogs in events would contact either the Captain, James Digby, or Serjeant, Richard Flockton, to register their interest & we would then communicate whether it is possible or not.

We will initially offer a limited number of places in the Trayned Bande for each event - our intent is not to boost our numbers but to allow other players to enjoy the experience of fighting in a 'sleeve of shotte' firing volleys and performing drill upon the battlefield.




There are several reasons why you might wish to participate in events alongside the Lucky Dogs. For example you may not have the time to commit to, or wish to be a part of, a clan but still wish to come along to a The Deluge event. This is where the Trayned Bande element comes into play. There is no commitment necessary beyond doing your level best to attend events. We do have some rules we would wish any who wish to sign up to be aware of;

Firstly; Choose a suitable period name for your character - we have a 'zero tolerance' policy towards naming and we will refuse to accept anyone who sports an avatar name which does not fit with the mid-17th century.
Secondly; If you sign up please make sure you do your best to come along to events. We do understand life has a horrible habit of getting in the way of plans, particularly when it comes to fun things - if this should happen we would only ask for a quick message prior to the event to say you are unable to attend, as a matter of polite courtesy.
Thirdly; That you listen to the commands given by Captain Digby & Serjeant Flockton & that you don't cause disruption - that means no team-hitting, kicking or killing. We work together as a team not as a group of delinquents getting quick 'lols'.


[size=8pt]If you are interested then contact either his Honour Captain James Digby or Serjeant Richard Flockton via steam or contact us, (Digby, Flockton) by PM on the Taleworlds forum. If you have any questions or concerns or just wish for more information then do message us and we will do our best to respond quickly.




The ensigne, the standard, of the Hoary Hounds depicts a red coated musketeer upon a white field with scarlet tails. Unlike the Lucky Dogs banner it omits the St. Georges cross, a sign that the Hoary Hounds draw their members from various countries. Access to the ensigne is given to those who have fought upon the field several times with the Hoary Hounds as a badge of their service, if you will, with the Hoary Hounds.




Members with their names struck through have moved on from the Hoary Hounds.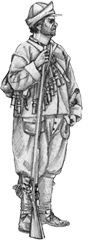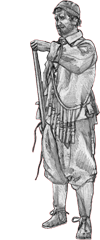 As requested by Hoary Hounds, here is a signature or two for you, featuring the musketeer from your banner;
For those who wish to be mysterious with their signature...
Code:
[url=http://tinyurl.com/pm847mq][IMG]https://tw.greywool.com/i/uMjts.png[/IMG][/url]
...and for those who wish to announce it to the world.
Code:
[url=http://tinyurl.com/pm847mq][IMG]https://tw.greywool.com/i/8kVRA.png[/IMG][/url]
RESIZED to fit with Orchid's Drill & Muster signature;
Code:
[url=http://tinyurl.com/q52dgyj][IMG]https://tw.greywool.com/i/aknUq.png[/IMG][/url]
Code:
[url=http://tinyurl.com/q52dgyj][IMG]https://tw.greywool.com/i/5dMu4.png[/IMG][/url]