Alyss' Sword and Board Duel Tourney​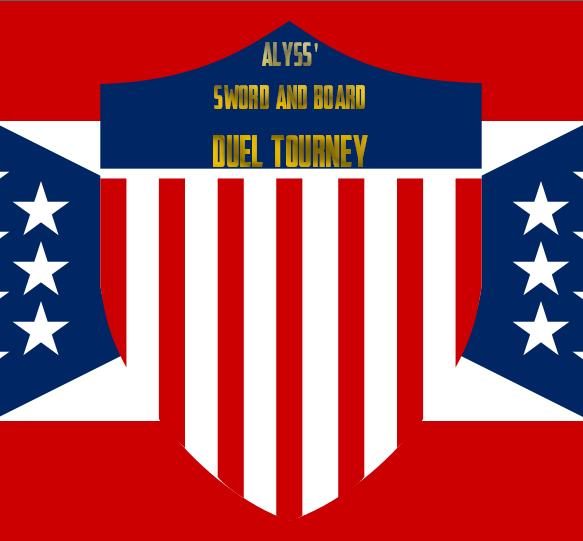 [size=18pt]RULES :
1.0 The tournaments format is one vs. one, and will be played to first-to-seven (FT7)
1.1 You may use swords, cleavers, axes, scimitars and shields. Which means; no maces, no two-handed weapons, no pole-arms, and no throwing weapons.
1.2 You may only spend 1000 gold when purchasing your equipment. If it is proven that you've spent over 1000 gold, you'll automatically lose the duel.
1.3 You cannot upgrade your equipment under any circumstance.
1.4 You're not allowed to pick up any equipment off the opponent.
1.5 You cannot swap factions during your duel, but you may switch your faction prior to your duel. However, you'll need to contact an administrator in order to do so.
1.6 You have to play with your shield until it breaks.
1.7 This is a single-elimination tournament meaning, as soon as you've lost your first to seven, you're out.
1.8 You cannot leave the server without having a valid reason; valid reasoning would be disconnecting or having constant ping spikes. With that being said, when you re-connect, the duel will pick off where it left off.
1.9 You cannot let someone else play for you when you have to duel, ID's will be checked if a complaint is received.
2.0 If you fail to contact a certain person/opponent, contact an admin and they'll look into it, if they still cannot find this player then he will be disqualified and you would gain a default win.
2.1 The default servers are NA_Duel and NA for NA_NessaNessaNessa against EU or NA vs NA but EU vs EU can play on The Ludus or another serv. And if both agree on another server it is fine too.
2.2 If you fail to contact your opponent, you should contact one of the admins and have them to look into the case. If it is found that your opponent is not making enough of attempt to schedule the duel, you will be given the default win.
2.3 You cannot use Bastard and Heavy Bastard swords.
2.4 The duel must be played on medium speed.
2.5 Do not insult during your fights or on the forum. First you will get a warn then you will be disqualified.
2.6 If you break any rules you will be banned from the tourney.
SIGN-UPS :
Code:
[b]In-game name:[/b] 
[b]Steam contact:[/b]
[b]Faction desired:[/b]
[b]EU/NA:[/b]
LIST OF PARTICIPANTS :
NA in bold

Nessa        Steam Contact: http://steamcommunity.com/id/yagize/       
RivenX       Steam Contact: http://steamcommunity.com/id/rivenx/           
Alyss          Steam Contact : http://steamcommunity.com/profiles/76561198035349056/     
Revelation      Steam Contact : http://steamcommunity.com/profiles/76561198035812838/     
Noname          Steam Contact : https://steamcommunity.com/id/encle       
Cow              Steam Contact : http://steamcommunity.com/id/Easter_Cow/
Ruthven        Steam Contact : https://steamcommunity.com/profiles/76561198014836606/
Device                  Steam Contact :  http://steamcommunity.com/id/device_tm/
BlackDead            Steam Contact : http://steamcommunity.com/id/blackdeadarpacireyiz123/
ParalyzeR              Steam Contact :  http://steamcommunity.com/id/againothing/
Matrona                Steam Contact : http://steamcommunity.com/id/-hexakosioihexekontahexa-/
Monkie                Steam Contact : http://steamcommunity.com/profiles/76561198085486268/
Aporta        Steam Contact : http://steamcommunity.com/id/aporta/
SidePleb      Steam Contact : http://steamcommunity.com/profiles/76561197981806921/
Kurskov      Steam Contact : http://steamcommunity.com/id/kurskov/
Surkan              Steam Contact :  https://steamcommunity.com/id/surkans
Soul                      Steam Contact : http://steamcommunity.com/id/Slako/
Whalefish    Steam Contact : http://steamcommunity.com/id/MrWhaleFish/
Apfel                    Steam contact :  http://steamcommunity.com/profiles/76561198121865528/
Tristan                  Steam Contact : http://steamcommunity.com/id/iDGLittle
Factions :
Nords : Novac/Cow/Alyss/device/BlackDead/ParalyzeR/Monkie/Kurskov
Rhodoks : RivenX/Matrona/Surkan
Vaegirs : Marquis/Nessa/Whalefish/Apfel/Tristan
Swadia : SidePleb/Ruthven
BRACKET :
https://challonge.com/fr/qa1lq43z
ADMIN TEAM :
-Alyss
-Cow
-Nessa