This AAR is my own personal thingy to show my gratitude to the makers of this mod. Secretly I hope to inspire them to continue making this module. If you have any comments, any ideas for what i should add. Pls do tell me but note that the story is an aar: after action report, so I will just try and write as good as my english gets about Aslyms adventures in this new land. (playing at 112% difficulty)
Note: Story starts right after the beggining tekst, so people can still be amazed by the beginning option.
PART 1: The awakening (litteraly)
We soon left to find some place safer than the open wilds. It was only me and those 5 adventurers.
Their names where Dycan, Rufus, Zenit, Mardek and the one I came to like the most, Lavitz. He was the oldest of the group and apparantly enjoyed to talk with me. I didn't have much to tell yet since most of my memories where nothing more than a shade but I seemed to have learned to judge wise over certain issues. He learned me a lot about Talera, and gave me this book containing a part of his history. He also advised me that If i were to survive in this country, I should visit the Feron lands. The others laughed at him. " The Feron? Do you want him to get eaten alive or what?" But I believed him.
Back to the point, we had to find a place to stay. Pretty soon we stumbled upon a small open field in the middle of the dense Woods. There was this man, he never told us his name, now I think of it... He was a trainer. We asked him if we could stay on which he answered, ofcourse, if you can entertain me. I have 12 bored warriors here, if you can beat 3 of them in a row 4 times, you may stay here. Consider it as some training, he grinned.
The adventurers laughed, especially Mardek, "those guys are to easy for us, you go and take them on Aslym"
So I did! Tough especially his last 3 warriors were very strong fighters, my skill with weapons was enough to take them down. If only I remember who taught me all those things...
Rested and confident about my skills I was assigned leader of our party. Lavitz gave me a map and we started traveling, against most of my companions will, towards the feron tribes.
We made a small stop in an Planelords town which name I have forgotten. To be honest, i'm glad I can still remember my companions names! In this town I participated in a small arena brawl. The prize money was about 250 gold coins! So I joined the fray and closely came out victorious!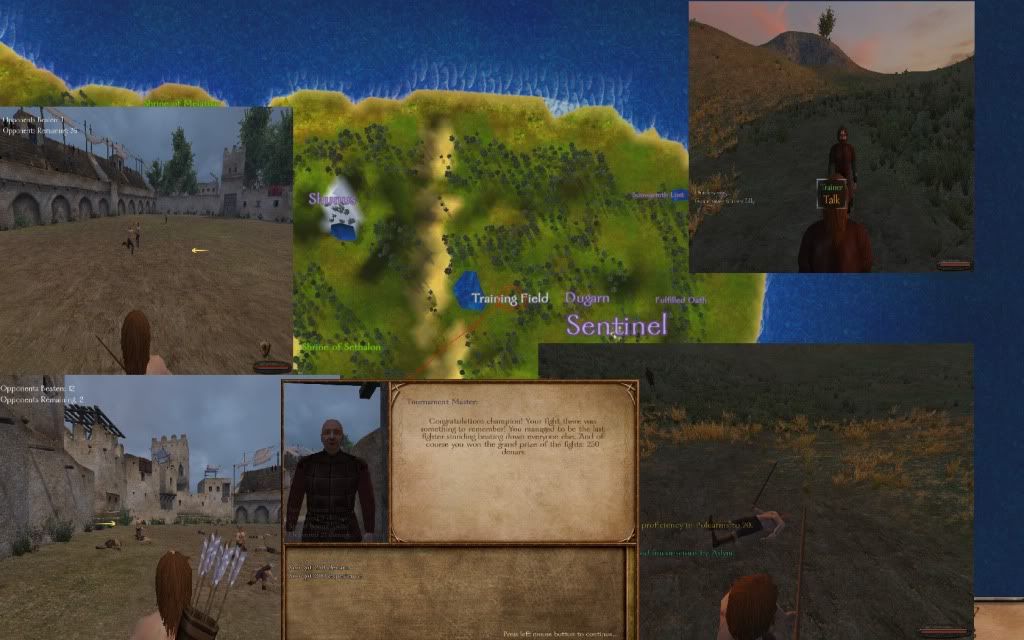 We continued towards the Feron tribes. On the way, we came by some Feron villages, in which I recruited some feron tribesmen. Thinking "having some of their own men in my party will reduce the chance of being eaten and might make finding their lands easyer."
In one of the villages Ayie to be exact, we arrived at night. Everyone was sitting at a campfire with the village elder while I was going to take a little walk.
Not my best plans it seems... Suddenly I was being ambushed, by 2 heavily armored guardians of sevrathar! I myself am unarmored, got a blunt sword and a little crosbow... A CROSSBOW!!! I tought to myself! They had no helmets on and where shooting at me with arrows, so I hid myself behind a wall and came out to shoot.
One of the 2 realised what I was doing so he took his quarter staf and charged towards me. I quickly tried to reload, and luckely, was in time to fire! He was 2 steps away from me when my bolt pierced his face. I must admit it was not a pretty sight...
The second one got pretty scared of my performance, but also a bit mad at me, scared to come closer he continued shooting. I hid behind the wall again, reloaded and shot him in the head once more!
I checked their purses and found 100 gold pieces. I really wondered what crimes I had done to get those guys after me...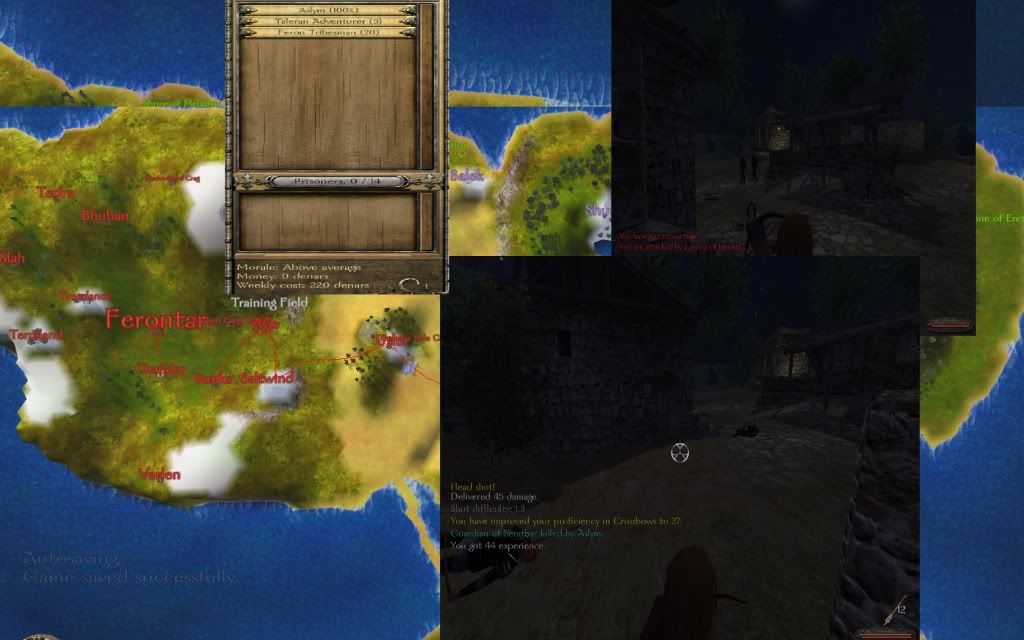 We then continued towards Ferontar, the Feron Tribes Capital.
Arriving here I was amazed and suprised at the same time. The capital was mostly something that looked like a tent camp. It looked kind of cosy tough, nothing savage like my other companions had told me. All of us were hapily suprised by the kindness with which they welcomed us. Even tough I was human, they treated me like one of their own.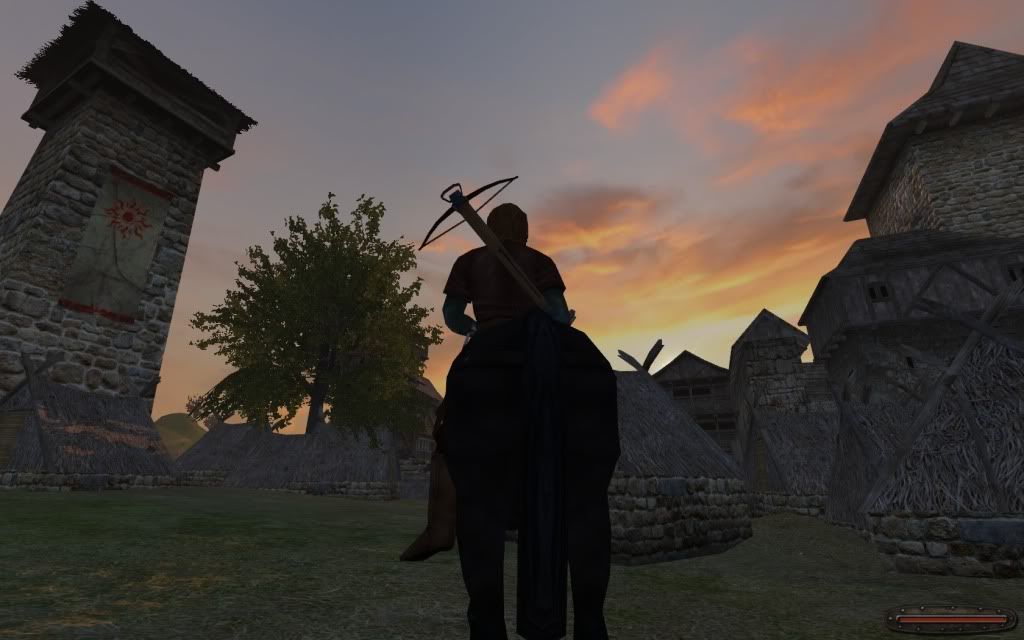 They told me to go speek to their warchief, Krug, so I did. I was suprised to see he was black, unlike the other Ferons. I greeted him like one should great a man with a royal status and he spoke kindly to me. His first words to me where that he was looking for good men, tough when I offered my sword to him, he said I hadn't proven myself worthy yet. Then he said something that made me think about my other companions said: You dont have enough smell of blood on you yet.
Now that I think of it, i cant remember why I answered this, but I replied to him with the words: "Not yet"