Note: This story may contain minor spoilers
(Such that you might find on the forum anyway, but just so you know.)
Otherwise, Dear Reader:
Please bear with me, as not only is this my first AAR-esque story, it is very long (6000 words or so). Note that it is more a fictional aftermath story than an AAR but as it progresses more in-game events are covered.
But please don't expect a conventional AAR or you'll be disappointed. 
Also, if I've made a grave error, particularly on lore, please let me know.
Regards.
P.S. Comments and discussion are welcome.
P.S.S. I'll try to improve upon the layout. Just note that there are 4 main chapters, or spoiler buttons to click on, on the left side. The rest as labeled are supplemental.
----------------------------------------------------------------------
Feverspeak: Lamentations of the Queen of Pendor
Lady Raubrey, Ruler of Pendor, March 2, 357 CE to _____,
Recorded by M.S., Village of Emirin
Prologue
Chap. 1  Introduction / Dear Reader
1.1 To Marius's Dismay
1.2 Laria – The Rumor
1.3 Emirin – Redemption or Bait (Meeting Lady Raubrey)
1.4 Of Emirin and Shrines   
Author's Note
Chap.2  Day One
2.1 The Chosen One?
        2.2 Remembering Koningur Valdis
2.3 Leslie's Concoction, Mildred's Question
        2.4 The Truth about Sarleon, Ulric...and Myself
2.5 The Truth about Laria
Chap.3  Day Two
3.1 Which Dangers God?
3.2 Good Morning, Lord Fossard
        3.3 The Truth about Lord Eric
        3.4 Lethaldarin, The Mystery
        3.5 Honor or Zealotry?
Chap.4
The Future of Pendor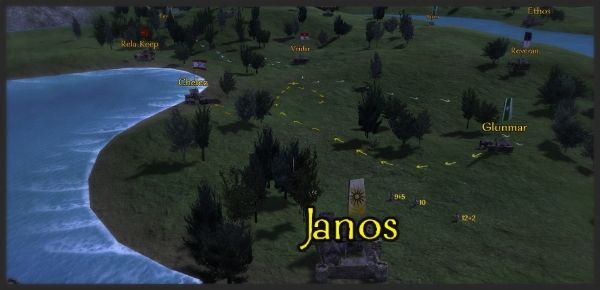 Prologue / Chap. 1
Prologue
​
Janos -- March 7, 360 CE​
"How many times did Lady Raubrey save us and now we are to do nothing but idle about?," the typically mild-mannered Squire Shandor shouts at the air. He takes a deep breath and turns his head towards Emirin way. After a minute passes by, the middle-aged Village Elder kisses me on the cheek as he has done every day in our 20 years of marriage.
"Please tell m'lady that she is in our thoughts and prayers," he requests calmly, as he escorts me to the castle. While crime is barely existent in Janos, these are unusual times.  He then takes off "to take a peek" at the roast pork in the marketplace.     
It was wise of the Lady not to reveal the latest assassination attempt on her life to her subjects, if indeed that is the cause of her condition. Given her state, the wheels of Pendor would grind to a halt. Besides, I'd scarcely make it to the door. 
Steward Thantos greets me briefly and motions a guard to escort me to the Queen's chambers.
As I found Lady Raubrey sleeping when I arrived, I gathered my papers and composure, while completely unprepared to face the dark truths to come, both about Pendor and our beloved Lady.
Chapter One
Introduction
Janos -- March 7, Late Evening​
​
Dear Reader,
It is with much sadness that I find myself by the Queen's bedside, at her request, whereas I shall dictate m'lady's words for the "future ruler of Pendor, record keepers, and her amusement," since she is unable to do so herself in her feverstate.
I am Mildred, wife of Squire Shandor, the Village Elder of Emirin, and friend to our beloved Lady Raubrey. Though a commoner, formerly educated by Empire reforms, m'lady has embraced both me and my village as if we were family. Such is her way, and some would say her weakness. 
I feel it necessary to relay a bit about the Lady's, past to better understand why Pendor needs her more than she needs a kingdom. While Pendor is no longer a land divided by roving borders and rival kings, it lacks neither divisiveness nor rivals, some internal, some beyond its shores.
The now mostly empty prisons are not equipped to house the prejudices and greed of men, and whom would serve as judge of a man's heart? Kidnappings are rare these days as the punishment for doing so is death by public hanging. Still, female peasants and even the Noldor are not immune to being accosted. The fractured slave market still exists in the shadows of Singal and despite Pendor's prosperity, bandits remain – though now it is by choice, one not driven out of need.
The raiders, Snake Cult and Heretics remain, but are usually found in small numbers, showing up infrequently. Given the lords have little else to do but collect taxes and feast, some even seem enthusiastic to bloody their blade now and then while protecting their territories. 
Still, with all its splendor and changes, the pulse of Pendor is not so different than before. We work hard, compete with foreign merchants, live at the mercy of the weather and count our blessings.
1.1  To Marius's Dismay
We first met Lady Raubrey soon after she became a vassal of Sarleon, serving first as a mercenary for a couple months, to assess Pendor and her future liege. Apparently deciding the defense of Sarleon was just, with war on three fronts, it was Lady Raubrey who turned the tides of battle in King Ulric's favor.
Ulric had all but ignored The Empire (East) and The D'Shar Principalities (South), focusing most his efforts on Ravenstern in the North – whether strategic, personal or both is anyone's guess, but the tactic failed. Ulric had simply expanded too quickly into Raven territory and now paid a price for it with other people's blood.
The Empire was fractured and the D'Shar had been weakened considerably before Ravenstern declared war. Though they began to recover after Ulric changed course, northwest. Such it came to be that Lady Raubrey put Marius I, ruler of The Empire, in her sights (perhaps Janos too), and relentlessly pursued him and his men while fighting the D'Shar when they got in her way.
Still at truce with Sarleon, The Fierdsvain (West) soon took advantage of the opportunity to reclaim lands now held by the D'Shar, making Raubrey's mission only slightly easier.  
Such is war and such is how m'lady became lord of my home, Emirin (and later Cez, Calendain Castle, Maras Castle, Janos, Jayek (which Ulric lost) and finally Shieldstorm Keep and Ethos, before defecting --upon not being granted the last two fiefs).
1.2  Laria – The Rumor
Indeed she also sieged Laria twice, which was originally granted to her husband, Lord Fossard, (at Raubrey's request) though he lost it to the Ravens.
In conversations it was apparent that Lady Raubrey was fascinated with Laria, and still seems to be to this day, as if the place holds ancient secrets or treasure. Though she never relocated her court there from Ethos, even when she expanded Pendor northward -- be it out of fear for her vassals encountering the Jatu tribes or respect for the Noldor, I was not made privy to the reason.
Maybe it is the simple gossip of old women, but some would say m'lady and Fossard had a falling out when he lost the city, after it was sacked by the Noldor then sieged by King Gregory IV, but was quickly reclaimed by Sarleon. Though this time the city was not granted to her husband. Rumor has it that his garrison was quite
thin
.
Fossard retreated to his village until he landed Talon Castle and rarely were the couple seen together again publicly, except when the Queen paid him a visit. (Addendum: I knew there was more to this story!  As you will soon learn.)
1.3  Emirin - Meeting Lady Raubrey
Slightly injured from Empire crossbowmen, when Almerra Castle -- and with it, The Empire, fell, the elated Lady Raubrey visited her newly acquired fief and its people. The villagers didn't quite know what to make out of a lord inquiring about their lives here, speculating her motives were profit-driven.
Yet she took us under her deft wing even though our struggling village was scarcely worth a noble's time, for it had been assaulted frequently by barbaric lords hailing from all corners of Pendor.
Even more troublesome were the bandit raids, the Red Brotherhood and the Snake Cult, who killed and abducted our farmers and families. Our former, miserable, tax vulture of a lord dared not be bothered with these matters.
Truth be told, I think Lady Raubrey found redemption in Emirin for all her bloodshed, and even later blamed herself for the attacks. As her enemy count rose, so did the frequency of raids. She apologized to Shandor and I that Emirin had become unwitting bait for her victims.
But, I'll never forget our beloved Lady's relentless efforts at rebuilding our village, between attacks – many of which she averted.
All of which pales to the rescue of our daughter from the sweaty hands of Ramusk Khan, of course. Shandor was so proud to give the Lady our prized cow Pippa as a reward. Oddly enough, she set the beast free.
1.4  Of Emirin & Faith
Today, Emirin is one of the most prosperous villages of Pendor -- and my dear Shandor has evolved into a most competent Village Elder.
Fool man that he was, he didn't know how to handle a rat infestation when I married him. But, like most of us, he was smitten with the future queen, whose beauty was exceeded only by her courage, honor, charm and battle finesse.
She taught us how to defend ourselves first, then she taught us how to protect us from ourselves -- thereby ridding the village of a few idiots, witches, heretics and religious fanatics. Not that m'lady is anti-religious by any stretch.
Few people of faith were turned down in their requests for shrines. Though the Queen never mentioned which deity she believed in or followed, if any.
One thing about her beliefs was clear. She despised all who killed or harmed innocents for their god or cause, be it the Knights of Dawn or the Snake Cult, and she pursued them with religious fervor.
----------------------------------------------------------------------------------------------------------​
Author's note – By M.S. of Emirin

What follows are the words of the Queen, as she often talked to no one in particular while fading in and out of consciousness in her bed, accompanied by this reporter of record and Leslie her physician.
Few people know of the grave condition the Queen is in, including most of her trusted friends and counsel. Unfortunately, I am unsure if all her spoken thoughts are intended for public consumption. But I will dictate them nonetheless. May my friend recover soon so that I can ask her!
Where necessary, I will make clarifications, though I am no scholar and pray I don't botch this accounting as well as my husband can ruin a pork roast.
Furthermore, whilst I have the reader's attention. I do apologize to any monarchs or royalty-to-be that my husband may have inconvenienced you with requests to herd cattle. Had we not done so, I suspect I would not be alive today to write this.
Curse King Ulric and Marius I both! May I one day spit on both their graves (when no one is looking).