DISCLAIMER: This guide is intended mostly for people who have no experience organizing and running big events. If you already know what organizing a Víkingr event entails, the only lesson you need to bring home from this guide is that you should feel free to approach us with your idea. You can find a fancy PDF version of this guide
here
.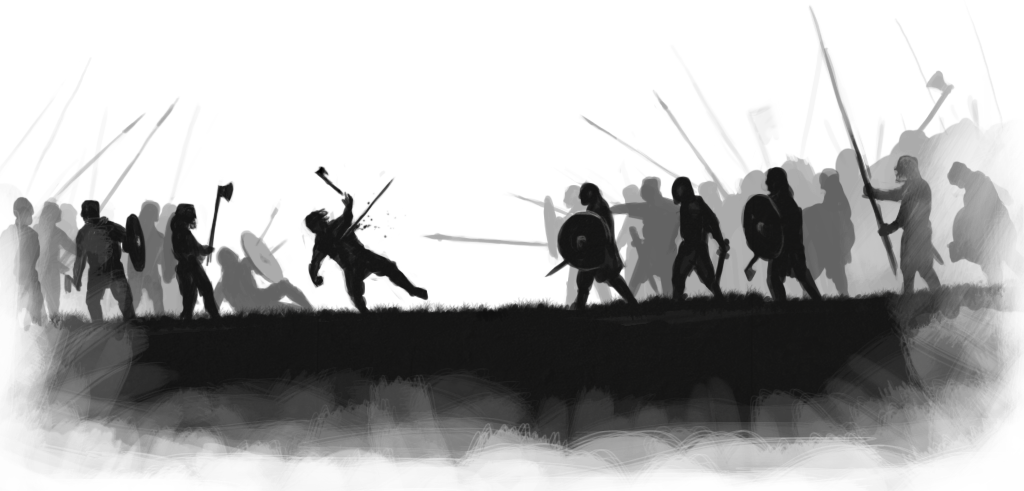 A GUIDE TO ORGANIZING A
HISTORICAL EVENT
​
On top of the monthly Shieldwall Events, Víkingr also hosts larger events from time to time, commonly referred to as "historical events" (although there have been historical fiction scenarios in the past). Official Víkingr events typically take place every 3-6 months. Everybody is free to organize an event, but perhaps few people know what it takes to get official endorsement (and hence all the resources of the community in terms of promotion) or where to get started with organizing an event. The purpose of this guide, therefore, is to make it easier for anybody to put together an event they can pitch to the community admins (the moderators of the Víkingr subforum).
1. CHOOSE A SETTING AND THE GAME MODE(S)
Do you want to recreate a historical battle in particular, or a fictional scenario within a historical context? Then choose the events you'll be depicting and flesh them out in terms of which factions would participate, what the basic make-up of the teams would be and what game mode(s) would be best suited both to represent your scenario and to provide entertainment.
Víkingr is generally thought to represent roughly the period between 950 and 1066, but scenarios that aren't too far off from these dates should be alright. An event that takes place in the 12th century, or in the 7th, should not.
When you're done with this step, you should know:
Which battle you're recreating, or in which context your battle takes place.
Which factions the event will feature, what exactly each of them represents and which characters (historical or otherwise) will be the protagonists.
Which game modes you'll be using: Battle, Siege and Conquest (and combinations thereof) have been used successfully in previous events.
This step will require some historical research on your part. Keep reading up on your scenario throughout the whole process to be able to give pointers to anyone you're working with.
2. CHOOSE THE LEADERS
You are probably going to need four leaders: one commander-in-chief and one public host leader for each team.
The greatest responsibility, of course, is acting as the commander-in-chief of one of the teams: you should choose someone who you are reasonably sure will do a good job, not necessarily at fighting, but at leading the whole army. That person will have to work closely with the clan leaders later on. Since commanders-in-chief are traditionally protected by their own retinue, it is customary for this role to be played by a clan leader or one of their most trusted subordinates.
Leading a public host is a smaller responsibility, but picking good leaders for this post is still very important. Public hosts can be a very disorganized and ineffective mass of fighters without a good leader to keep them in line, and a bad leader can ruin the experience for large numbers of players.
Look up previous event threads and note who led the teams. Take a look at the Shieldwall Event thread and scan it for potential leaders. Ask around. It is generally not advisable for the organizer to also be the commander-in-chief of a team, but it can and has been done successfully in the past, so go ahead if you think you can handle it.
3. FLESH OUT THE TEAMS AND START WRITING THE EVENT THREAD
This will be a continuous effort that will take much of your time as an organizer until the event thread is finally posted.
Research the historical context of your scenario and assign appropriate names to the different teams and hosts. Start with Modern English names if necessary and then ask for help to translate those names into the appropriate language(s) of the factions you'll be using. The community admins will be able to point you towards members of the community who may be able to help, or you might find that help elsewhere.
Start writing the draft of your event thread. If you take a look at the threads for previous events, you'll realize people put a lot of effort into these, so try to match those high standards. You may use previous threads as a template, especially when it comes to the event rules. Here's a list of all the previous Víkingr event threads for reference:
Val de Saire (May 17th, 2015)
Battle of Maldon (November 16th, 2014)
Dněprŭ (May 18th, 2014)
Battle of Sulcoit (December 8th, 2013)
Battle of Eoferwic (July 21st, 2013)
Battle of Brūnanburh (April 28th, 2013)
Battle of Val-ès-Dunes (January 13th, 2013)
Se Ðéodloga (July 8th, 2012)
Éafanheall (January 23rd, 2012)
Danegeld (November 12th, 2011)
Raiding of Kent (September 19th, 2011)
You'll probably need a main illustration to spice things up – look around for artists in the Víkingr community or elsewhere, and explain what exactly you're looking for. Bear in mind this may take long, so make sure you give your artist plenty of time. Event threads are usually posted 2-3 weeks before the date of the event.
4. CHOOSE A MAPMAKER
You are going to need at least one custom map, and possibly two, for your event. If you aren't a mapmaker yourself, you're going to need to find one.
Check the
Vígvellir
thread to see who's created maps for Víkingr in the past. Look up previous event threads to see who made the maps for them. Take a look at other communities if necessary – many mapmakers will create scenes for different mods.
Explain what kind of map you want, as well as any terrain features you want it to have. If it should have a ridge or a hill that plays an important tactical role, make that clear. Research the historical battlefield and/or the local geography  and provide the mapmaker with any relevant information they may need. Once your event idea has been greenlighted, tell your mapmaker they can start and when you'll be needing the map(s). Allow for some testing time.
Important note: make sure your mapmaker uses an existing Víkingr map as their template.
5. PITCH THE EVENT IDEA AND PICK A DATE
By now you should have everything you need to pitch your idea to the community admins and hopefully get their official endorsement by proving you're capable of organizing a proper event. Tell them about your idea and about everything you've worked through for the first four points of this guide.
Put forward a tentative date for the event and ask the leaders you chose about their availability on that day. Pick one that suits everybody who plays a crucial role in your event. Bear in mind that a proper event may take 1,5-2 months to organize. If the community admins agree to endorse your event, make sure at least one of them will be available on the day of the event to help you deal with any unexpected problems, or to do server work if you decide to host your event on Hildileikr (see below). Adjust the date if necessary after consultation with your leaders.
If your event is not going to be very orthodox, it might be a good idea to ask the admins about its feasibility in advance, before you do any serious work on it.
6. SECURE A TEAMSPEAK SERVER
Víkingr events need a TS server, and it needs to be big enough. Don't take for granted that you'll be allowed to use someone else's TS, or that it'll have enough slots – ask well in advance of the event, making sure you'll get as many slots as you need. A good place to start is the
Víkingr Community TeamSpeak
.
7. SECURE A GAME SERVER
If you have received the admins' endorsement to make this an official Víkingr event, you will have
Hildileikr
at your disposal, but you might prefer to host it elsewhere. In any case, you'll have to keep in touch with that server's admins, as they will have to do certain things for you:
Upload your custom map(s).
Get a temporary slot increase for the server.
Police the server during the event itself.
It is important to note that you, and not the admins, are the organizer, so don't expect them to do your job for you. You should go to them with the finished map(s) and tell them how many slots you'll need (naturally, you will only know that some days before the event itself), not wait until they come to you for that info.
From here and until you post the event thread, it'll be a matter of you communicating closely with your mapmaker, artist and leaders. Don't be afraid to pester them with messages – you'll be doing a lot of that. Keep the admins posted on your progress.
8. POST AND UPDATE THE EVENT THREAD
When the time comes, 2-3 weeks before the date of the event, post the event thread and reserve at least the first post. It's a good idea to coordinate with a moderator who can sticky your thread immediately if it's an endorsed event.
You may have been doing  some drafts with the distribution of clans and the balance already. Contact the clan leaders and stay in touch with them to get early estimations of the numbers they're likely to bring, the team they'd prefer to fight for and whether they'd like to use a special, faction-specific clan name for the event. Play around with different setups until you find one that's balanced, but be ready to adjust it if the numbers change. Asking other veteran players for their opinion is always a good idea.
Stay active in the event thread and update the rosters regularly.
I can't emphasize how important it is for you to stay in touch with basically everybody during these 2-3 weeks. You're the organizer, so a big part of your job will be to remind everyone else of theirs.
9. FINAL PREPARATIONS
Make sure the key people understand what you'll need of them before and during the event. On the day of the event, you'll want everyone that matters on TS early to discuss anything that needs to be discussed. Set up the host channels on the TS server. Make sure every host has its own channel.
Test the map(s). Fix any bugs and edit anything that doesn't work as intended. Obviously you want to do this with enough time in advance to allow your mapmaker to fix whatever pops up if you can't do it yourself.
Get your server's admins to implement your map(s) and tell them how many slots you'll need. It is OK to overbook, as some people who have signed up will inevitably not show up, but don't overdo it. Bear in mind that performance will suffer the more people you allow to play. Expect serious lag issues above ~180 players.
Do what you can to get everybody on TS with enough time in advance. This will allow you to assess the event balance and to get the leaders to set up their whisper lists (and to talk tactics with their commanders-in-chief). Make any necessary last-minute adjustments to the team composition. Note whether any clans have brought grossly inaccurate numbers compared to the rosters they signed up with, and pass on that info to the community admins.
And finally, try to relax and to have fun!