The 22nd Battalion is a competitive European clan for Mount and Blade: Warband. The clan was founded in the earlier stages of beta testing, more precisely on the 28 October 2009.
Our main goal is to have fun while teaming up and playing together and partecipating to organised battles or events.
The clan is lead by the King, Plazek, who has got full powers over every choice and he is supported by noblemen and officers.
There are 2 trainings of 1 hour each weekly, on Wednesday and Saturday, at 18:00 GMT, in which we practice personal skill, teamwork and have fun.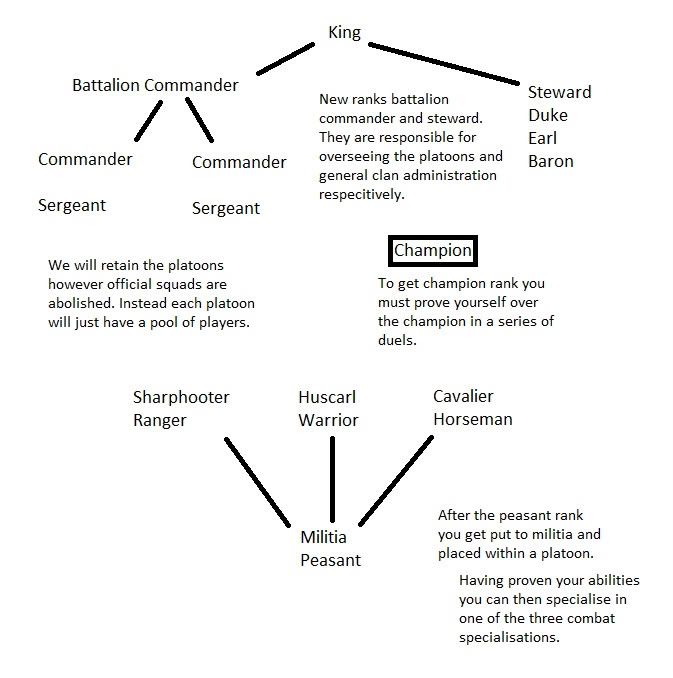 Officers (Commanders, Sergeants):
These 3 ranks are the one which involve major job in the clan, due to the fact that they have most of the coordination and preparation job on their shoulders.
Noblemen:
People who are trusted, active both ingame and on forum, that provide a useful support to the clan may be promoted to nobility.
Champion:
Special rank for the 2 best players of the clan, to gain it you have to beat the old champion in a proper way explained on our forum.
Specialised ranks:
After a Militia has decided which class he is interested in, he will choose one of those, and when considered skilled enough, promoted.
Peasant:
Trial rank in which the player is tested, not only as personal skill, but mainly attitude towards orders and other teammates.
Server Rules:

1.General Rules

1st Article – General obediance

a) The Clan server of 22nd is run by their commanders/nobles and nobody else.
b) When you are playing on our server show respect to members of 22nd and especially their leaders.
c) Any disrespect towards 22nd and its members will result in a kick or ban!
d) If a member of 22nd tells you what to do, you must obey.

2nd Artice – Things you shouldn't do

a) No racial or national abuse.
b) Do not insult any Country that members are from. Unless it is a joke.
c) Do not disobey the admins on the server.
d) Do not humiliate other players.
e) Do not get into verbal conflicts, show that you are wiser that the other player. Though debates can be tolerated.
f) No teamkilling, no matter how justified it seems.
g) Never try to humiliate an admin! Also any disrespect towards an officer can result in a kick or ban.
h) Do not ***** at the admins.
i) Do not cheat!

3rd Article – Things you are allowed to do

a) You can present your ideas to the admins.
d) You can have patriotic nicknames and talk proudly of your Country, its achievements, army, etc.
e) You can freely choose your style of playing if it doesn't contradict the rules.
f) Anything else that doesn't contradict the rules.

2. Forums rules

1st Article:

a) Do not spam! Exceptions can be made in the Tavern.
b) Massive posts need to be posted in NEW threads. Only officers can make them in other places if needed.
c) When writing on forums please behave in an adult manner.
d) Do not show any disrespect towards other clan members.
e) Do not call other clan members names, unless it is a joke.
f) Please have a signature in normal size.
g) If your are asked to change your Profile/Signature picture, please do so.
h) Avoid doing anything that is against general good manners.
i) Even if we forgot something, that does not mean, your post won't get deleted.
j) You can say whatever you want to, your rank does not matter here.
Precise rules for members:

-It is not allowed to be in other Warband-clans at the same time.
-It is forbidden to use the tag of a clan you are not a member of.
-Only members whose rank allows them to do so may speak or act in the clans name as detailed in the description of the relevant rank. Everyone else is forbidden to do so.
-Do not use general text-chat while alive in a match, so that messages of the leaders can be seen and others can concentrate on fighting.
-In official clan-events like trainings and matches, every member participating in that event must be in TeamSpeak. If he or she has a microphone/headset to participate verbally, that is even better. So please, make sure that you can speak or at least listen in TeamSpeak while in training or battle.
-While in a clan-battle or in a training that simulates a match (two teams lead by a Nobleman) only Nobility is allowed to give orders or suggest tactics. Everyone is allowed to warn others of approaching enemies, however the player issuing a warning is asked to keep the warnings short and precise. Private conversations or conversations regarding other things than the actual battle can take place before or after that battle or at any other time. 
King
Plazek
Stewerd
Baldrider
Battalion Commander
Sadnhappy
Duke
Biteme, Vincenzo
Earl
Harlequin, Baldrider, Chaw00t, NoscopeGabe, Sadnhappy, Viper, Robsterlob, MadJackMcMad
Baron
Lezard, Deprav, Bear, Teutonic Archer
Commander
Harlequin, Evgen
Sergeant
Kelturan, Chaw00t, Coffee n Smokes
Champion
Harlequin, Lezard
Huscarl
Plebsiak, Rokema, Broomstick, Urist
Sharpshooter
Grey Warden, Rudovich
Cavalier
Mulyan
Warrior
Henk, Locco, Longshaft, Borondil, Nico, Heavyarrow, Beaver, Defiance, Ross
Ranger
Crazy Archer
Horseman
Sir Ironlake
Militia
-------------------------------
Peasant
Gekkebori, Alhedras, Venganza, Retribution, MrFasole, Seimour, Gudrik Crow, Yanate
Reserve
Ozwan, Scorp, Boobis ½
DATE
OPPONENT
RESULT
11/12/10 @ 20:00
IG
14 - 6
05/12/10 @ 19:00
Refesesesferes [Ref]
15 - 5
28/11/10 @ 18:00
Revenge of Nobility (RN)
19 - 1
24/11/10 @ 18:00
VS
19 - 1
11/10/10 @ 18:30
RS
5 - 10
10/06/10 @ 20:00
CoR
16 - 4
30/05/10 @ 17:00
RS
18 - 0
23/05/10 @ 17:00
RS
15 - 5
24/04/10 @ 20:00
DR
20 - 0
11/04/10 @ 20:00
Einherjar + SZ
15 - 5
20/03/10 @ 20:00
ZHG
15 - 2
28/02/10 @ 20:00
RS
20 - 0
21/02/10 @ 17:00
SZ
12 - 5
30/01/10 @ 21:00
ZHG + SLMC
19 - 0
29/11/09 @ 20:00
SZ
2 - 0
22/11/09 @ 19:00
Einharjar
20 - 0
14/11/09 @ 20:00
nK
1 - 1
13/11/09 @ 20:00
CoR
2 - 0
04/11/09 @ 20:00
CoR
2 - 0
28/10/09 @ 20:00
CoR
1 - 1
Use this form as an Application

Nationality:

Name in Warband:

Age:

Do you agree to check the forums on a regular basis to keep up to date with news?

Can you regularly attend clan trainings at 6pm(British time) Wednesdays and Saturdays?

Steam friends name: (you login name on steam, we use steam to keep in touch so you need it)

Have you been a member of any other Warband clans? If so, why did you leave?

How did you learn about the 22nd Battalion?: (Who told you about it?)

On a scale of 1-10 (10 being the best and 1 the worst) how would you rate your Warband skills? (explain your answer)

In general how often do you play Warband?

What are the main reasons for you wanting to join 22nd?

Do you have a microphone?

What is your ping on our servers?
Clan Name:
The 22nd Battalion
Clan Tag:
22nd
Clan Location:
EU
Clan Leaders:
Plazek (Harlequin is Match Co.)
Clan Site:
22ndbattalion.xippy.co.uk
Other Sites:
Clan Thread:
Click Here
Clan is Active.
Competitive: Yes
Address:
ts.22nd.eu
Port:
9987
Rules:
Speak English, respect others.
The Native Pro League is going on right now, we've arrived to the finals in the winner bracket, which mean we'll have to face again someone who lost in the previous rounds and, if we win again, we'll be awarded as the best european clan.