There are not many 15th century illustrations by Ottomans. One example is
an Ottoman copy of Khusrau and Shirin, 1498–99AD
, which includes
Khusrau riding on Shabdiz, his beautiful horse, while hunting
and
a battle scene with soldiers portrayed as 15th century Ottomans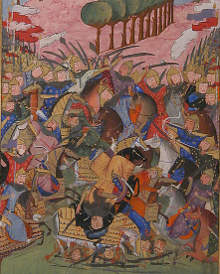 Another is
The frontispiece of a 15th-century Ottoman Sulayman-Name Ms. 406
thanks to matmohair1.
There is also
Sultan Mehmed II smelling a rose by Nakkas, Sinan Bey, end of 15th century
and the
Sketchbook of Sultan Mehmed II, c.1440
showing drawings of heads.
MIRROR SITE
An Ottoman copy of Khusrau and Shirin, 1498–99AD
Khusrau riding on Shabdiz, his beautiful horse, while hunting
A battle scene with soldiers portrayed as 15th century Ottomans
Frontispiece of a 15th-century Ottoman Sulayman-Name Ms. 406
Does anyone have any other 15th century illustrations by Ottomans?
Druzhina
Ottoman Illustrations of Costume & Soldiers