Recruit

Welcome to recruit center for 14 Regiment
​
HISTORY​

It is reorganized "1st Armored Division"​
Zalążkiem pułku był utworzony w lutym 1918 roku w mołdawskiej miejscowości Ungheni szwadron polski, skupiający Polaków służących wcześniej w armii rosyjskiej. Po nieudanej próbie dołączenia do II Korpusu Polskiego, w obliczu groźby rozbrojenia przez Niemców, szwadron dołączył do 2. pułku konnego rosyjskiej Armii Ochotniczej, zachowując jednak polskie oznaki i komendę. Wraz z "białymi" oddziałami szwadron przeszedł na Kubań w południowej Rosji i brał udział w walkach z bolszewikami m.in. pod Tarhową, Wielikokniażeską, Jekaterynodarem, Biełoglinną i Tichoriecką. W połowie sierpnia 1918 r. szwadron mocą umowy pomiędzy dowódcą rosyjskiej Armii Ochotniczej i generałem Lucjanem Żeligowskim podporządkowany został tworzącym się na Kubaniu oddziałom polskim. Wkrótce szwadron zreorganizowano jako dwuszwadronowy dywizjon, którego dowódcą został we wrześniu mjr Konstanty Plisowski. W październiku 1918 r. został zorganizowany trzeci szwadron (oficerski), a oddział oficjalnie przyjął nazwę Dywizjon Jazdy przy 4 Dywizji Strzelców Polskich. W drugiej połowie stycznia 1919 roku dywizjon przewieziony został drogą morską do Odessy na Ukrainie. Tam przyjął licznych ochotników i został rozwinięty w Pułk Ułanów 1 Dywizji Jazdy pod dowództwem majora Plisowskiego. Oddział liczył 98 oficerów oraz 530 podoficerów i ułanów w czterech szwadronach liniowych, szwadronie karabinów maszynowych i plutonie łączności. 1 szwadron pułku walczył u boku wojsk francuskich, greckich i "białych" rosyjskich z bolszewikami w okolicach Odessy i pod Tyraspolem. W kwietniu siły koalicyjne opuściły Odessę, odchodząc do Besarabii w Rumunii. Polacy osłaniali odwrót sojuszników, a pułk ułanów przekroczył graniczny Dniestr jako ostatni. Po dwumiesięcznym pobycie w Besarabii 15 czerwca 1919 roku niedaleko Śniatynia pułk ułanów przekroczył granicę rumuńską i przybył do Polski.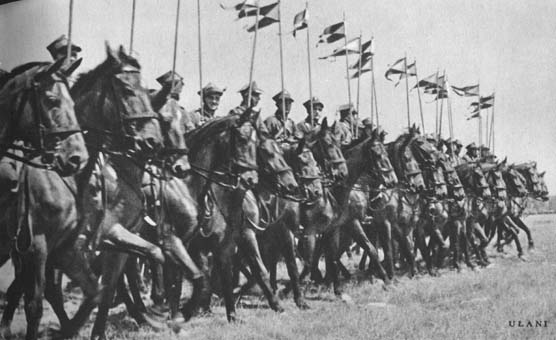 If you are not afraid fighting and you want to kick some German asses... Join us on TS 178.217.186.86:11174
​
Regiment Counts: 14 men....
​
Colonel - KevinPL​
Lt.Colonel - Jarzo​
Major -​
Captain - ​
Lieutenant -​
2nd Lieutenant -​
Ensign - ​
Senior Sergeant - ​
Sergeant - Wayhow​
Corporal - ​
Lance Corporal - ​
LoLeQ​
DaPietro​
Ahmed​
Miguel​
Skrzydlaty​
Nabu​
ShavWRS​
Rafard​
Bananek​
Woj​
Famfam​
Info !!!!!!!!!!​
1. Clan have no forum (disinterest)
2. All info about battles on TS
3. Trainings on 19 (estern europe time)
4. Please to be on TS simply muted even if you want to be on the other servers
5. Requests write to me on Steam/TS
Form of request:​
Nick:
Steam:
Age:
Cavalry Exp: