It's been two months since we ramped up the development of Full Invasion 3, and we've been making great progress. Though we're not ready for a public test yet, we figured we'd share some of the features we've been working on so far!
Classic Loadout system​
One of the first orders of business was creating a new way to select classes and equipment in the mod. In the Native module, Bannerlord makes use of a perk based system, in which players select two perks to "customize" a class, leading to only a handful of variations. We were always determined to remove this system in favour of a system more in line with the possibilities in Warband.
While we were working on this, we found out that Bannerlord does not even take a look at the stats of the armour you are wearing! Instead, the class and perk combination completely determines your armour value and movement speed.
The system we made as a replacement for this is currently completely functional, and works just like it did in Warband, with some visual improvements:
Classic Loadout system in action
Basic Invasion system​
In order for us to have an actual game, we of course need an Invasion with an objective! This core system is still under development, but the basic parts (spawning the AI in groups, determining when to spawn which groups, etc) are in place.
There are several improvements in this area that Bannerlord allows us to make compared to Full Invasion 2:
First and foremost, bots can be divided into formations, which can each have a different goal. While we spawned bots in separate groups in Full Invasion 2, they did always end up in a single blob of animosity. This system allows us to keep groups separate, increasing the strategic difficulty of the mod.
Banners for bots! Bannerlord supports special banner carriers (well, sort of. It will support them in a future release), which we can use for the bot formations.
Bannerlord allows us to set actual objectives for bot formations, other than "kill everything that breathes". This means the bots can attempt to destroy certain objectives, capture flags, or attempt to hold points. This greatly increases the variety of ways to play the mod, and has given us a lot of ideas that we're very excited about.
Bots can make use of actual siege equipment now, which, if nothing else, is just plain awesome.
We've done a lot of work in this area so far, but we're still working on improvements.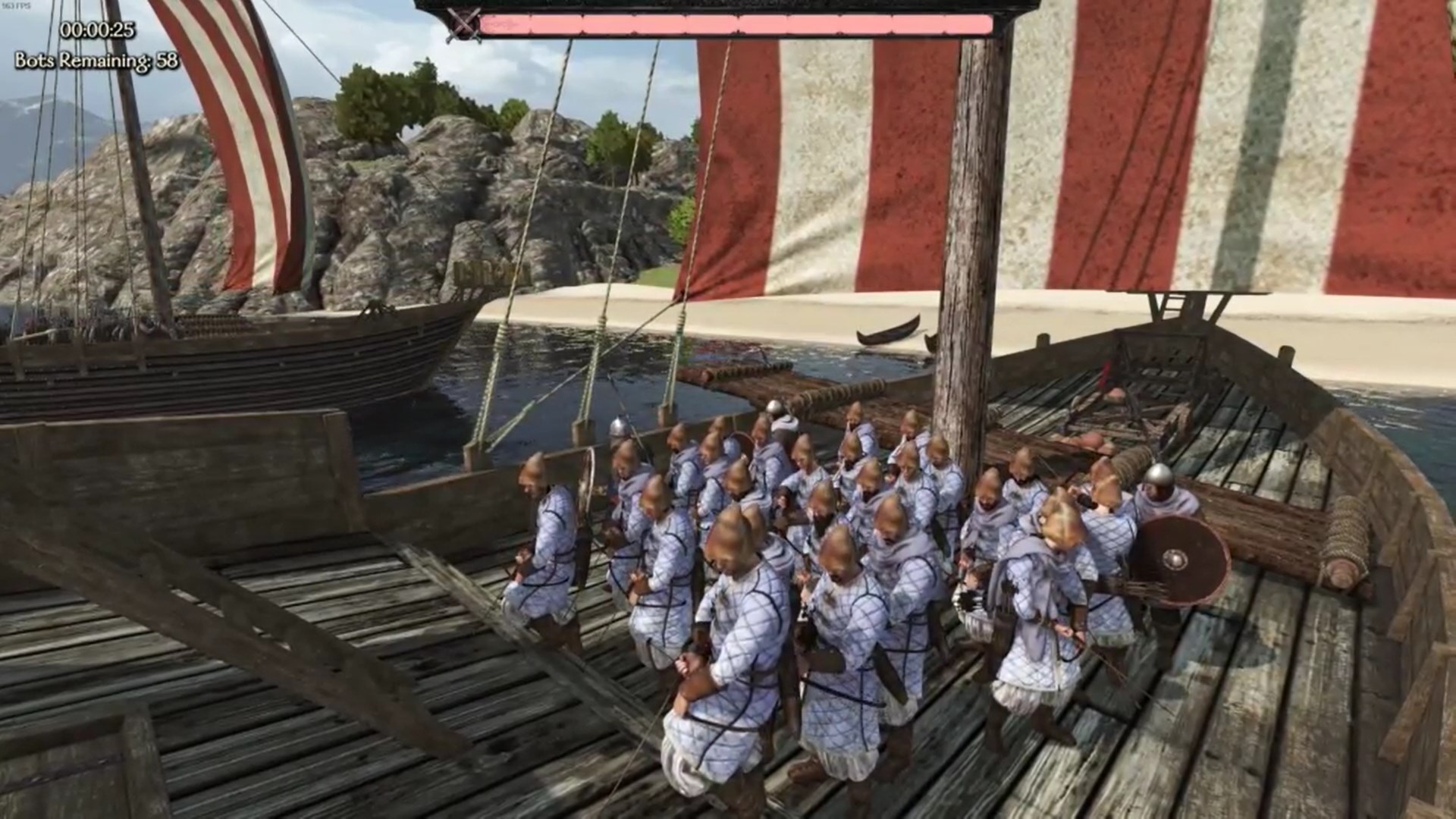 A group of bots being transported across the sea, with a view of the Invasion Progress bar.
Invader transports​
One of the more exciting new additions is the use of transport vehicles by bots. These transports are fully destructible, and allow the bots to ride each other around, give them mobile shelter, or allow them transport across a sea!
Invaders attacking using transports
To do before the first public testable release​
There are still quite some features that we want to develop before we create a first public test release. Including these features in the first release will allow us to have a first version that already accurately portrays what the
core
of the mod will play like.
The following features are still in development, and will need to be finished before we can make a public test release:
A flag capture system, allowing bots to capture certain areas of the map. This will tie into the "lose" condition of the mod: bots will attempt to capture flags, which will reduce the spawn options of the players (more or less like how the Siege gamemode in Native works).
A progression system for players, allowing them to improve their equipment and class over the course of the game. We have a unique system in mind for this, quite different from previous editions of the mod, which we're very excited about. We'll create a different article specifically about this at a later point, to fully explain what our plan in this area is.
There are several other small improvements that we're working on in the meantime (better UI, extra equipment options, health restoration, etc), which will also likely make their way into the public test release.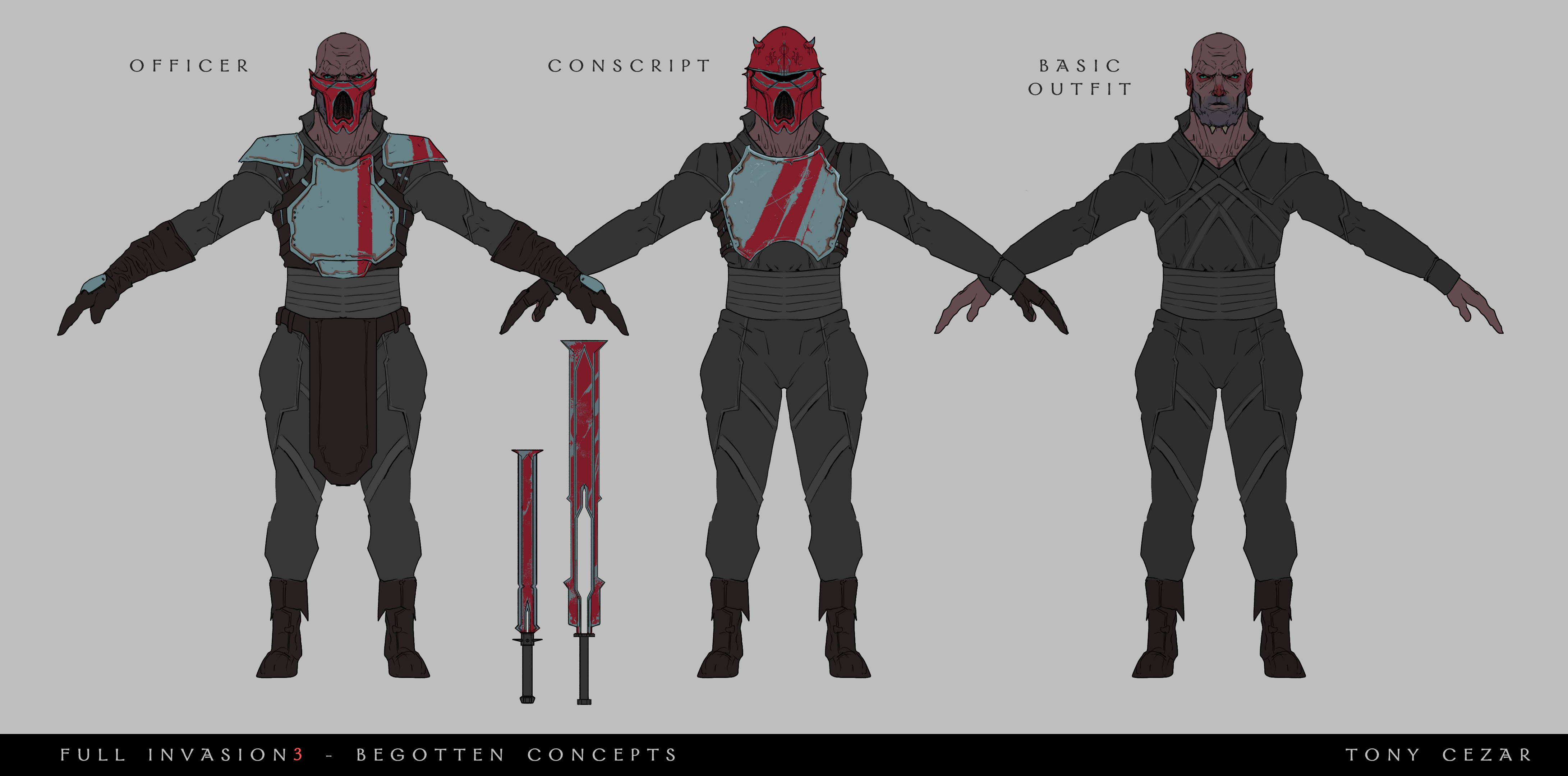 Concept art for the Begotten, a type of demon found in the Arcane Empire.
If you would like to stay up to date with our progress, please
join us on our Discord server
! We regularly post sneak peeks there of what we're currently working on.