I have been reading all your comments regarding the glaive and I would like to comment on certain aspects.
Personally I see the glaive khuzait as an exotic weapon which is part of that constructed "identity". Therefore, without going into historical considerations, my opinion is to go for the glaive as much as the panoply available.
Terco_Viejo said: Also consider that the iconography and historical sources that the Khergit-Khuzait faction draws from are of Asian/Oriental origin, making the glaive an exotic weapon both in appearance and use (if we compare them with those of all other factions)... at least in my eyes and it's because of all this together that makes me give it "more plausibility" than other 2h/polearms wielded on horseback.
That said:
1. Weapon itself:
As many of us have pointed out (Bluko88's latest examples being a case in point), there is an obvious problem with the damage that this type of weapon does, especially on horseback...a collateral effect of an inconsistenced aplication of damage/protection formula.​
​
It is also notorious the excessive size of this type of weapon, highly disproportionate... that's why many players have it as a meta weapon (combination of considerable length + exorbitant damage).​
2. The horseback attack animations:
I've commented in both the MP and SP sections (both in comments and threads), the swing animations with this type of weapon are a real aberration of biomechanics. Taleworlds reused the swing animations with 2h/staff on foot by carrying them the same way in the horseback versions instead of creating a consistent set suitable for this type of action.​
​
Swinging polearms the way it's implemented is a joke... neither swords at 2h nor axes at 2h should have that handling on horseback with both handling and speed penalties applied to them. Also surprising are the obtuse swing angles, which allow a totally disproportionate hit window.​
In my opinion, Bannerlord should have this same kind of animation for the glaive and other types of swingable horse weapons within the lower hit action windows.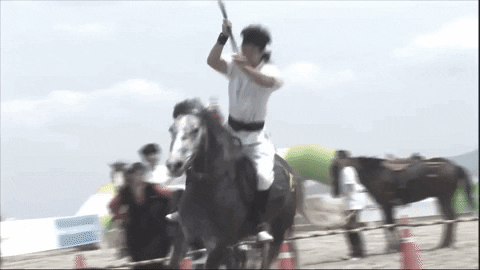 Here is an old video test where the swing arcs and the length/aesthetics of the weapon were modified to look more realistic (imho). Sadly nothing can be done with animations back then.
Unfortunately and despite having tried it
here
...
here
...or
here
... if Taleworlds hasn't reacted yet it's either because they don't care or they don't see a problem with it; sadly for many of us... it's too late for native and it's final build.
With rectified animations out of the equation (plausible) the only hope is to apply usage penalties for these types of weapons on horseback (less speed handling+ less damage + reduced swing polearms arcs + reduced shaft length) and deprive these KG types of units of so much armour advantage.