Does this better describe the FPS issue you have been having?
Any time you move your mouse while the in-game cursor is present, you get extreme FPS drops.
(Examples: Moving your mouse while on the campaign map, moving your mouse in the inventory screen, moving your mouse in the party screen, moving your mouse while you are trying to have a conversation with a lord, moving your mouse after pressing backspace to bring up the strategic mini-map in the middle of a battle, etc.)
Extra note: *The FPS issue seems to go away temporarily after restarting your PC, but becomes a noticeable problem again after just ~30 minutes of playtime.*
Have you updated your nvidia graphics drivers at any point after November 2020? If so, it's likely a driver issue. The latest nvidia graphics drivers seem to be creating the same Warband FPS issues for a lot of people.
Go to this website
https://www.nvidia.com/Download/Find.aspx#
and download a relevant version of your graphics card driver that was released before November 2020.
Before installing it, just make sure to uninstall your current display adapter and make sure to tick the box that says "delete the driver software for this device" through Device Manager.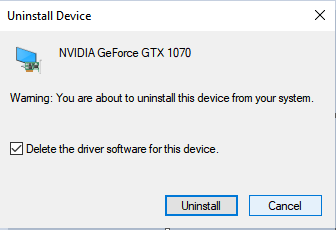 After you are done installing your driver that was released before November 2020, restart your PC, and then test out warband for about an hour to see if your fps issue has been resolved.
If that doesn't work for you, this thread has other possible solutions you could try out
https://forums.taleworlds.com/index...rld-map-possible-solutions-in-replies.437086/